Free Big Twist Yarn Crochet Patterns (Easy!)
Here are 13 crochet patterns featuring Big Twist Yarns from Joann. These easy crochet patterns are free here on the blog.
Big Twist yarn is the Joann yarn brand line. This affordable yarn line includes a variety of yarn weights, from worsted weight to super bulky yarns.
There are also several different types of fibers in Big Twist yarns, like acrylic and cotton yarn. Joann Fabric is constantly expanding their yarn brand and the Big Twist line now includes all kinds of textures and sizes!
Big Twist Value Worsted Weight Yarn
Big Twist Value is the affordable acrylic yarn in this brand. It's also the #4 medium weight yarn, which makes it the most popular.
Many of us are close to the large craft stores like Hobby Lobby, Michaels and Joann. You can get Big Twist Yarn at your local Joann's (if you're close to one) or you can shop for it online. The best part about working with this yarn is the huge variety of beautiful colors available.
It's like Red Heart Super Saver in the way that there are an abundance of colors to choose from. This makes finding just the right color for that perfect gift so much easier.
Crochet Patterns in Big Twist Value
I use Big Twist yarn in my Sunset Sweater crochet pattern which is a free sweater pattern here on the blog. This crochet pullover features four colors of Big Twist Value Yarn that resemble the sunset.
The skill level for this pattern is marked as intermediate since it features a special stitch. But I include video tutorials if you're feeling up to the challenge! The rest of the patterns I include in this list are easy!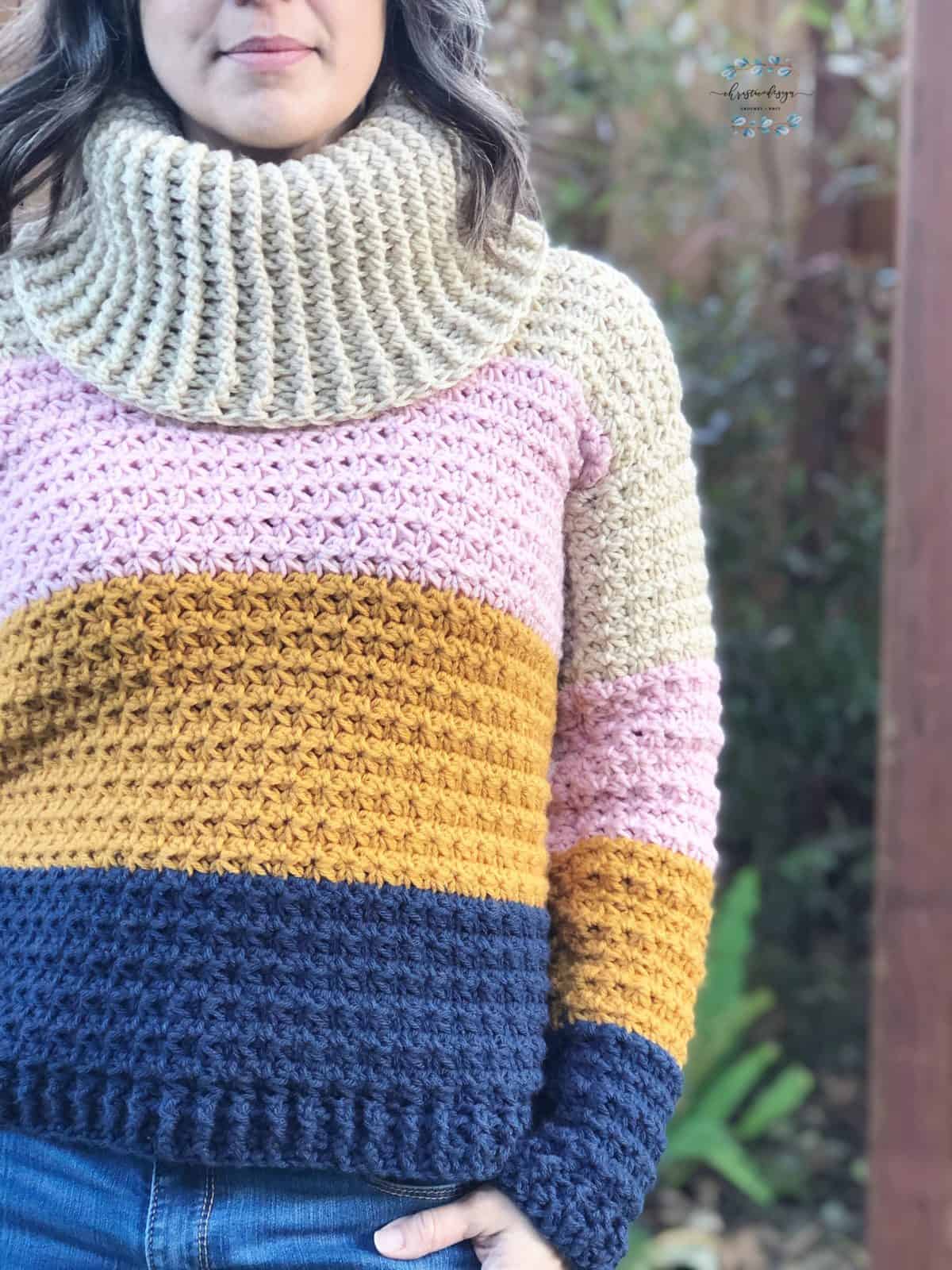 That cowl neck is uber cozy, but definitely a yarn eater, so using Big Twist value yarn makes this sweater more affordable.
I first found Big Twist when designing the Hygge Homebody Cardigan. This long length cardigan pattern pairs great with leggings, which makes it a wardrobe staple for those chilly mornings dropping the kids at school.
I chose just one color, Dusty Rose for this cardigan. I use 5 skeins of Big Twist value (a worsted weight yarn) for the medium size in the picture here.
If you're looking for smaller crochet projects, the Coffee Been Cup Cozy is a quick one that use the same worsted weight Big Twist value yarn.
Big Twist Cotton Yarn
Another Big Twist yarn I work with is their cotton line. This summer I stocked up on a variety of worsted weight cotton in mostly neutral colors.
Easy Crochet Patterns in Big Twist Cotton
It was the first time I worked with Big Twist cotton and all my projects turned out great. I know many of you love the simplicity of the Buco Towel.
This cotton yarn works well for easy crochet patterns like dishcloths and washcloths. I use the variegated color Pewter in my recent mug rug pattern.
Big Twist Chunky Yarn
The Big Twist yarn brand includes plenty of weight options. We've talked about some of the #4 medium weight yarns in their line, now let's look at those chunkier yarns.
There are also #5 bulky yarn in this brand available. They carry both a value line and premium yarn in these weight options also.
Chunky Crochet Blanket Patterns
The Ava Blanket is a chunky blanket that's a free pattern here on the blog. It makes a great chunky throw blanket for your living room. This chunky crochet blanket might work well in some of these bulky yarns.
The #6 super bulky yarns Big Twist carries look so soft and squishy! I need to get some on my hook soon.
The Carlo Baby Blanket is a simple single crochet blanket pattern that would work well for some of these yarns.
When working with chunky yarn often you'll need a 7 mm to 10 mm crochet hook, but check your pattern as it will specify. Be sure to get a large eye yarn needle when working with such chunky yarn too.
Make It Love It has a great beginner friendly crochet blanket pattern in Big Twist Natural Blend, one of their #6 super bulky yarns. It looks like it makes soft blankets for sure!
Dye Lot
Remember when purchasing a large amount of yarn, for crochet blankets or garments, to check the dye lot on the yarn label. This is a number that's assigned to each skein of yarn from the same batch of dye – or coloring process.
15 Free Crochet Patterns in Big Twist Yarn
This list includes Big Twist Yarn crochet patterns that are free! Many of these patterns are quick and easy, with a few larger patterns like blankets and garments in the mix.
If you love learning by video tutorial be sure to check out my YouTube Channel!
Subscribe to my youtube channel