Coffee Bean Cup Cozy a Free Crochet Mug Cozy Pattern
Learn how to crochet the Coffee Bean Cup Cozy Pattern. This free crochet cozy pattern will wrap your favorite mug in all the texture. The Coffee Been Cozy is a quick but beautiful crochet project that makes a fabulous gift.
I'm excited to be a part of the CAL Central Holiday Stashdown Crochet Along this year. I designed this little mug cozy as my contribution. In the crochet pattern below I've included two sizes-for your standard coffee cup and one for those oversized mugs.
Plus you can choose to add a button loop and wrap your crochet cozy around a coffee mug. Or you can seam your rectangle together to form a sleeve, perfect for gifting to-cups and travel mugs.
The idea with this crochet along is for you to be able to use yarn that's already in your stash to crochet all those handmade gifts. To help you achieve this, 26 different designers are contributing free crochet patterns that use only one skein of yarn (or less)!
More crochet cup cozy patterns
My Berry Christmas Cup Cozy pattern is always a popular holiday make so I thought it was time I designed another mug cozy. When I'm crocheting a bunch of Christmas gifts I enjoy variety. I love how you can pack such texture into the these small crochet items.
You can also find the step by step tutorial for how to crochet this cup cozy in the round, if you prefer to make coffee cup cozies for to go cups!
You can purchase an ad-free, affordable pdf of this pattern on Etsy or Ravelry. Scroll down for the free pattern here.
Yarn
The yarn I used for these crochet cup cozies is #4 medium worsted weight. These mug cozies use just a little, about 10-20 yds each, depending on the size. This is a great pattern for using up those odds and ends of leftover yarns in your stash.
I used Joann's Big Twist Yarn for the mustard yellow cup cozy. This yarn comes in a great variety of colors. I paired four of these colors in my crochet Sunset Sweater pattern and I just love how it turned out.
For the grey mug cozy, I used Crafter's Secret yarn from Hobby Lobby. I like how the stitches stand out in the lighter yarn. Plus, I can use a contrasting button too.
The to go cup sleeve I crocheted from some Lion Brand's Feels Like Butta that I had leftover from the Mila Crochet Color Block Shawl. This one has such a neat texture to the yarn itself.
The vibrant red yarn is Red Heart Super Saver. It may be hard to see in the picture, but it's a pinky red that really stands out in a small project.
Can you substitute yarns? Of course, any worsted weight yarn will work for this pattern. I designed these in acrylic yarns. Be aware if substituting in other fibers, like cotton that can effect how stretchy the cup cozy turns out.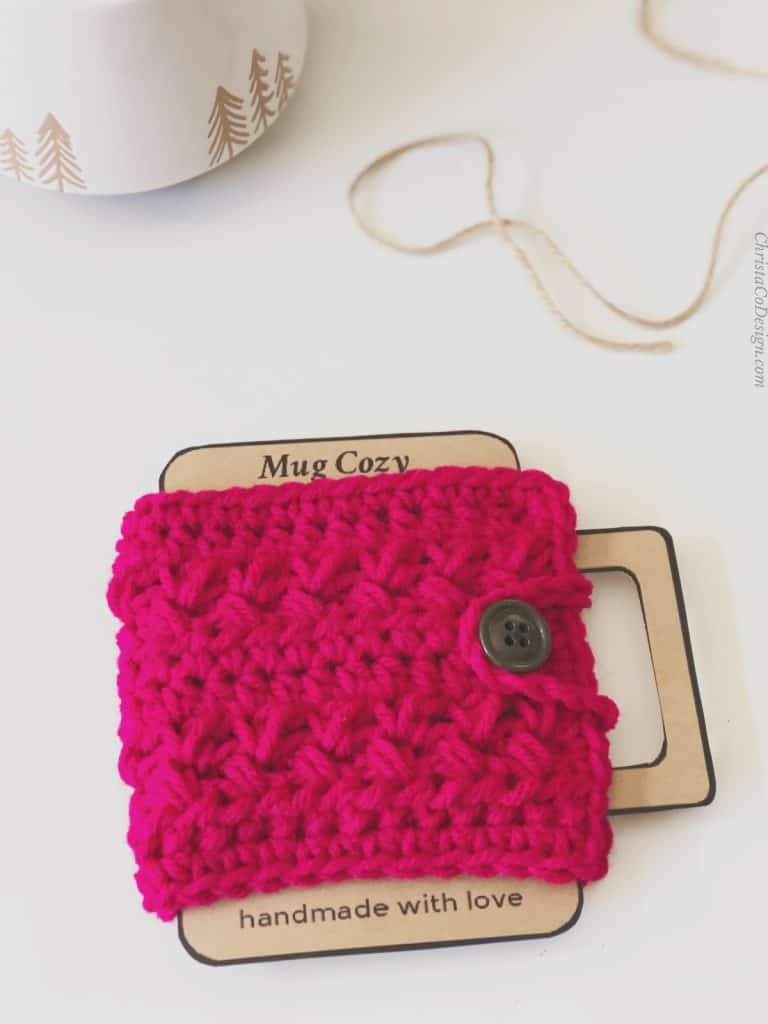 You can purchase this mug cozy printable template from my Etsy shop here.
Stitch
For the Coffee Bean crochet cup cozy I used a combination of half double crochets and the mini bean stitch. I've included lots of photos for this pattern. If you'd like a full step by step tutorial for the mini bean stitch you can check that out in this post.
I do love the mini bean stitch. I've used it several crochet patterns and they're still some of my favorites. The Pixie Spice Hat is a fall favorite of mine for sure.
And I used a modified version of the mini bean for the Pebbled Beanie crochet hat pattern. Since this crochet beanie is worked top down, I omitted the ch 1 after the mini bean. This keeps the stitch nice and close, creating a warm beanie.
You might also love this envelope pillow crochet pattern.
Ideas for Gifting Crochet Mug Cozies
Mug cozies pair great with a printable mug template. You can purchase the one pictured here in my Etsy shop.
Of course, gifting these cup cozies with a beautiful mug is an amazing option. Maybe you could fill it with a favorite tea or hot chocolate. Or even a small gift card to their favorite shop.
I love those mason jar recipes. I've seen a lot of them for cookies and breads. And when I think of eating cookies and bread, you better believe I need a beverage.
Adding a crocheted mug cozy with a holiday mug and mason jar with a yummy recipe sounds like a sweet gift to me. What are you favorite ways to gift cup cozies for the holidays?
You might also enjoy crocheting gifts from these posts:
20 One Skein Crochet Patterns one skein is all you need to make these beauties.
Scrap Yarn: 18 Free Crochet Patterns Using Leftover Yarn
Be sure to check out the Boom Box Softie pattern from Underground Crafter. This is the first pattern in the #HolidayStashdownCAL. Get the all the details here.
Materials
Notes
Stitch multiple is 2 + 1, plus 2 for the starting chain.
Pattern is written for 2 sizes. The smaller size is given first and the larger size second.
Stitches/Abbreviations (US Terms)
sk-skip the indicated stitch
ch(s)-chain(s)
st(s)-stitch(es)
rep-repeat
Special Stitches
This is the stitch that gives our crochet cup cozy all its texture!
mb-mini bean stitch: insert your hook into the stitch to be worked, yo and pull up a loop (2 loops on your hook), yo (3 loops on your hook) insert your hook back into the same st, yo and pull up a loop (4 loops on your hook), yo and pull through all 4 loops on your hook, ch 1.
Gauge
4" x 4" = 12 hdc x 9 rows of hdc
Construction
Mug Cozy is worked flat and finished with a border around. A simple chain button loop is added on end and a button sewn to the opposite end. Or you have the option of seaming the rectangle for a to go sleeve.
Finished Dimensions
Measurements taken before stretching to fit + do not include the border.
Smallest size= 8" x 3" fits a 9" travel to-go cup like a reusable Starbucks cup; with the border + button loop fits a 11" coffee mug.
Largest size= 9.75 " x 3" fits an oversized 14" coffee mug.
See more details below on how to adjust for fit.
Adjustment
To adjust height of cup cozy repeat Rows 4-7, or any combination of rows you like. Alternatively, you can leave off a row of hdc if you need a smaller version.
To adjust the width of cozy increase or decrease the number of stitches in twos, then add one more. Note that two of the chains will be skipped to make the first hdc.
If you want to crochet this cup cozy into a to-go sleeve as you crochet it, you can check out the Travel Cup Cozy tutorial. In this post I show you how to join and turn at the end of every round. Or you can crochet it flat and seam it, as instructed below.
Full Length Video Tutorial
The Coffee Cup Cozy Video is available to watch on YouTube.
Level
Intermediate-Adventurous Beginner
Scroll down for the free cup cozy crochet pattern!
Crochet a Cup Cozy Pattern | Coffee Bean Mug Cozy
Additional Time:
10 minutes
Total Time:
1 hour
5 minutes
Learn how to crochet the Coffee Bean Cup Cozy. Packed with texture these crochet mug cozies make great gifts.
Materials
#4 medium worsted weight yarn, pictured in Big Twist
Tools
5.5mm crochet hook, or hook needed to meet gauge
1"-1.25" button
yarn needle
sewing thread
scissors
Instructions
Ch 25 (31) Hdc in 3rd ch (skipped chs do not count) and hdc in each ch across, turn. (23, 29 sts)
Ch 2, in same st mb, *(sk next st, mb in next st) rep from * across, ch 1 again (you'll have 2 chs), turn. (12 mb, 15 mb)
In same st mb, *(sk next st, mb in next st) rep from * across, ch 1 again (you'll have 2 chs), turn. (12 mb, 15 mb)
Hdc in same st and in each st across, turn. (23, 29 sts)
Ch 2, hdc in same st and in each st across, turn. (23, 29 sts)
Ch 2, in same st mb, *(sk next st, mb in next st) rep from * across, ch 1 again (you'll have 2 chs), turn. (12 mb, 15 mb)
In same st mb, *(sk next st, mb in next st) rep from * across, ch 1 again (you'll have 2 chs), turn. (12 mb, 15 mb)
Hdc in same st and continue to hdc in each st across, turn. (23, 29 sts) Do not cut yarn. If seaming for a To Go Sleeve skip ahead to Step 12.
To crochet a border for button loop version continue from where you are. Ch 1, sc in same st, turn corner,
sc evenly around the rectangle. Place (sc, ch 1, sc) all in the corners. Sl st back to first sc made. Do not cut yarn.
To crochet the button loop continue from where you are. Sl st down the edge 4 sts, or an 1." Chain 11, sl st back to rectangle edge, skipping 4 sts, or 1" from where you started the chain. Cut yarn.
Sew on button to the opposite end of the rectangle. It is a good idea to check the fit on your mug when adding
the loop and button.
To seam for a To Go Cup Sleeve cut yarn, leave a long tail for sewing. Match short ends together. Use tail and yarn needle to seam together, forming the ring.

Recommended Products
As an Amazon Associate and member of other affiliate programs, I earn from qualifying purchases.
If you love learning by video tutorial be sure to check out my YouTube Channel!
Subscribe to my youtube channel