How to Read a Yarn Label | What's on a Yarn Label
Learning to read a yarn label, sometimes called a ball band opens up a wealth of information about your yarn.
When you first learn to crochet or knit, there are so many new things! You need supplies first, so learning how to read a yarn label is important.
Once you know what to look for and what the symbols mean, your yarn label will give you so much information.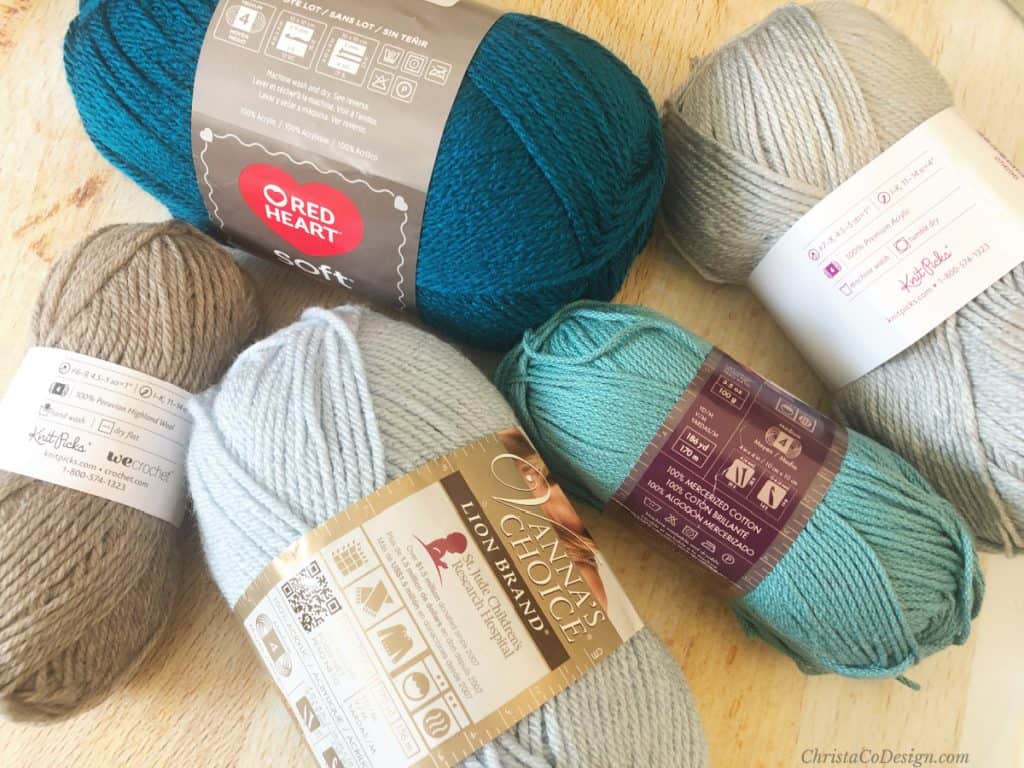 Most yarns come with a paper label wrapped around the center. This is true whether your yarn is sold in skeins or hanks.
The yarn label contains basic information about the brand, and color. Most yarns have a dye lot number assigned to the color.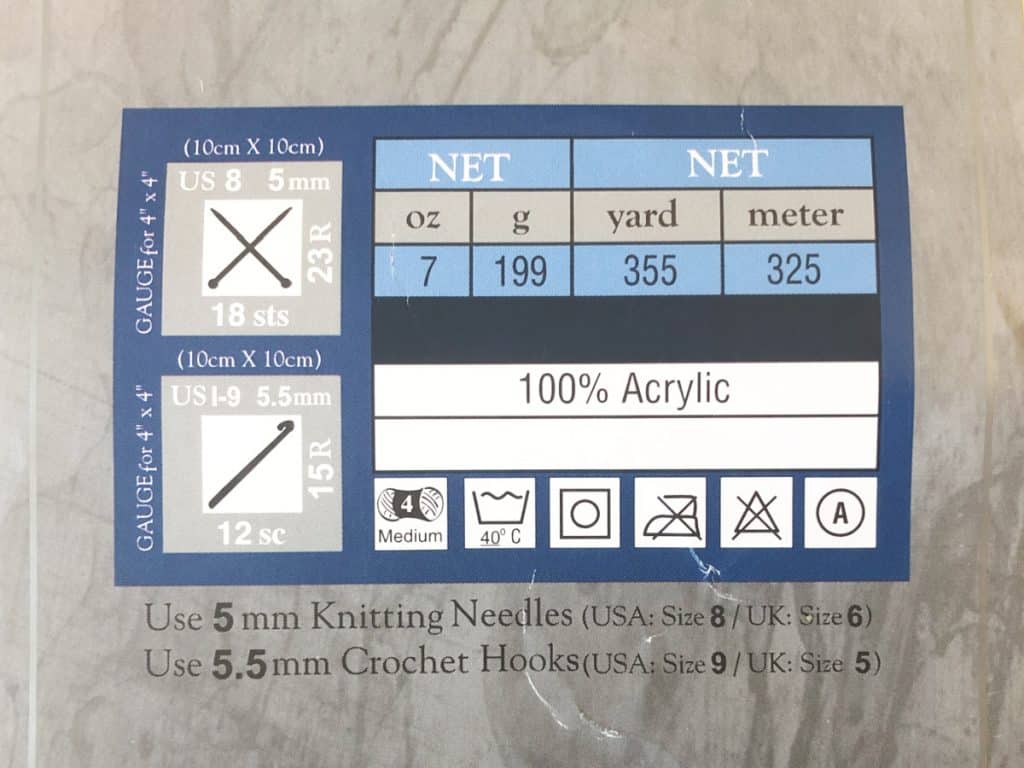 Dye Lot and Color
The dye lot is important on a yarn label if you are buying more than one ball in the same color. This is sometimes labeled as Lot only.
You will want to check that you buy matching dye lot numbers. Otherwise, your colors may not match, even if they are the same color. (Ask me how I know!)
A dye lot is the number assigned to all the yarns dyed in the same vat, or container. So if there are three vats of yarn being dyed red, those 3 would have different dye lot numbers.
This is because it's hard to dye yarn to the exact same shade. The dye lot helps you identify this and prevent have two reds that are almost the same, but not quite.
Yarn Weight (Size or Thickness of the Yarn)
The weight of the yarn is also found on the yarn label. Yarn weights are assigned a number that corresponds to the thickness of the yarn.
So yarns that are labeled as 0-1 are thinnest, and yarns labeled as 6-7 are the thickest.
Yarns labeled as 0 are lace weight yarn, the finest, and are also known as fingering, and 10-count crochet thread.
1 weight are superfine, and are also known as fingering, sock, baby yarn.
2 weight yarns are fine, and also known as sport, baby.
3 weight yarns are light, and also known as dk, light worsted, lightweight, yarn.
4 weight yarns are medium, and also known as worsted, afghan, aran yarn.
5 weight yarns are bulky, and also known as chunky, craft, rug yarn.
6 weight yarns are super bulky, and also known roving yarn.
7 weight yarns are jumbo, and are also known roving yarn.
In this post you can read about which crochet hooks work well with these different yarn weights.
Your pattern will tell you which weight yarn to use, usually under the Materials or Supplies section. It may look something like this:
#4 medium worsted weight yarn, pictured in Comfy Worsted Yarn* (75% Pima Cotton, 25% Acrylic, 1.76 oz/50g, 109 yd/100m) color: zinnia (7).
The yarn weight is given first here. Then the information following is specific to the yarn brand that is recommend. This information-the fiber and weights of the ball are also found on the yarn label.
The last part of this entry is the name of the yarn color and how many balls of the same yarn you will need.
Fiber Content (What your yarn is made of)
This is what your yarn is made of! Acrylic is common one that makes for affordable yarn in an array of fantastic colors.
The fiber content will be marked as a %, so if it is a blend then it's labeled with the different percentages. As in the example above, WeCrochet's Comfy Worsted Yarn is a blend of 75% Pima Cotton and 25% Acrylic.
Common Fiber Content in Yarn
Acrylic
Bamboo
Cotton
Linen
Merino
Nylon
Wool
Length – How much yarn comes in a ball, skein or cake?
Each yarn label will include how much yarn you are getting. This is the length of the yarn and it's measured in yards or meters and ounces and grams.
Some yarns include all of these measurements, some only two of these.
There is no standard length for a ball or skein of yarn, except by the brand itself. All skeins are not equal, so you will need to be sure to find this information.
If your pattern calls for 700 yards of #4 worsted yarn and the yarn comes in 250 yard skeins, then you will need at least 3 skeins of that particular yarn. If you opt for another brand, and it comes in 200 yard skeins, then you will need at least 4 skeins.
Gauge on a Yarn Label
Most yarn labels will have two boxes for gauge, one for crochet and one for knitting. This is where you will find the recommended needle size and crochet hook size for the yarn.
It also shows a little gauge square, measuring 4″/10cm x 4″/10cm with how many stitches and rows you will get with this yarn and recommended hooks.
The gauge is a bit misleading, as it is only for stockinette stitch in knitting and single crochet for crocheting and using the indicated needle or hook here.
Your crochet and knitting patterns are going to give you the gauge that's specific to that pattern. Likely a different stitch (or a mix of stitches) will be used. And depending on what type of fabric you're creating (i.e. amigurumi vs. garment) a different hook or needle size will be needed as well.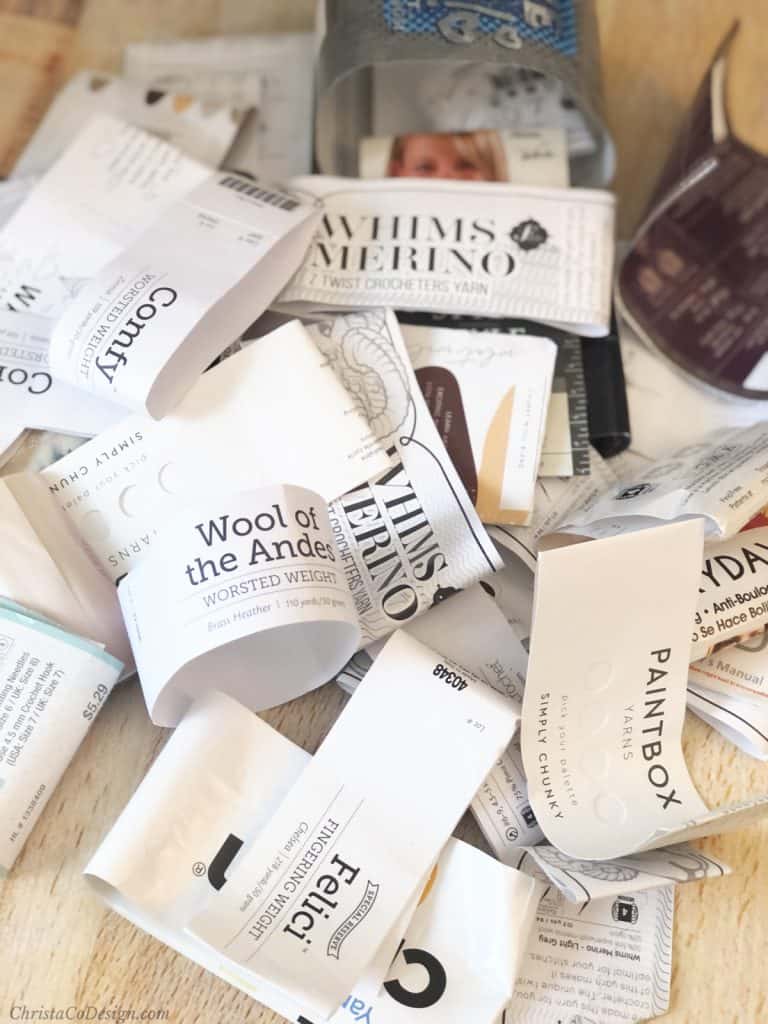 Care Symbols – How to launder your handmade items
The care symbols on a yarn label are very important to washing and drying your finished items.
Care symbols include 5 main categories:
Washing, indicated by an open top trapezoid with squiggly water lines across the top.
Drying, a square with circle inside.
Ironing, line drying of an iron.
Bleaching, a triangle.
Dry Cleaning, a circle.
The most important symbol is the X that is marked on top of one of these care symbols, as that indicated you should not bleach, iron, etc.
A hand is sometimes used with the washing symbol to indicate hand washing.
Some care labels will tell you the specific temperature to wash or dry in. Others use a system of dots, one dot being low, 3 dots being high.
Different Yarn Labels
All yarn labels will include these basic elements. Some brands choose to add extras to their yarn labels.
You can often find a pattern written on the inside of the label.
Some include a ruler along the edge of the yarn label.
There may be suggestions for how many balls of the yarn you'll need to crochet common items like hats, scarves etc. Remember your pattern is the best source of how much yarn you'll need though (there are many factors to consider) but this is a good guide.
If you love learning by video tutorial be sure to check out my YouTube Channel!
Subscribe to my youtube channel