How to Knit Garter Stitch a Tutorial for Beginning Knitters
Learn how to knit the garter stitch. This classic knitting stitch is perfect for beginning knitters.
With this one stitch you can knit so many projects like scrubbies, shawls, scarves, blankets and many more easy knits!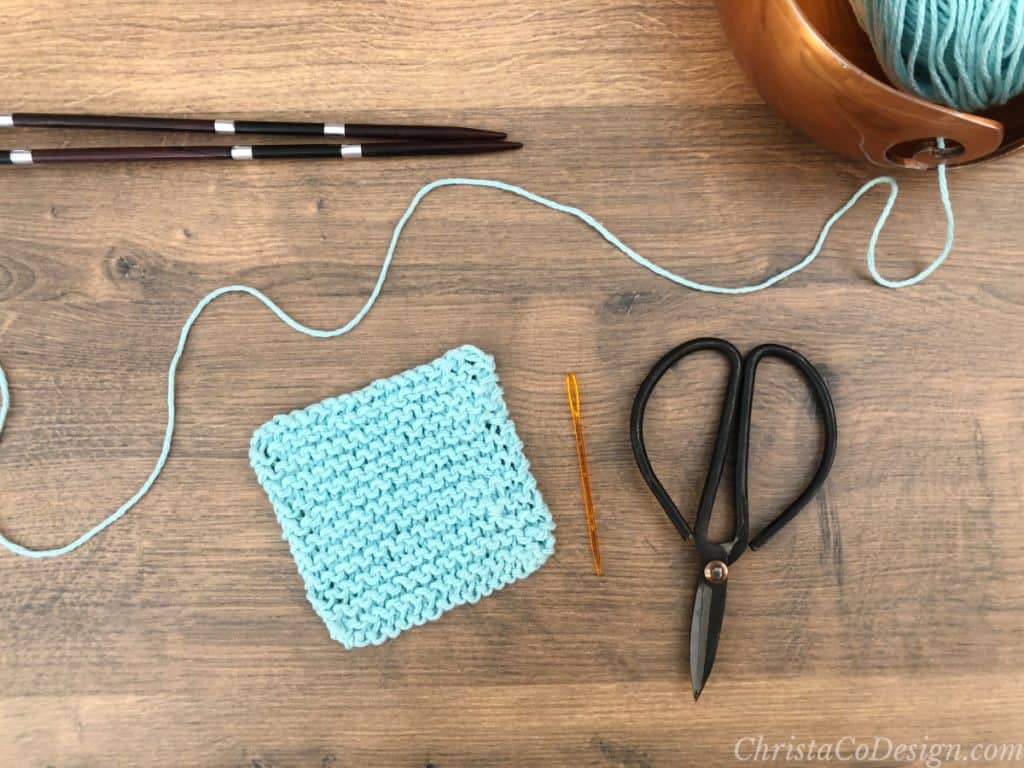 Yarn
You can use any weight yarn to learn. This yarn I'm using is a #4 medium worsted weight cotton yarn from Big Twist. I would recommend using a #4, #5 or #6 weight yarn, as it's easier to see the stitches.
If you need some ideas for how to hold your yarn this post explains how I hold it to crochet, but also to knit since I'm a continental knitter. I also include a few variations for you too.
Needles
You can use any size needle that works for your yarn. Most #4 medium worsted weight yarns will knit up well with 4mm-6mm knitting needles.
While you can use any needle to learn on, wood is generally a good choice for first needles as they're a little "grippier" than the metal ones. I like these Clover Takumi* needles for beginners.
For this tutorial I'm knitting on my 5mm US 8 Furls Rosewood* 10″ single point needles. They're quite lovely.
Necessary Skills
You'll need to know a few things first before you can start knitting. Once you have your yarn and needles, you need to cast on. I have a few cast on tutorials you can check them out here.
Crochet Hook Cast On this is by far the easiest method to casting on (in my opinion), however it does require you to have a crochet hook that matches you needle size, so it's not for everyone.
Short Tail Cast On is the next quickest and easiest way to just get started. This cast on is not as neat, or as easy to knit into, but it get the stitches on your needle with the least amount of fuss.
Long Tail Cast On is a very popular cast on method that is fairly simple and great for projects that require a small number of stitches. However, estimating the length of the long tail can be tricky.
There are so many different ways to cast on, and they each have their pros and cons! You'll find one (or a few) that you love. The important thing is not to let casting on stop you!
---
Never Miss a Pattern
Be sure to join my newsletter for my weekly emails + access to my Resource Library.
---
Pin it
Knitting Patterns Great For Beginners
The garter stitch looks great in this variegated yarn! This easy knit scarf pattern is simple knit stitches throughout.
The Giana is a chunky knit cowl knits up super quick and easy. This one skein knitting pattern is perfect for beginners.
This is a great beginner knit pocket shawl that's a squishy garter stitch rectangle.
Stitches/Abbreviations (US Terms)
How to Knit Garter Stitch Tutorial
Additional Time:
5 minutes
Learn how to knit the garter stitch. This classic stitch is easy to learn and will have you knitting in no time!
Materials
Yarn. You can use any weight yarn. I'm using a #4 medium worsted weight cotton, Big Twist Cotton for this tutorial.
Tools
Knitting Needles to match your yarn. I'm using 5mm needles, Furls Rosewood 10" single point needles for this tutorial.
Scissors
Yarn Needle
Measuring Tape
Instructions
Cast on any number of stitches. The long tail cast on is popular, but I'm a fan of the crochet cast on.
I'm a continental knitter which just means that I hold the yarn in my left hand. So that's the way I'm teaching you in this tutorial.
Place the needle with the live stitches (that you just cast on) in your left hand, with the yarn coming out toward the back.
Hold the second needle in your right hand. English knitters will hold the needles the same way, but they hold the yarn with their right hand.
Insert the right needle into the first stitch-from front to back.
Wrap the yarn over the needle.
Pull that yarn up and toward the front, pulling it through the stitch.
Now slide the stitch off the left needle.
You've knit 1 stitch and it's now on your right needle.
Now we'll repeat steps 5-9 in each stitch across.
When all the stitches are knit, and transferred to the right needle our left needle will be empty. Now it's time to move the right needle (with the stitches) into your left hand, and hold the empty needle in your right hand.
Now to create the garter stitch, we'll knit each stitch across the row.
And just keep repeating this one row for the length of the project.
Once you've finisihed knitting your rows (hey, look you're a knitter now!) you'll need to bind off.
And weave in your ends, and you're done.
Now it's time to practice, practice, practice!
Recommended Products
As an Amazon Associate and member of other affiliate programs, I earn from qualifying purchases.
Watch the Video
Check out the full video tutorial for how to knit the garter stitch on my YouTube.
If you love learning by video tutorial be sure to check out my YouTube Channel!
Subscribe to my youtube channel