Easy Pocket Shawl Free Beginner Knitting Pattern Giana Shawl
Learn how to knit a pocket shawl. This easy knit pocket shawl pattern is comfy and cozy.
The Giana Shawl knits up fast in chunky yarn. The garter stitch makes this knitting pattern a breeze, especially for beginning knitters.
Adding pockets to your shawl is simple. Knit up this easy rectangle shawl. Then knit two small rectangles for your pockets.
Find your perfect length by measuring your wingspan-from fingertip to fingertip. Sew on your pockets precisely where you need them. Eccolá you have knit a pocket shawl!
---
Purchase the ad-free, well formatted printable PDF Pattern from my shop. Scroll down for the free pattern!
---
You Can Purchase My Ad-Free PDF Patterns Here:
I love a chunky knit. This wrap is so cozy. My pockets are 8″ squares, but you could go even deeper for a super warm pocket.
This one is cozy without being overwhelming. It's wide enough to give me shoulder coverage.
I kept the length just long enough for my arms, so the pockets are relatively close to the edge.
These are all things easy to customize for your own preferences.
My shawl is 16″ wide. This is easy to adjust if you want to knit a wider, even cozier shawl for yourself. Or if you prefer a super scarf with pockets, then cast on a few less stitches.
And when you really need the extra warmth the classic garter stitch is reversible. So you can wear your pocket shawl inside out and reap the benefits of cozy pockets and full arm coverage.
---
Add this pattern to your Ravelry queue.
---
If you would like to learn more about the basics of knitting a shawl I wrote a post on how to knit a shawl for beginners. It includes both triangle and rectangle shawls, plus different yarn weights.
I just love, love how squishy the Giana is around my neck. If you want to style this as a scarf you can do so.
It's a bit like wearing another layer, except easier to remove as it warms up.
More Free Beginner Knitting Patterns
Bella Vita Blanket Knitting Pattern is an easy, chunky weight blanket. This one has a four row repeat that creates a lovely texture, and is simple to remember.
Tostata Triangle Scarf Knitting Pattern is perfect for those single hanks of hand dyed yarn in your stash.
Lana Cardigan Vest Knitting Pattern this garment is simple and knit flat. The generous sizing allows for a flowy and flattering look.
---
Never Miss a Pattern
Be sure to join my newsletter for my weekly emails + access to my Resource Library.
---
Yarn
The Giana Pocket Shawl is knit in a squishy blend of acrylic and wool. This makes it warm and washable. The yarn for this shawl pattern is a #5 bulky yarn.
Can I substitute yarns? Of course, you can. Unfortunately the Lion's Pride Wool Spun I used has been discontinued. However, Lion Brand recently released their Hue + Me Yarn, which is a comparable acrylic + wool blend #5 bulky yarn.
Another popular #5 bulky yarn is Homespun. This yarn would make a beautiful knit wrap. I'm also partial to the look of Red Heart Dreamy. This brushed yarn gives your projects an ultra soft look and feel.
I used a Gemstones Stripes Homespun yarn in my Umbria Shawl beginner knitting pattern. The Nebbia Scarf + Sweater crochet patterns feature Red Heart Dreamy in Ivory.
For a limited time this yarn is back in stock! Get Woolspun from Lion Brand* while you can. It's a squishy favorite.
Stitch
The Giana Pocket Shawl is knit with the simple garter stitch. This means you knit both sides, making it reversible.
01
Get our free printable
With 25 of our best handmade gift tags
This ebook includes our top 25 reader favorite gift tags and labels that you are sure to enjoy as well! Enter your email below to download our beautiful handmade tags!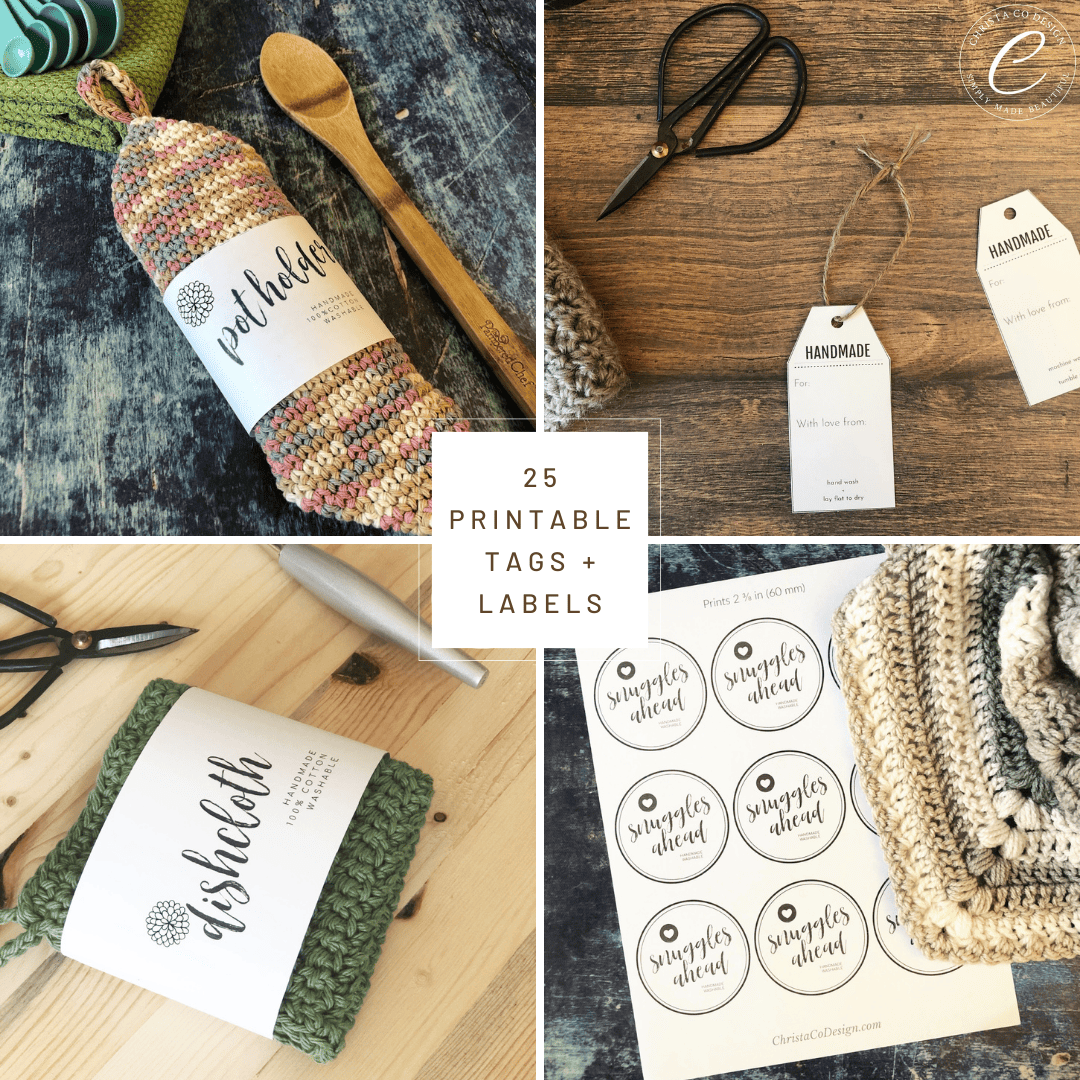 Materials
635-889 yds of #5 chunky weight yarn*; pictured in 6 balls Lion's Pride Woolspun (discontinued); Color Made Easy* is a suitable substitute.
8mm needles* I knit with cable needles. You can use 9-16″ straight needles or 24″+ cables for this flat knitting pattern.
Yarn needle
Measuring tape
Scissors
Worked flat, turn after each row.
Stitches/Abbreviations (US Terms)
4″ x 4″ = 10 sts x 22 rows of garter stitch
Construction
This shawl pattern is knit flat. You will turn your work after each row. The number of stitches you cast on will equal how wide your shawl is and you will knit it to length. Pockets are knit separately and sewn on.
Level
Beginner
Finished Dimensions
Shawl is 60" long x 16" wide
Pockets are 8" x 8″
Fit/Adjustment
To make your shawl wider, cast on any number of stitches. If you are matching gauge then for every 10 sts you add it will increase width by 4″.
Likewise for a more narrow shawl or scarf, cast on fewer stitches. Every 10 stitches, at the given gauge, will equal 4″ less.
To make your shawl longer, repeat as many rows as needed. The length of your shawl when adding pockets should match up with the length of your arms.
To take measurements for your pocket shawl, hold your arms spread wide apart. Have someone measure from fingertip to fingertip. That's how long you will want yours to be.
For reference, modeled pictures show a 5′ 2″ woman wearing a 60″ long shawl. I find patch pockets most comfortable about where my pants pockets are located-at about hip length.
Remember when adjusting that changes will also effect the amount of yarn needed so plan accordingly.
---
Purchase the ad-free, well formatted printable PDF Pattern from my shop. Scroll down for the free pattern!
---
Pin It
Video Tutorial
You can watch the video tutorial for the Giana Pocket Shawl on YouTube.
Scroll down for the free pocket shawl knitting pattern!
How To Knit an Easy Pocket Shawl For Beginners
Additional Time:
30 minutes
Total Time:
8 hours
40 minutes
Learn how to knit an easy and comfy shawl with pockets. This easy knitting pattern is beginner friendly.
Materials
635-889 yds of #5 bulky weight yarn; pictured in Lion's Pride Woolspun (discontinued); Hue + Me is a suitable substitute.
Instructions
Pockets-Make 2
CO 20 for an 8" wide pocket.
K all.
K all.
Repeat steps 2-3 until pocket measures 8" long.
BO. Set aside.
Shawl
CO 40 for 16" wide shawl.
K all.
K all.
Continue to repeat steps 2-3 until desired length is reached. Shawl pictured is 60" long.
BO. Cut yarn and weave in tail.
Finishing
Try your shawl on to find your best pocket placement.
Pin pockets in place.
Check that you can reach your pocket placement comfortably. Adjust if needed.
Sew pockets to shawl with yarn needle and length of yarn.
Cut yarn, weave in ends.
Recommended Products
As an Amazon Associate and member of other affiliate programs, I earn from qualifying purchases.
If you love learning by video tutorial be sure to check out my YouTube Channel!
Subscribe to my youtube channel