Umbria Chunky Knit Shawl Pattern- Free + Easy
The Umbria Chunky Knit Shawl Pattern is cozy and gorgeous. An easy, beginner friendly knitting pattern this free triangle shape shawl pattern works up fast in chunky yarn.
The Umbria is a shallow triangle shawl with long wings, allowing for easy styling. Wrap it around your shoulders, or switch it up and wear the Umbria as a chunky knit triangle scarf.
This knit shawl is easy to adjust by continuing the pattern repeat for as long as you'd like to make your shawl, or until you run out of yarn!
I love having a simple knitting project that I can pick up and put down whenever I find a few minutes to knit. Or for those evenings when my hands want to be making, but my mind doesn't want to do the counting. This shawl is an excellent mindful make for any beginner knitter.
This lovely hand carved shawl stick from the Etsy shop WoodenItBeLovely. I love how perfectly it compliments the Umbria Chunky Knit Shawl Pattern. Simplicity, beauty and function!
The Yarn
This Gemstones color way from Lion Brand is so gorgeous. I love the combination of pink, purple and grey. This Homespun yarn makes gorgeous shawls especially in simple garter stitch.
It's so fun to work up these self striping yarns into a colorful shawl. I'm always so excited to get to the next color.
The yarn for this easy shawl knitting pattern is a #5 chunky weight. The thicker yarn means this cozy shawl is a quick knit.
How This Shawl Is Made
You can knit a triangular shawl in many different ways. They can be made top down, bottom up or sideways.
Knit shawls also come in different shapes. This is a simple triangle shawl knitting pattern.
The Umbria is a garter stitch shawl knit bottom up with simple increases. This construction makes for a truly easy knit shawl. It's a relaxing knit in a one row repeat.
And if you're not sure you have enough yarn then the bottom up design can become a triangle scarf instead.
More Easy + Free Knitting Patterns
The California Knit Wrap is a beginner friendly rectangle shawl pattern that's a free pattern in worsted weight yarn. This free shawl knitting pattern is made with Shawl in a Ball yarn. Gradient yarn and garter stitch make a lightweight shawl in a simple pattern.
The Tostata Triangle Knit Scarf is a great project for those single hanks of hand dyed yarn in your stash. A simple project, but stunning this free knitting pattern will give you reason to use that yarn. This triangle scarf is knit sideways, with yarn overs for increases.
If you're looking for a smaller project, the Bianca Bookmark knitting pattern is fast and uses very little yarn.
---
Never Miss a Pattern
Be sure to join my newsletter for my weekly emails + access to my Resource Library.
---
Materials
Notes
Worked in garter stitch, you will knit both the right side row and the wrong side rows.
Worked bottom up, increasing on both edges.
Worked flat, turn after each row.
Stitches/Abbreviations
BO-bind off
CO-cast on. You can use any cast on method. I have a long tail cast on tutorial here. For a quick, short tail cast on you can check this tutorial out.
Garter St – garter stitch is knit on both sides. You can learn to knit garter stitch in this blog post.
K-Knit
KFB-knit front back (increase)
Rep-repeat
St(s)-stitch(es)
Stitch markers are optional.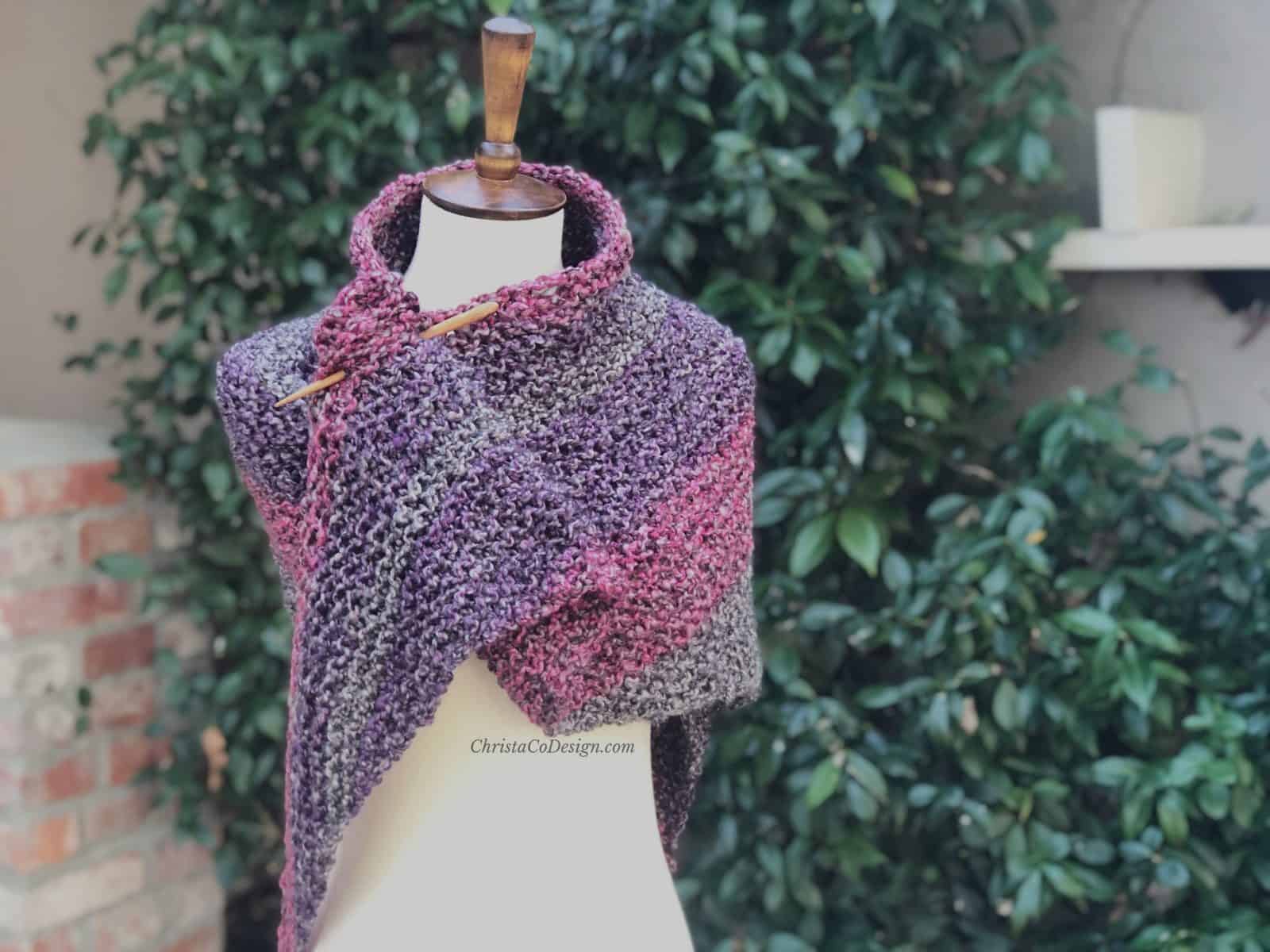 Helpful Knitting Tutorials
Cast On With A Crochet Hook As a crocheter, this is my favorite and go-to cast on method.
The Long Tail Cast On is another easy and popular cast on method.
Eventually you will need to know how to join new yarn, the magic knot is one way.
How to change colors when you slip 1 at the beginning of a row.
Gauge
4" / 10 cm x 4" / 10 cm = 12 sts x 16 rows in garter st
Dimensions
76" wide x 19" deep (unblocked)
Your shawl will start at the bottom and increase at the beginning and the end of the row. The long top edge will be your bind off row.
Pin It
Scroll down for the Umbria Shawl Knitting Pattern with Step by Step Pictures!
How to Knit a Shawl Step by Step for Beginners
Additional Time:
5 minutes
Total Time:
6 hours
10 minutes
The Umbria is a chunky knit triangle shawl beginner knitting pattern. This chunky knit shawl is a cozy triangle shawl. This easy knitting pattern is perfect for beginning knitters.
Materials
#5 bulky weight yarn, pictured in Lion Brand Homespun Yarn (98% Acrylic, 2% Polyester, 6oz/170g, 185 yd/169m) color: gemstone stripes; 2 skeins.
Tools
8mm 24" circular needles or larger
Yarn needle
Measuring tape
Scissors
Instructions
Start with a slip knot on your left hand needle. You will knit into this stitch.
Insert the right hand needle in the front leg of the stitch.
Wrap the yarn over the right needle.
Pull the yarn through the stitch.
Without sliding the stitch off, insert the right needle into the back leg of the same stitch.
Wrap the yarn over the right hand needle.
Pull yarn through to knit back loop. You'll have two loops on your right needle and one loop on the left hand needle.
Slide the stitches off the left hand needle. You will now have two stitches on your right hand needle.
Turn your work so that the needle with the stitches on it is now in your left hand.
Knit the front and back loop following the steps above for both stitches. You will have 4 stitches. Turn your work.
Knit the front loop and the back loop of the first stitch, Knit the next two stitches and then knit the front loop and the back loop of the last stitch, turn your work. = 6 stitches
From here KFB is the abbreviation for increasing by knitting the front loop and the back loop. K followed by a number tells you how many stitches to knit. Your total stitch count is in parenthesis.
On the next row KFB, K 4, KFB. (8 sts)
For the next row KFB, K 6, KFB. (10 sts)
Next row: KFB, K to one st left, KFB. + 2 sts
Repeat last row, increasing on both ends until the shawl is as big as you like.
Then bind off.
Cut yarn and weave in ends.
Written Pattern Instructions:
CO 1

Row 1. KFB. (2 sts)

Row 2. KFB, KFB. (4 sts)

Row 3. KFB, K 2, KFB. (6 sts)

Row 4. KFB, K 4, KFB. (8 sts)

Row 5. KFB, K 6, KFB. (10 sts)

Row 6. KFB, K to one st left, KFB. (12 sts)

Rows 7-80. Rep Row 6, til scarf is 19" deep or to desired length.

BO.

Cut yarn and weave in ends.
Notes
To knit a larger shawl continue repeating, increase on both edges until shawl is as long as you like.
I hope you enjoy your new shawl!
Recommended Products
As an Amazon Associate and member of other affiliate programs, I earn from qualifying purchases.
If you love learning by video tutorial be sure to check out my YouTube Channel!
Subscribe to my youtube channel