The Best Crochet Stitches For Sweaters + Free Patterns
Maybe you've considered crocheting your own sweater? And then you wonder what stitch do you even use!
Well the basic crochet stitches are an excellent choice. Especially if it's the first time you're crocheting a sweater. After all, most other stitch patterns are just a combination of these stitches.
Here I've divided my free crochet sweater patterns by stitch. Many of these sweater are made with a simple construction so beginners to experienced crocheters can make them.
Single Crochet Stitches
These easy crochet sweater patterns use the single crochet in a variety of ways.
The extended single crochet is an amazing stitch for sweaters. It creates a crochet fabric that doesn't have a lot of spacing or holes. Plus the extended part of the exsc means this stitch has awesome drape.
I've designed two garments with the extended sc to date: the Alfonso men's vest and the Gia women's ruffle sleeve top. Both these are free crochet patterns right here.
The pike stitch uses the extended single crochet with an extra chain one. It makes a lovely long cardigan pattern get the free crochet pattern for the Hygge Homebody here. The cozy neck ribbing is my favorite part of this slouchy sweater.
The spider stitch is made with single crochets and chains. It creates a dense fabric that's a great choice for a warm winter sweater. The Positano Cardigan has pockets which are solid and warm in this stitch.
The alternate single crochet stitch creates a solid fabric perfect for crochet sweaters. You alternate front loop and back loop sc and it makes a gorgeous texture.
Plus crocheting in only one loop gives this crochet top a lot of movement that's great for a kids sweater. My kids love this sweater such much they even passed it down. Since we've outgrown it I think it's I crocheted a new sweater!
Half Double Crochet
Simple stitches like the half double crochet make an easy sweater. I like the basic stitches because they're easy to adjust.
One of the many benefits of making your own clothes is being able to customize them. You can get the perfect fit for your body. With the Heather Sweater you can add or take away stitches to the bust, the waist and the length.
The Heather uses worsted weight yarn in wool for cozy warmth. Get the free pattern for the Heather Sweater an easy pullover pattern in 9 women's sizes here.
In another sweater I combine the half double crochet stitch with bobble stitches. Bobbles make a statement while the hdc makes a warm sweater. The Briones sweater pattern works up quickly in bulky yarn.
For a kids sweater the half double crochet is perfect. The Bryce Canyon Cardigan comes in children and youth sizes. It's a classic cardigan pattern for kids.
The Racing T-Shirt is a kids crochet pattern using the hdc stitch again. It's worked sideways so the stripes are easy to make.
Double Crochet
Double crochet stitches make and excellent men's sweater in the Simple Striped Sweater. It works up quickly and easily.
This simple pattern is perfect for a crochet beginner. You'll work up one front panel and one back panel in double crochet. Then seam them together. It's a great pattern for learning the basics of sweater construction.
The Nebbia Sweater features double crochets with an alternating back loop, front loop pattern. This gives the sweater beautiful drape and texture. The chunky yarn makes this a warmer sweater.
Of all my sweater designs, the Nebbia is the most beginner friendly. This makes a great first sweater.
Another simple sweater pattern, the Spring Cardi is worked top down in double crochets.
I really like this paired double crochet stitch. It's dc so it works up fast. And double crochet stitches have all the drape.
This stitch pattern has a little more space between stitches. So depending on how you like your fit, you might size up for ultra cozy.
I designed the Sera Pullover with a v-neck and 3/4 sleeves in this stitch. And the Sera Cardigan which is my favorite garment pattern. It's bottom up with only shoulder seams and sewing the sleeves on.
The Sera Cardigan is in the same easy stitch pattern with v-neck and long sleeves. Plus this sweater also has a full video tutorial.
The Sera is my personal favorite for it's fit and minimal seaming!
I have two sweater designs, the Summer's End Cardigan and the Mid Summer Cardigan that feature the same stitch pattern. The Summer's End is a hip length, cardigan with short sleeves. The Mid Summer is a longer length cardigan with 3/4 length sleeves and split hem.
These cardigans were designed for warmer weather. So I use Lion Brand Comfy Cotton, which is a cotton blend yarn.
Special Stitches
As far as special stitches go, the trinity stitch makes a gorgeous sweater. In the Sunset Sweater I pair the trinity stitch with a ribbed cowl neck.
The Sunset is a cozy sweater that's perfect for colder months. I chose different colors inspired by sunset, but it looks amazing in a solid too.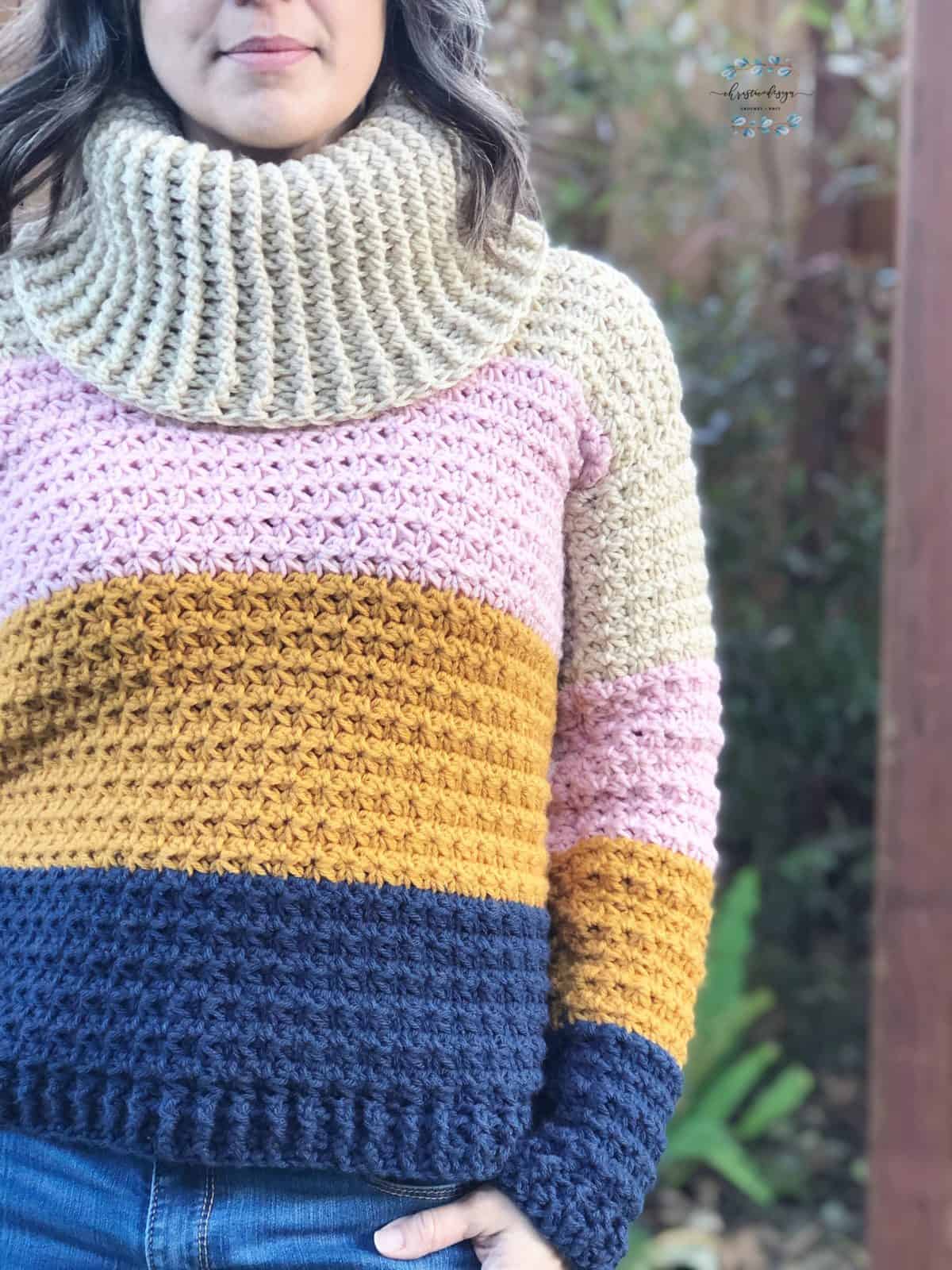 If you would also like help on choosing the best yarn for your sweater check out this post. I cover all the ins and outs of the process. So you'll be able to crochet a beautiful sweater in a soft yarn that you'll love.
If you love learning by video tutorial be sure to check out my YouTube Channel!
Subscribe to my youtube channel