Choosing The Best Yarn For Crochet and Knitting Sweaters
What is the best yarn for crocheting and knitting sweaters? The real answer is: it depends.
Finding the right yarn for your handmade sweater is important. Before you can make the best choice you need to know the answers to a few questions.
Questions to Ask Before Buying Yarn for a Sweater
Who is it for? Are you crocheting a sweater for yourself, a friend, or a child? Are you selling hand knitted sweaters for profit?
What season are you crocheting this sweater for?
Which fibers work for your lifestyle? Do you need easy care or is hand wash only ok?
What is your budget? Is affordable yarn important, or are you indulging in a luxury yarn?
Let's look closer at what to consider with each of these questions so you can feel confident making a great choice for your sweater yarn!
Your Pattern
If you already have a pattern chosen for your crochet or knit sweater then check the materials or supplies. In this section the designer will tell you what yarn is used in the sample.
If you can use the same yarn that is recommend that is generally the best route. But obviously, sometimes we have to use other yarn.
At the very least you'll need to use the same yarn weight as the suggested yarn. You can choose a different brand, different color and different yarn fiber (but that may change the outcome!).
So if the pattern uses #6 super bulky yarn you can not choose a #2 sport weight yarn and get the same result. The pattern was written for the thicker #6 yarn, so stick to that yarn weight.
Whether you have chosen a sweater pattern or not, read further to learn what else to look for in sweater yarn.
Who is this crochet sweater for?
If you're making a pullover for yourself then likely you know what type of yarn you want in regards to a soft yarn, the stitch definition, color, and cost.
Choosing Yarn for Children's Sweaters
When I knit a sweater for my children, I know to use acrylic yarn. Kids are hard on clothes and that hand dyed yarn is not for my kindergartener! I also look for the types of yarn that are machine washable.
Plus children grow and change quickly. And it takes a long time to crochet a sweater. You'll also want to keep this in mind when choosing yarn weight (if you haven't selected a pattern yet).
For kids' sweaters, #3 lightweight DK yarn, #4 medium worsted weight yarns and #5 bulky weight yarns will work up quickly.
Save the fingering weight yarn for yourself, or a special friend.
Choosing Yarn for Selling Sweaters
If you are making crochet and knit sweaters to sell then you will need to know what your buyers want. Do they want cozy sweaters in affordable acrylic yarns? Or do the people you sell sweaters to want a high end mohair sweater in fingering weight yarn?
Be sure to account for cost of materials and your time correctly if you are selling sweaters. Crochet sweaters use a lot of yarn and your time.
For more information how to price crochet to sell, check out the resources from Crochetpreneur. Pam has a ton of free resources that are helpful for sellers. If you're interested, I highly recommend joining the waitlist for her Crochet Business Academy, here is my affiliate link.
What season are you crocheting this sweater?
This might seem like a silly question because crochet sweaters seem obviously for cold weather. However many crocheters enjoying making lightweight summer garments too.
Plenty of makers live where it's warm most of the year and they still enjoy making crochet tops.
In these cases the best yarn to choose is cotton yarn or bamboo yarn. And you would choose thinner yarns, like #2 sport weight yarn, # 3 DK weight yarn or #4 med weight yarn.
Again the thinner the yarn, the longer your handmade sweater takes to knit up. So if you have short warm weather season, well then stick to the #3 – #4 weight yarns. If it's summer three seasons a year for you, then make all the fingering weight garments!
Which fibers work for your lifestyle?
I am a mom of 4, so dry clean only is not a label I currently have in my closet. Be realistic with yourself, are you able to hand wash your crochet sweater if the care instructions for your yarn are handwash only? Or do you need a yarn that you can toss in the washing machine?
There are an abundance of yarns on the market. And so many of them are machine washable. Just take this into consideration when choosing.
You can choose from synthetic fibers and natural fibers. Synthetic fibers are like acrylic and polyester. Natural fibers include animal fiber yarns, like wool, and plant fibers, like bamboo and cotton.
Allergies need to taken into account also. Be sure to check your yarn label for the yarn fiber content information and skip any that you, or your recipient are allergic to.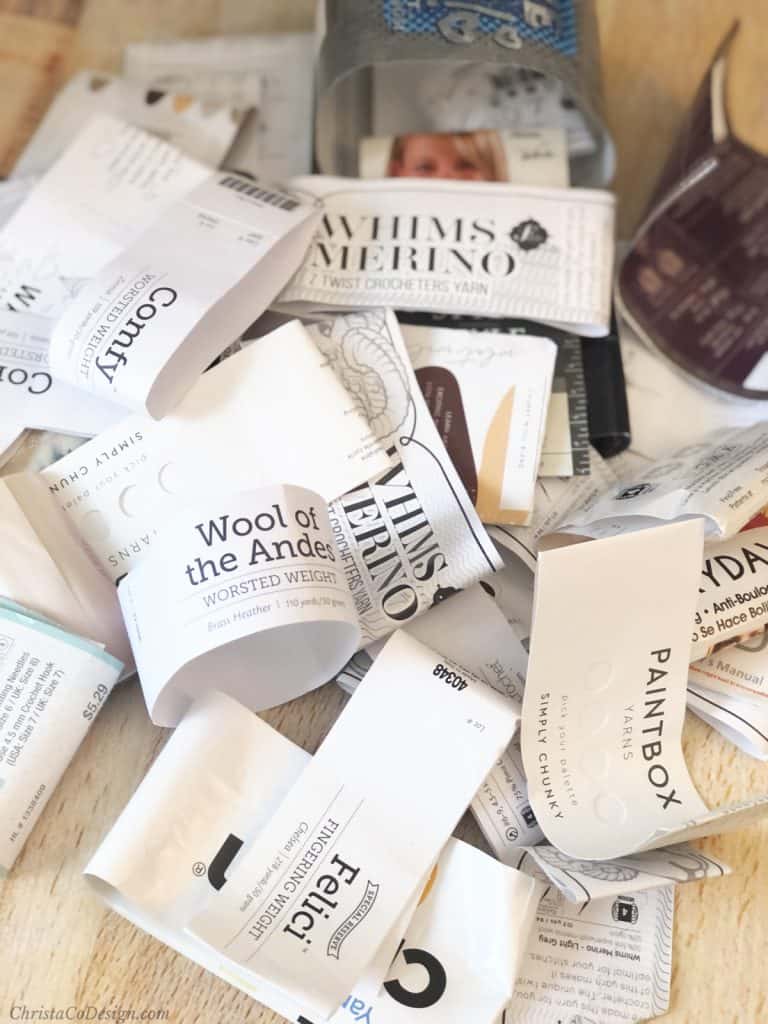 The Most Common Fiber Types
Acrylic Yarn – the most affordable and widely available in many different colors. Acrylic yarn is usually machine washable. Acrylic is great for garments any time of year.
Cotton Yarn – a commonly used natural fiber for yarn. Cotton yarn comes in 100% cotton and also cotton blends. Cotton is an excellent choice for spring and summer garments.
Wool Yarn – Wool is another frequently used natural fiber for yarn. Wool is an amazing fiber that is warm, but also breathable. Wool is a popular choice for fall and winter sweaters.
Yarn Weight
Likely you are considering making a sweater from a pattern. Crochet patterns include suggested materials, which will include the yarn weight for your project.
Worsted weight yarn is often recommend to a beginner crocheter. This medium weight yarn is the most popular all around though.
Bulky yarn, labeled as #5 bulky weight yarn, is a thicker yarn than #4 medium and makes great warm sweaters.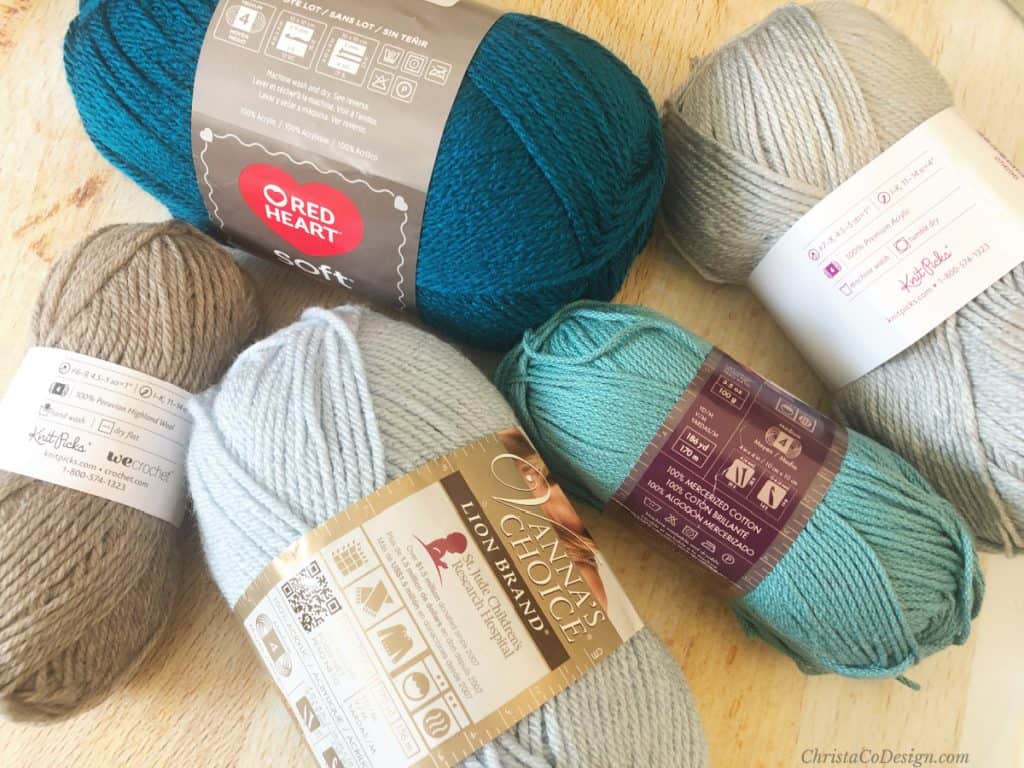 What is your budget?
A good #4 medium worsted weight acrylic yarn is best when you need affordability.
It's important to be able to get enough yarn for the entire sweater at once. Check the yarn label for the dye lot and be sure to get all your skeins with the same dye lot number.
All yarns have a place in the craft world. As you continue to grow your skills, you will become familiar with many of the different yarns out there.
You will learn which ones you love and which ones you prefer to avoid. The more you try a variety then the more confident you will feel in making the perfect choice for your yarn purchase.
Yarns I Love & Recommend
For Fall & Winter
Mighty Stitch,* a #4 worsted weight yarn that is an 80% acrylic, 20% super wash wool blend. It comes in a 3.5 oz / 100g, 208 yd / 190 m ball. You can see this yarn in this reversible pillow pattern.
Wool of the Andes is a #4 worsted weight yarn. It comes in 100% Peruvian Highland Wool which I use in this top down pullover sweater pattern and a 100% super wash wool which I use in this men's sweater vest pattern.
Another #4 medium yarn I love is Touch of Alpaca* from Lion Brand. This yarn is a blend of acrylic and alpaca. It has gorgeous drape. You can see it in action in this ruffle sleeve summer top pattern and in this v-neck pullover knitting pattern.
For Spring & Summer
Comfy Yarn* is a #4 worsted weight cotton blend yarn that's great for summer tops like this lacy crochet cardigan.
Lion Brand's Flikka* is a #3 lightweight / DK yarn, that is a cotton and polyester blend. I use in the Summer's End short sleeve cardigan pattern and the Midsummer a long length 3/4 sleeve cardigan.
If you love learning by video tutorial be sure to check out my YouTube Channel!
Subscribe to my youtube channel