Best Yarn For a Crochet or Knit Scarf
What's the best yarn for crocheting or knitting scarves? When you find a scarf pattern you love finding the right yarn is the next step.
There are a variety of yarns that work well for crocheting or knitting a scarf. The two main things to consider are the yarn weight and the fiber type.
Yarn Weight
Thicker yarns are all popular choices for winter. These yarn weights include: #4 medium worsted weight yarn, #5 chunky / bulky yarn and #6 super bulky yarn.
The thinner yarns are #1 super fine, #2 fine, and #3 DK / Lightweight yarn. These yarns are great for knitting, or crocheting summer scarves.
Knitting and crochet patterns list recommended yarn under Materials, or Supplies. So be sure to check your pattern recommendation if you have already chosen a scarf pattern.
You can usually substitute a different yarn brand, fiber or color. However, choose the same yarn weight that the pattern recommends.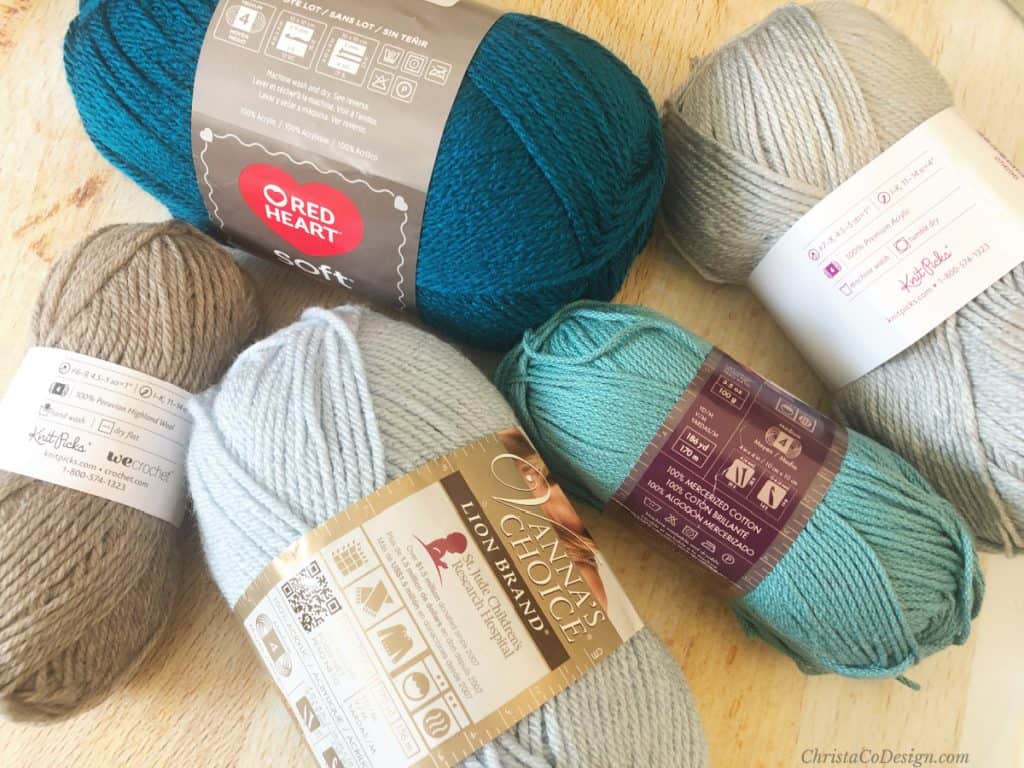 Yarn Fiber
What type of yarn fiber should you choose for your scarf?
Acrylic Fiber
Acrylic Yarn is the most affordable yarn. It's widely available and comes in many different colors. Acrylic yarn is usually machine washable. Acrylic is great for scarves any time of year.
Natural Fibers
Cotton Yarn is a commonly used natural fiber for yarn. Cotton yarn comes in 100% cotton and also cotton blends. Cotton is an excellent choice for spring and summer scarfs.
Wool Yarn is another natural fiber yarn. Wool is an amazing fiber that is warm, but also breathable. Wool is a popular choice for fall and winter scarves.
Wool blends meld the best of both worlds. These yarns incorporate wool for warmth. Then other fibers, like acrylic to make your crochet projects easy to care for and washable.
Check the label on the ball of yarn for all the information. It will give you the fiber content (100% acrylic or 80% wool, 20% acrylic). The yarn label also tells you how to care for your handmade scarf.
How to Choose the Right Yarn
Scarf yarn needs to be pretty durable. It will get twisted, tucked and rubbed by our outerwear. But you also want to chose the kind of yarn that's soft for accessories that will touch your skin.
My husband crocheted me a scarf many years ago. He chose a basic acrylic yarn for the "tails" of the scarf, and an ultra soft yarn for the center. He made each section in solid colors and it was both durable and soft in the right places.
Different yarns hold up differently in various situations. Wool is wonderful for many reasons, but it does pill. The wool blends help, and superwash wool has been treated so it's washable and doesn't pill.
Who
If you are knitting a scarf for a child then you want a yarn that is acrylic or at least easy to care for. There are plenty of colorful yarn options that make the perfect scarf for kids. This easy garter stitch scarf is a good pattern.
Save the luxury yarn for the adults who can appreciate and care for it properly.
Weather
For one skein summer scarf, 24/7 cotton* from Lion Brand Yarn is a great choice. The cotton is mercerized, so it's strong. It has a beautiful sheen and comes in a variety of colors.
A bulky weight yarn, like Scarfie Yarn* is the perfect yarn for cold weather, it's a wool blend so it's very warm. Scarfie is great because it's made for scarves so you know you'll have the right amount of yarn.
Chunky yarn and superbulky yarns are great for winter scarves. Lighter weight yarns work well for summer scarves.
Cost
There is quite a price range in yarn. The natural fiber yarns will cost more. The basic acrylics are very affordable. Premium acrylic yarn and yarn blends fall in the middle of the price range.
The size of the yarn ball also effects cost. If a ball of yarn is smaller then it may cost less. However, you may need several balls to crochet the scarf.
So really there are a wide variety of yarns that will work for knit and crochet scarves.
Yarns I Love & Recommend
For Fall & Winter
Wool Ease Thick & Quick* a #6 superbulky weight yarn that is an 80% acrylic, 20% wool blend. This yarn knits up beautifully in the Miramonte.
Lion Brand's Scarfie Yarn* is a #5 bulky yarn that is one skein sized just for scarves. It's a wool blend and works well for a warm scarf..
For Spring & Summer
Comfy Yarn* is a #4 worsted weight cotton blend yarn that's great for summer scarves like the Merletto Scarf.
Lion Brand's 24/7 yarn* is a 100% cotton yarn that's works well for skinny summer scarves.
Free Scarf Patterns
All these scarf patterns are free here on the blog. There are easy crochet scarf patterns, and simple scarf knitting patterns.
Scarf Crochet Patterns For Fall And Winter
Beginner crocheters will enjoy the Nebbia a chunky scarf in #5 yarn with an easy stitch pattern.
The Iseo is a surprisingly simple scarf pattern with alternating squares of colors.
A one skein scarf is always a winner! The Liguria is an easy crochet pattern with a simple repeat.
Scarf Crochet Patterns For Spring And Summer
The Merletto is an open lacy scarf pattern in a cotton blend yarn. These type of scarves are a great way to add a pop of color to your summer wardrobe.
The Retta Infinity Scarf is very easy to crochet. It looks amazing when looped double or triple over a simple summer dress.
The Berryessa Scarf is a lightweight skinny scarf pattern in a soft merino wool yarn.
Scarf Knitting Patterns For Fall And Winter
The Miramonte is an easy scarf pattern in super bulky yarn. There is a simple diamond design on stockinette for this warm winter scarf.
The Bienno Scarf is a knit scarf with pockets. Another #6 superbulky yarn means it's fast and cozy!
The Seed Stitch Scarf is about as simple as it gets and the colors look amazing in an ombre yarn.
Scarf Knitting Patterns For Spring And Summer
The Tostata is an easy knit triangle scarf in fingering weight yarn. This lightweight yarn scarf means you can wear it any time of year.
If you love learning by video tutorial be sure to check out my YouTube Channel!
Subscribe to my youtube channel