The Best Yarn for Crochet Dishcloths
What is the best yarn for crochet dishcloths? If you wonder which fibers and yarns will hold up to the daily use a dishcloth undertakes then you're in good company.
What is the best yarn?
The best choice is a cotton yarn for crochet dishcloths. Your crochet washcloth and dish towels will turn out best if your yarn is 100%.
There are cotton blends, like 85% cotton and 15% polyester. As long as it's mostly cotton, you can use it.
Cotton dishcloths are a great project for showcasing the texture of the crochet stitches. The cotton yarn really makes those stitches pop.
Make sure your yarn is machine washable (most cotton and cotton blend yarns are). Knit dishcloths, crochet washcloths and face scrubbies all need to be run through the washing machine frequently to keep your cotton cloths clean.
Can you use acrylic yarn for crochet dishcloths?
No, you shouldn't use acrylic yarn to crochet or knit dishcloths. The reason you want to use cotton is because its natural fibers allow it be more absorbent than acrylic yarn.
The kind of yarn matters here. Acrylic yarn has it's place, but it isn't the yarn type for knit dishcloth patterns or for your go to crochet washcloth!
So if use acrylic, your dishcloth wouldn't be very effective at cleaning, drying or anything a typical dishcloth is meant to do.
Some of my favorite cotton yarns that are good for dishcloths
Dishie yarn* is a great 100% cotton yarn for dish cloths. The Sea Glass Set includes a hand towel and washcloth made in this yarn.
Lily Sugar N' Cream* is an affordable 100% cotton yarn. Check out the Cara Dish Towel made in this yarn.
A good choice for crochet dishcloths are Red Heart Scrubby or Smoothie Scrubby Yarn which I used in my Bria Crochet Washcloth Pattern. You can shop this yarn here: Shop Red Heart Products*
I Love This Cotton*from Hobby Lobby is a super soft cotton yarn. It makes an excellent choice for dishcloth yarn. I use it for the Sunrise Dishcloth crochet pattern.
This year I gave Big Twist cotton yarn a try in all my crochet kitchen projects. You may like the Buco Towel which is a towel that hangs securely in your kitchen. I use the variegated color Pewter in my recent mug rug pattern.
Big Twist cotton is a cotton blend yarn of 85% cotton and 15% polyester. So it's absorbent, but slightly less so than the other 100 percent cotton yarns. The yarn blends are better for coasters, and towels. Check out my free crochet patterns with this Big Twist yarn here.
Other absorbent fibers that make good crochet dishcloths
Bamboo yarn is an option for crocheters who want to make useful and absorbent dishcloths. Bamboo is an ultra absorbent fiber.
Bamboo yarn is made from Bamboo grass. It's a non animal fiber that's considered eco friendly.
I chose to make a few summer crochet hats with bamboo yarn when my sister in law underwent chemo. I wanted something soft, lightweight and breathable for the heat.
Which crochet hook should you use?
When crocheting dishcloths with cotton yarn you will use the recommended crochet hook from your yarn label, or your crochet pattern.
For myself, I have to be very careful with cotton yarns. They tend to be harder on my hands. If you struggle with hand pain, you might go up a hook size to make it easier on your hands.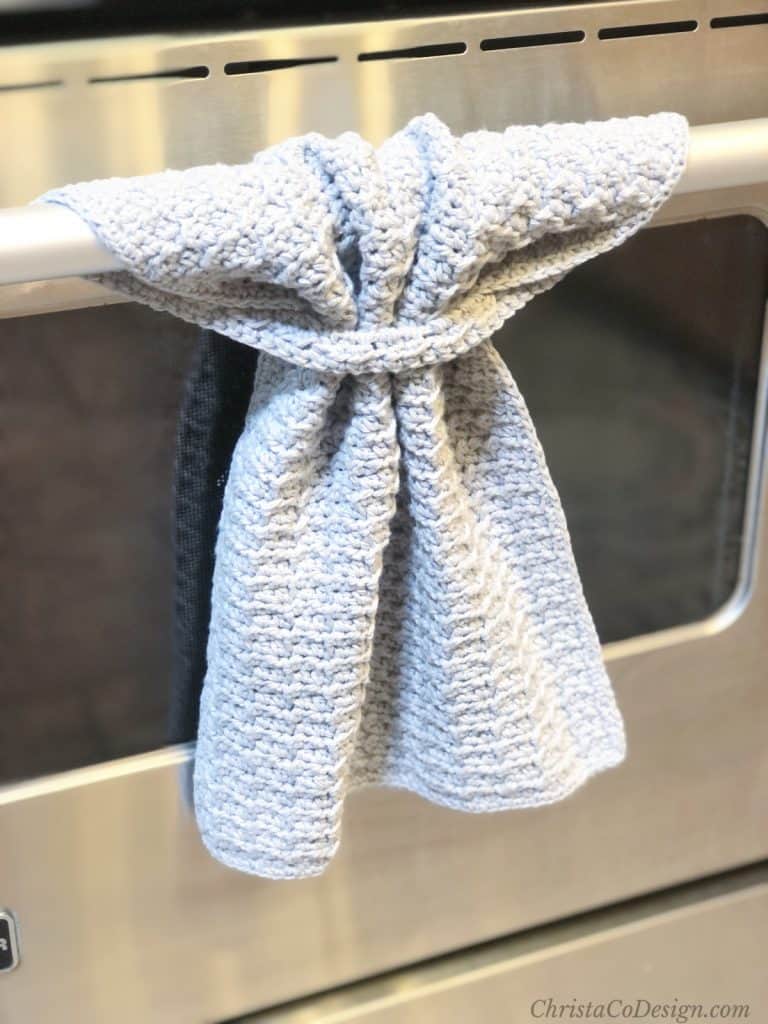 What stitches are good for crochet dishcloths?
Crochet dishcloths are great for trying out new stitches. I really love having texture in all my crochet dishcloths.
I find combining stitches like double crochet with shorter stitches like a single crochet creates an easy texture.
Free Dishcloth Crochet Patterns
The Grana is a lovely dishcloth pattern in basic crochet stitches.
Crochet dishcloths make great gifts and they don't use much yarn. If you like to gift crocheted dishcloths, then you might like this printable label to add to your finished dishcloth.
Learn about adding a crochet top to a tea towel in this tutorial. This is a fun crochet project for adding different colors to your kitchen decor. You don't have to use cotton for the topper, but I find it to be the best type of yarn for all kitchen projects.
Find more free crochet dishcloth patterns here.