Best Crochet Hooks for Carpal Tunnel and Hand Health
What are the best crochet hooks for carpal tunnel syndrome sufferers? There are so many crochet hooks on the market these days, it can be hard to choose! Let's take a look at aluminum hooks and other ergonomic hooks for hand health.
If you're an avid crocheter then it's important to take care of your hands. Many of us start crocheting with a regular hook made with aluminum or plastic and these work wonderfully.
Raise your hand if you still have your original crochet hook! I do, too. These are my trusty hooks that are always with me.
They're lightweight, portable and affordable, so if I lose one (or two) I'm not breaking the bank to replace them! They come in a convenient set, with the most popular hook sizes so you're covered for most pattern requirements.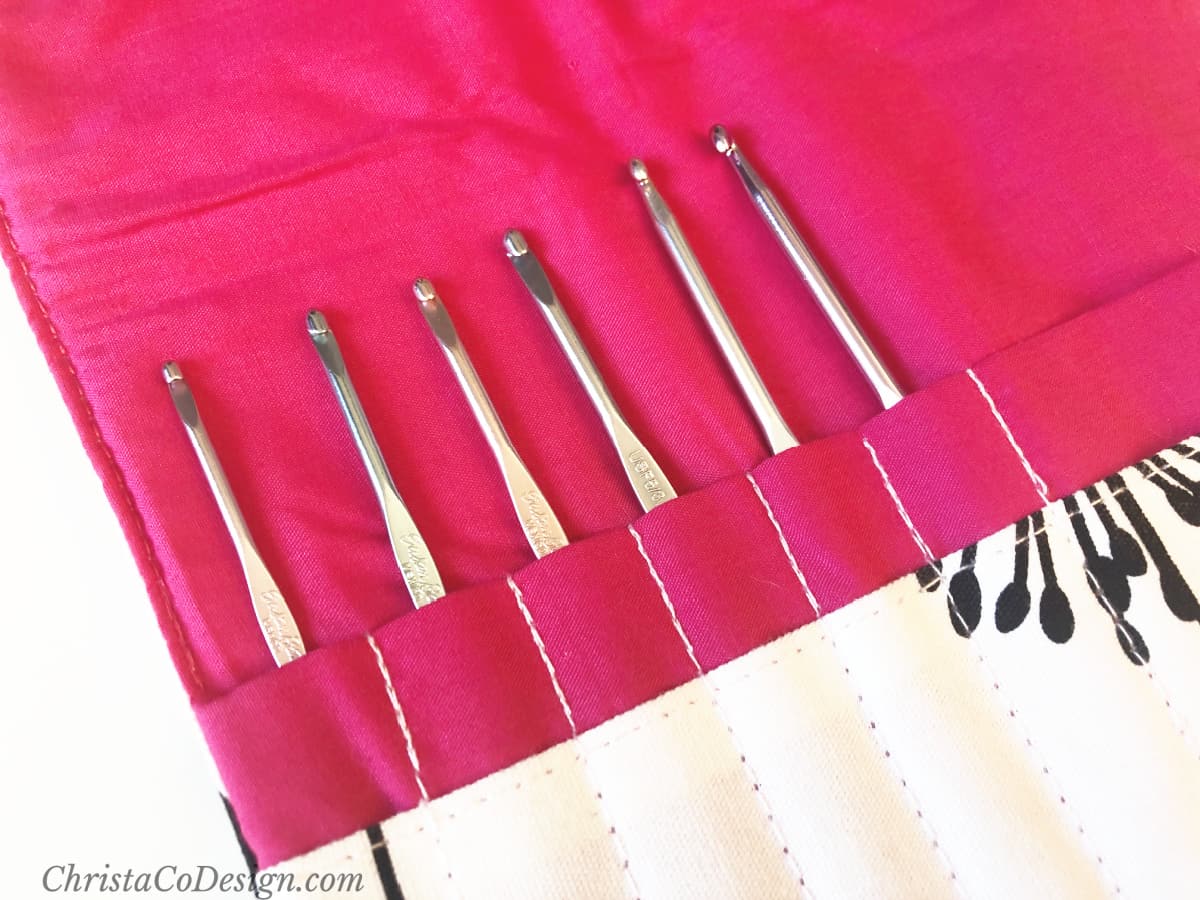 But what if you suffer from carpal tunnel, arthritis or other arm, wrist or hand pain? What are the best crochet hooks then?
While I can't purchase and try every crochet hook, I can tell you about the crochet hooks I have and use and what I love about them.
Tools of the Trade
Crochet hooks come in different sizes to accommodate your yarn weights, gauges and pattern needs. This means you'll need many different sizes.
Crochet hook sizing in the US is by letter, but they also have metric sizes. For example, the hook below is labeled G 4.0mm. The letter G is the US Sizing standard, and the 4.0mm is the metric sizing.
Hooks are just one of the tool investments crocheters make. We also stock up on yarn needles, stitch markers and yarn… so much yarn.
The handles also come in a variety. If you have carpal tunnel, or other hand pain you want to look for a crochet hook that has a comfortable handle.
Aluminum Hooks
The standard crochet hooks most of start off with are metal hooks with a slim handle.
If you usually use Boye hooks, then trying a Bates which is an inline hook, can change up the way you hold and use your crochet hook. You can read more about the difference between a tapered hook (Boye) and an inline (Bates) hook here.
Sometimes this is enough to relieve your hands of the same repetitive motion which leads to pain and strain (the enemy of makers!).
Pro: Affordable, packaged in a variety of sizes, lightweight, thumb rest.
Cons: Narrow handle
You can find these hooks on Amazon:
Clay Polymer Handle Crochet Hooks
These crochet hooks usually feature an aluminum Susan Bates or Boye hook that has a polymer clay handle added to it for comfort.
Pros: This can be a good option for carpal tunnel, as these hooks have larger handles to grasp.
Cons: The polymer clay does add some weight, so it's heavier in your hand. The weight of the polymer clay handled hooks I have varies from .5 – 1.4 oz.
These types of crochet hooks can be found on Etsy*.
Clover Amour Crochet Hooks
There are a few types of Clover Hooks available. I have the Clover Amour crochet hook set, which includes 10 common sizes. I also have a few of the larger sizes.
Pros: These hooks are lightweight. This hook has an easy-grip handle with a thumb rest. The head of this crochet hook is shaped in such a way that it glides effortlessly through most types of fibers without catching, which will reduce strain on your hands.
Cons: These can be a bit pricey, which will put them out of some crocheter's range. The handle, while comfortable is still small and does not fill your palm.
I love using my Clover Amour crochet hooks with amigurumi patterns and when I'm working with cotton or other fibers that are not so smooth.
I enjoy all the different colors these hooks come in. It makes identifying the different sizes easier too.
Clover has another ergonomic crochet hook available. The Clover Soft Touch crochet hooks feature soft rubber handles. I haven't used these yet, but they look comfortable and I know I love my Amours.
Yarn Mania Lighted Crochet Hooks
These crochet hooks cleverly include a lighted tip. This can help you see where the stitches are and where to insert your hook.
These hooks feature a larger more comfortable handle that fits into your palm better. The crochet hook sets come in a nice zipper pouch and even include spare batteries. I also like the rubber ridges at the thumb position, which helps to improve the ergonomic grip.
Pro: Lighting helps to see your stitches. The handle is larger for your palm. Rubber thumb rest.
Con: If your room lighting is too dark then the lighted tip is too bright to look at. These work best in a well-lit situation.
It looks like there is an updated version of these hooks. While I haven't used them myself, I suspect they improved the lighting from the looks of it.
Furls Ergonomic Crochet Hooks
Furls hook design fits into your hand for an ergonomic hold that's comfortable no matter your crochet style (knife grip or pencil grip). There are a variety of hook materials and styles to choose from, so you can find one that you love.
Pro: Created with ergonomics first in mind, so you're hold is comfortable for long or big projects. Each type of hook has it's own pros and cons, so having options is always a good thing.
Con: These hooks are handmade with high quality materials so they cost more, and are out of some crocheters price range.
Below I go into details about the 4 different Furls styles I use.
Wood Streamlines
The Streamline ergonomic wooden* crochet hook is my recommendation for entry level Furls products. It's the most affordable hook.
It's also lightweight, weighing .5 oz. So it's easy to adapt to if you're used to crocheting with a standard hook.
The wood hooks have a medium glide, to compensate for that Furls has designed the wood Streamline to have a pointier tip so they penetrate your stitches more easily.
I love the feel of the warm woods in my hand as I crochet with my Streamlines. These hooks are the longest, so it may take a little getting used to when you first use one.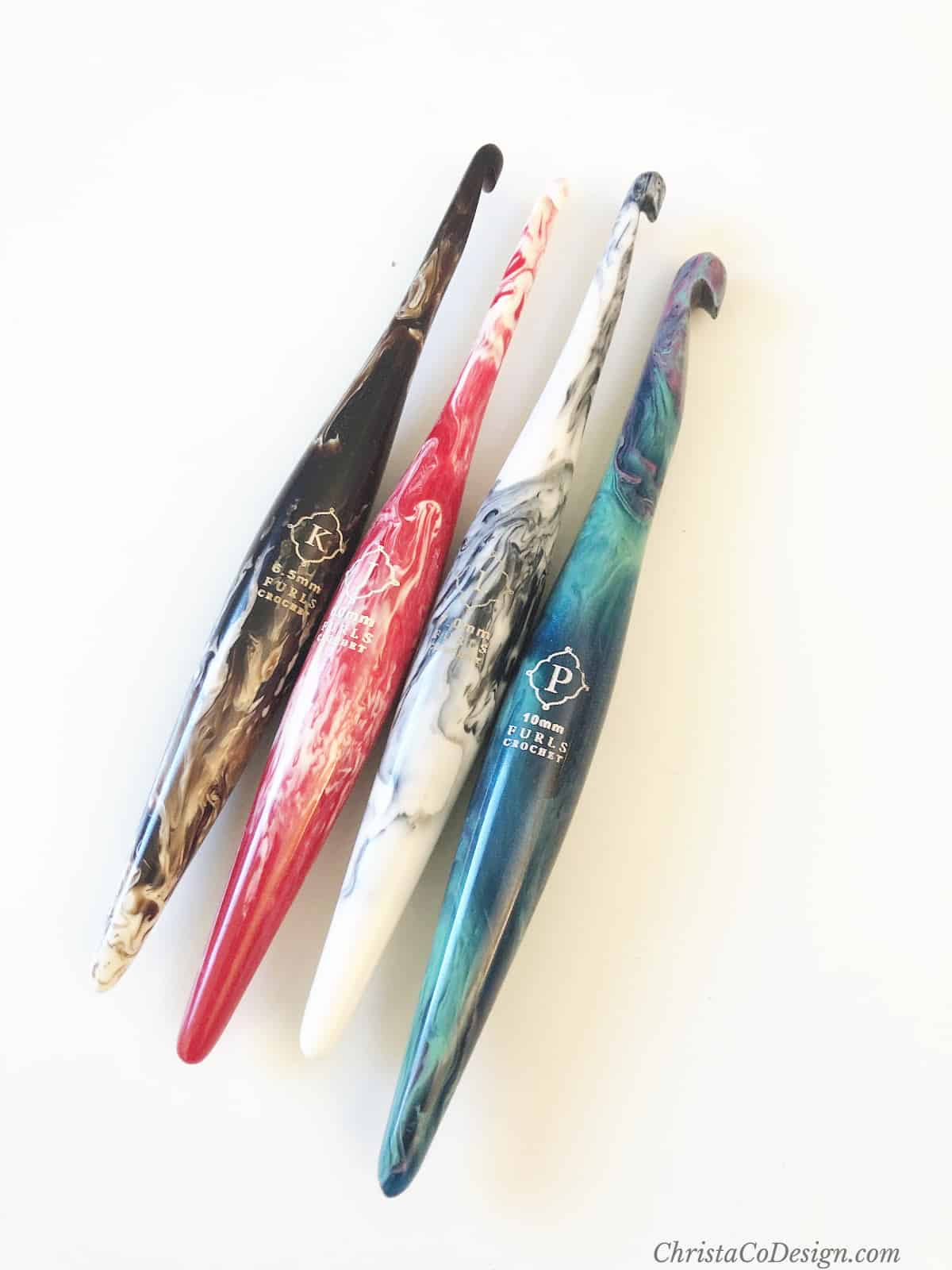 Streamline Swirls
Another type of Streamline Furls carries is the Swirl*. It's a resin hook that is also handmade and ergonomic. Since these hooks are made with resin, the glide is slightly smoother than the wood hooks.
The Swirls are also a bit heavier, at .75 oz. However, these are still lightweight hooks that are easy to adapt to from a standard hook.
The Streamline Swirls are good mid range ergonomic crochet hook both on benefits and pricing.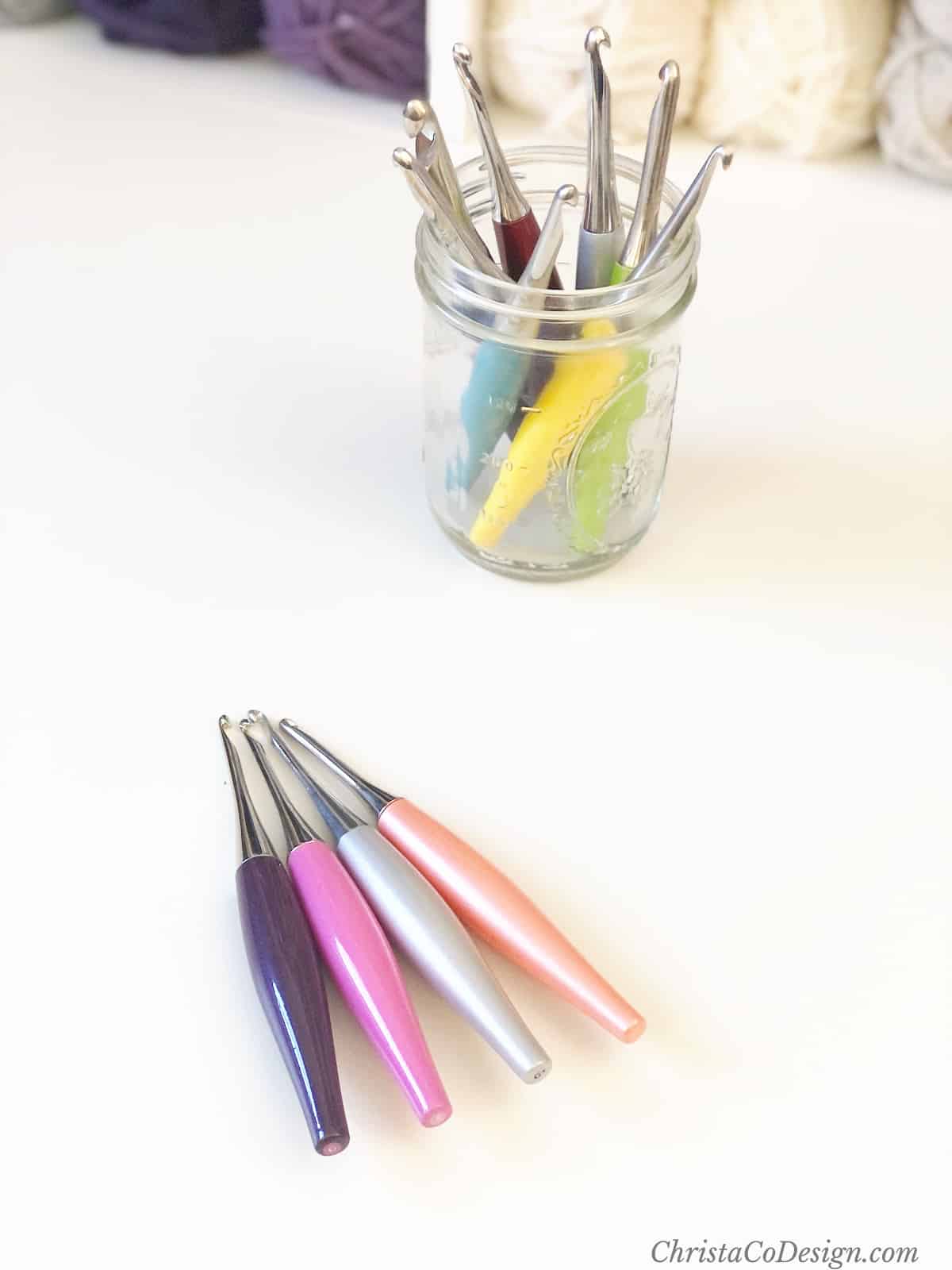 Odyssey Hooks
The third type of Furls hooks I use are the Odysseys*. These hooks are sturdy and well balanced for speedy ergonomic crocheting.
These are my other go to hooks for amigurumi and cotton yarns. The nickel tip gives these hooks the smoothest glide.
The only con for these hooks is the weight. At 1.5 oz they are the heaviest. This may not be the best option if a heavy hook will bother you.
The heavier weight does take some getting used to, but I love using my Odyssey hooks now.
Alpha Series
The last Furls hook I have is an Alpha Series ergonomic crochet hook. This hand carved wood hook is sourced from a variety of sustainable woods (as are the wood Streamlines).
I use an olive wood Alpha that I love. It's my most prized hook.
The Alphas are truly a luxury hook, with beautiful details that make them a one of a kind hook.
Alphas are the most expensive, but also some of the most popular. According to Furls, the Tulipwood or Cocobolo Alphas in Size 5mm is the best choice if you're wondering which hook to try.
My Recommendations
The best ergonomic crochet hooks I use are my Furls. The ergonomic handle allows me to have a comfortable grip when working on my crochet project for a long time.
I tend to twirl my crochet hook through my fingers and hand as I work. For this reason the smooth hooks with the ergonomic handle work well for me.
Some crocheters keep their thumb on the thumb rest and there's more wrist motion as you work. If this sounds like you then you may prefer the Clover Amour crochet hook.
I think the wooden crochet hooks are a fabulous entry level ergonomic hook. You're going to get the most bang for your buck with these.
If you're having pain right now
Some crocheters can use a standard aluminum hook for life with no pain. Some of us, may be more susceptible to repetitive motion injuries and need to take care.
If you're having pain, you need to stop right now. Continuing the motion that is causing or irritating the pain will only make it worse. Please speak to your doctor.
Take some time off of crocheting, knitting or the computer work (and anything else that hurts). Allow yourself to heal.
I have found the treatments, stretches and resources at Repetitive Strain Injury extremely helpful in dealing with my own repetitive strain injury. I still use the stretches today.
Proper posture, stretching before and after and taking breaks are important throughout your crafting time.
Tension
Another way to combat hand pain is through tension. Many crocheters (especially when you're new) have a very tight tension.
Loosening up your tension and grip can help your hands relax through many hours of making. If you loosen your tension, then you may need to adjust to a smaller hook size to meet gauge when following a pattern.
Take breaks every 30 minutes to stretch, get up and take a sip of water. Check in with yourself-is your posture good, are you feeling pain?
There are also stress relief gloves that can offer minimal support as well. These are best used as prevention.
I have mildly arthritic hands, which means it comes and goes with some joint pain in my knuckles. I try to keep my hands warm. I stretch before and after. Massage and heat are also helpful.
How to Choose the Crochet Hook that's Right for You?
If you're looking to try an ergonomic hook then that's my best recommendation. Try one style or brand and see how you like it.
You may need to give it some time. Most of us don't like change! So you'll need to stitck to using your new hook so you can adjust to it.
It is more cost effective to purchase a crochet hook set. However, if it's not the right hook for you then you may not want to go all in on that product.
That's why I recommend trying just one ergonomic hook, in a common size like 5mm. You know you'll give it plenty of use to see how you like it.
I've covered the types of crochet hooks I use and what I love about them. There are plenty of others on the market. What's your favorite? Or what hooks do you want to know more about?