How to Cast On in Knitting 4 Easy Cast Ons for Beginners
Learning how to cast on is the first step in learning to knit. In this post, I have put together how 4 cast on methods that are easy to learn, even for new knitters.
There are different types of cast on in knitting. I seem to always find a new cast on to try.
There is no perfect method to cast on, and many of us develop a personal preference. If you're a new knitter, you can try one of these for an easy method.
Materials
To learn to cast on you'll need a set of knitting needles and yarn. You can use any weight yarn and needles that match.
For beginning knitters, the chunkier yarn like #4 worsted weight yarn through #6 superbulky are easier to see.
Bamboo needles, like the Clover Takumi below are great for beginners too. The wood helps to keep the stitches on your needle.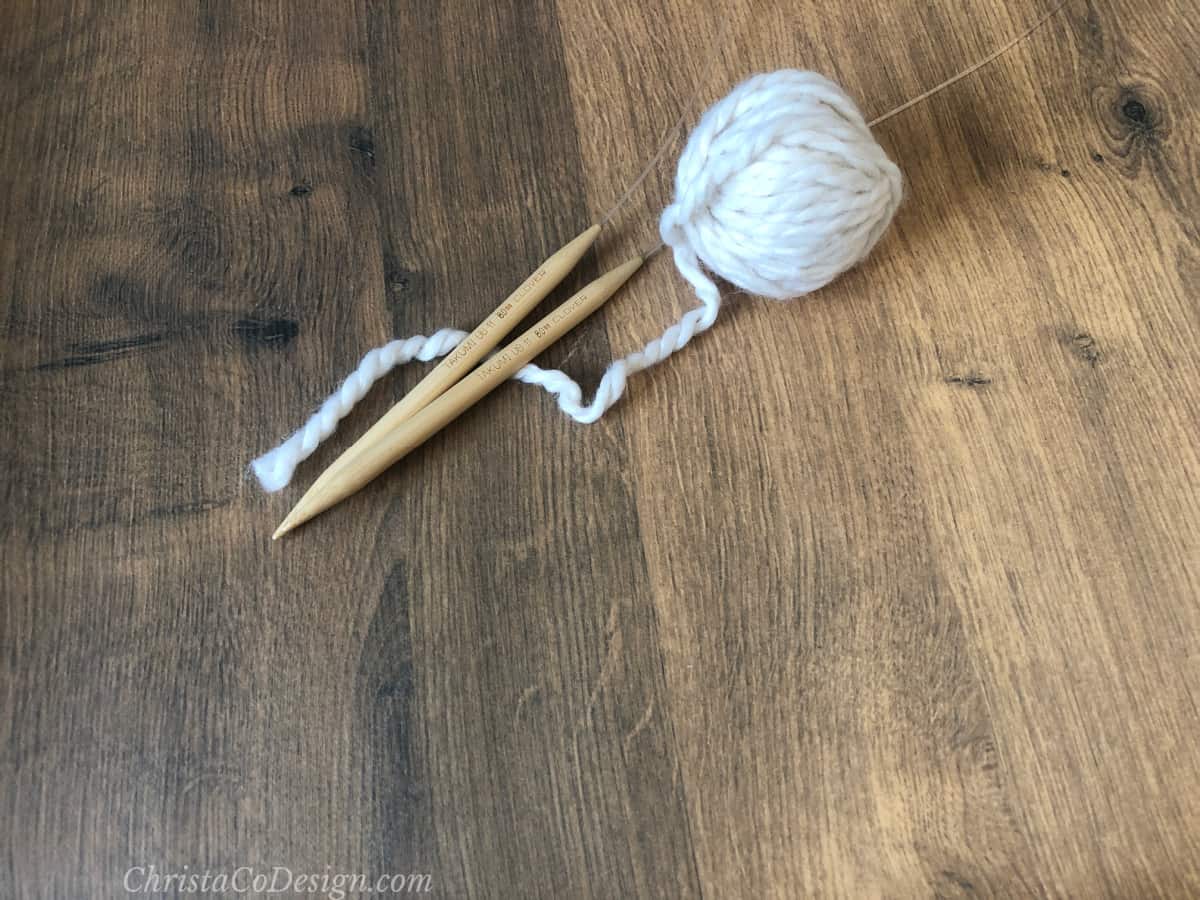 You'll also need to get comfortable with holding the yarn. I position the yarn over my left index finger.
In the picture below, I'm holding a crochet hook. How I hold the yarn in my left hand is the same for continental knitting.
The yarn goes up and over my left index finger, and then down under my middle finger. I weave it back up over my ring finger and then, finally below my pinky finger.
For knitting continental, you'll hold both the needle and the yarn in your left hand. How I hold the yarn between my fingers is the same whether I crochet or knit. This is why many crocheters find knitting continental the easiest method to learn.
I show you step by step how to hold the yarn, with some variations here.
To cast on, you'll start with a slip knot on your knitting needle. Your slip knot with either go on the left hand needle, or the right hand needle. It depends on you which cast on method you choose.
The tail end of the yarn does not need to be long for 3 of these cast ons. The long tail cast on does require a long tail of yarn (hence the name!). You will use this length yarn to cast on the desired number of stitches.
The other cast on methods use the working yarn to cast on, not the tail of the yarn. The working yarn is the yarn that's attached to the ball of the yarn.
Any of these cast ons are a great method and create a nice firm edge.
Different Cast Ons
We'll start with a simple slip knot.
For the knitted cast on the slip knot goes on the left needle. For the other 3 cast on methods the slip knot goes on the right needle.
The long tail cast on is one of the more popular ways for many beginning knitters. While it is an easy way to cast on, sometimes calculating how long of tail can be the challenge.
Casting on with a crochet hook is the easiest way to get those stitches on your needle. But, not everyone has the right crochet hook. You can check it out below or in the YouTube Video.
The short tail cast on below is an easy one to learn.
After You Cast On
Whichever cast on method you choose, be sure not to cast on too tightly.
When you cast on the last stitch, you're ready to knit your first row. These stitches are live stitches. This is where you will insert your needle to knit. So you want a loose loop to be able to fit a needle in.
Once you have the required number of stitches cast on, it's time to knit your first row!
Find an easy garter stitch knitting project to get started, like a simple knit scrubby. This easy, beginner project only uses knit stitches.
And then move on to a simple scarf knitting pattern, which allows you to get used to row after row of knitting.
Next you can knit stockinette stitch. Stockinette is the regular knit stitch on the right side and purl stitch on the wrong side of the fabric.
There are so many knitting techniques to learn, try not to get overwhelmed! Just learn the basic techniques when you can (or need to) and take it one step at a time.
4 Easy Cast On Methods for Knitting
All these knit cast on techniques include step by step instructions.
4 Easy Cast Ons for Knitting Beginners
Learn how to cast on for knitting with one in 4 different ways that are all easy. Each of these cast on tutorials includes easy steps. Plus there are photo and video tutorial so even beginner knitters can learn them.
If you're an experienced knitter, I'd love to know your favorite cast on!
If you love learning by video tutorial be sure to check out my YouTube Channel!
Subscribe to my youtube channel