Knitting Needles For Beginners
Getting started knitting can be exciting, and overwhelming! Beginner knitters have to choose what to knit, plus which yarn and needles to use. There are a lot of decisions.
If you are a new knitter then choosing the best knitting needles is important. Every beginner knitter needs a good pair of needles to get them started.
Let's look at some common struggles beginners have and how choosing the right knitting needles can help you learn to knit.
Knitting needles are sized by the diameter, so the width across the needle. This is the number that's label on the needle itself. For instance, US Size 7 / 4.5 mm needles.
US sizing gives a number, here it's 7. The 4.5 mm is the width of the needle in millimeters. This width measurement sets the size of your stitches. The smaller needle sizes make smaller stitches.
Needles also have lengths. Straight needles can be 6″ to 16″ long. Circular needles have smaller needles with cable attachments that make the lengths longer. I go into more detail on how to measure circular needles here.
Starting out beginners should use medium sized needles. 4 – 6 mm knitting needles with medium #4 weight yarn are common sizes.
If you need to know what size needle to use check your knitting pattern and / or yarn label.
Types of Knitting Needles
There are different types of needles. The main two are circular needles and straight needles. Most modern knitters use circular needles, as they're the most flexible. However, straight needles are likely what most of us imagine as soon as you hear the word knit.
Both circular and straight needles come in different materials. The most common materials are wood and metal.
Wood Needles
Wooden needles create more friction with the yarn. This might sound like a bad thing, but it's good for beginners. The wood holds on to the yarn more, keeping your stitches on the needle.
It's very common for stitches to accidentally slide off your needle when you're learning. So wood is a great choice for new knitters.
Wood is also lightweight. The bamboo knitting needles I use are very light in my hands.
If you're brand new to knitting, then I recommend bamboo needles, like Clover Takumi*. These are quality needles and the wood "grips" the stitches a little more than metal needles.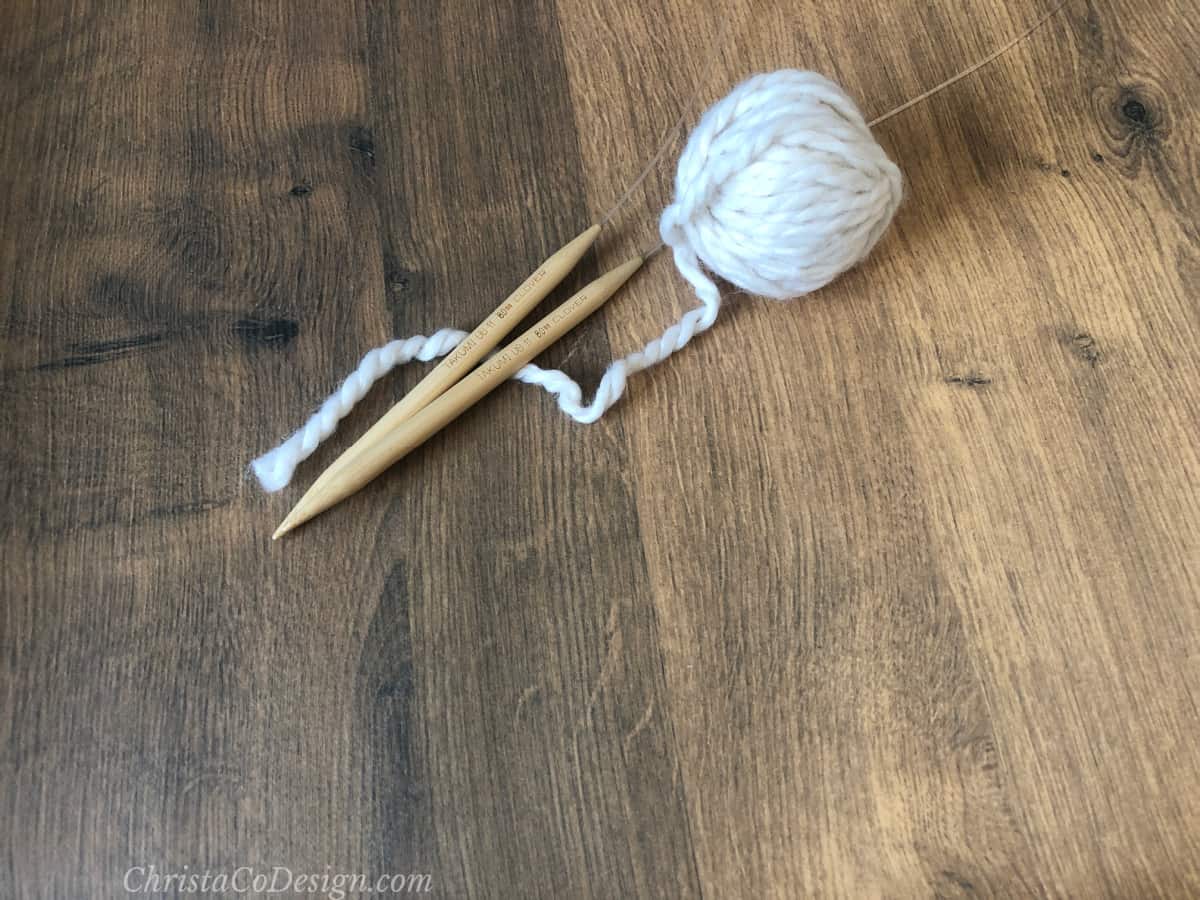 Metal Needles
The metal needles allow the stitches and yarn to glide off your needle effortlessly. This speeds up your knitting. And it makes it easier on your hands and wrists.
The metal knitting needles are made from aluminum, brass, nickel or stainless steel. These metals allow for easier slipping of stitches to needles. Metal knitting needles are an excellent choice for more experienced knitters.
I love my interchangeable Karbonz set* of needles. They're a combination made in lightweight carbon, with metal pointy needle tips and glide smoothly.
Circular Knitting Needles
Circular needles are knitting needles that are attached to a cable with a needle at each end. This design allows the knitter to work flat or in the round.
The two types of circular needles are fixed cable needle and interchangeable cable needles.
Interchangeable knitting needles come in a set of the different needles sizes and you can swap out the cable. These are fabulous because you can change needle size according to your project and yarn weight.
Plus you can also change the length of the cable. This means you can knit that blanket on a longer cable. And when you only need a short cable you can swap it out for a shorter one.
Another benefit to circulars is that those large projects can sit on the cable. This saves your wrists from bearing all that weight.
If you are looking for new needles I love my Knitter's Pride Ginger Set.* It's a good set of interchangeable circular knitting needles.
They come with cables, end caps and 13 sets of needles. This deluxe set comes with a gorgeous case that includes a pen and magnets to hold your pattern/notes.
One of my favorite things about this set of knitting needles is that it comes in different sizes. This set has needle sizes 3.25mm through 12mm. I love that it includes the larger size needles.
The Clover Takumi circular needles are fixed bamboo needles. These also have longer needles so your hands have more to hold on to, which is helpful when you're new.
Straight Knitting Needles
Straight needles are just what they sound like, a knitting needle that is a long straight length.
These needles also come in different materials, and different lengths. I usually don't recommend straight needles, as circulars are a better investment since they're more versatile.
However, there's nothing wrong with trying a pair out when you're first getting started.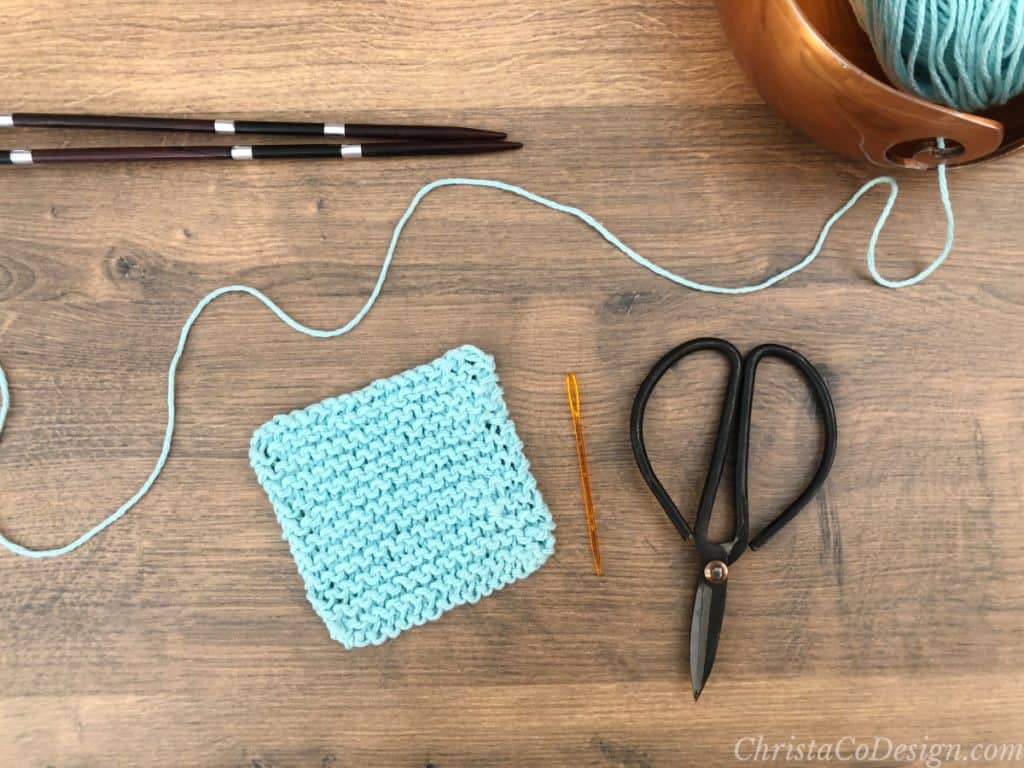 Double Pointed Needles
Double pointed needles or DPNs are another form of straight needles. These needles are pointed at both ends. They're useful for knitting smaller projects in the round.
In the end choosing the right needles is going to come down to personal preference. Trying different brands and different knitting needles is always a good idea to find what you like.
I have one pair of Chia Goo Red Lace* and I absolutely love the flexible cable.
Knitting Patterns For Beginning Knitters
Giana Pocket Shawl is totally beginner friendly knitting pattern in bulky yarn.
This Easy Knit Scarf is a good choice for beginners. It's made with the simple garter stitch.
Small projects like this seed stitch ear warmer or this one skein cowl are a great first project. Knitting in chunky yarn means you'll finish these knitting projects fast.
Casting on is the first thing you'll need to learn and these 4 Easy Cast Ons for Beginners are all good choices.
If you love learning by video tutorial be sure to check out my YouTube Channel!
Subscribe to my youtube channel