How to Measure Circular Knitting Needles
Circular knitting needles are two needles connected by a cable. This handy knitting technology makes knitting in the round a breeze, whether you're knitting a tiny sleeve cuff or full sweater.
Circulars are also a great alternative to straight needles, as you can knit flat with them as well. Sometimes they're also called cables, or cable needles and they come in different lengths.
If you knit with circulars, you know you need a variety of sizes for different knitting projects.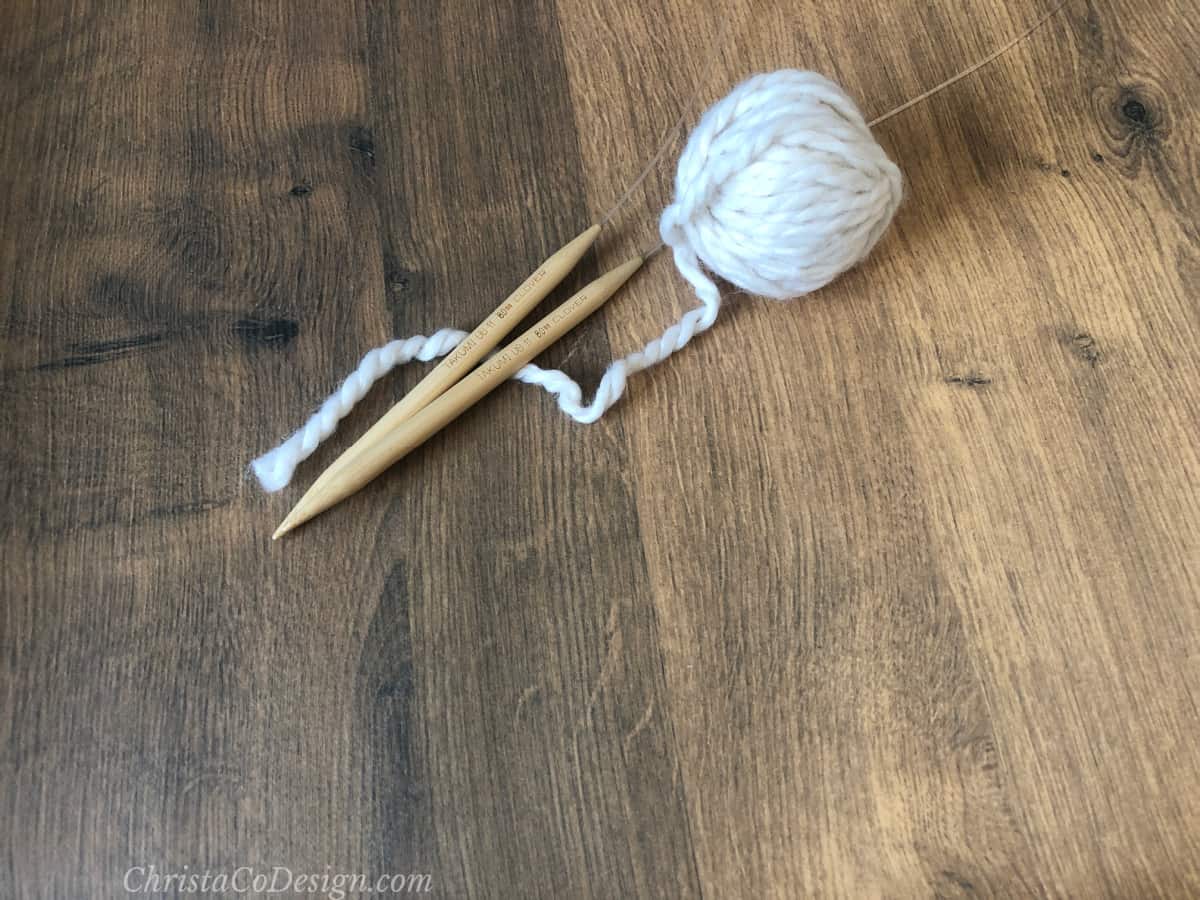 How to Measure Circulars
Our knitting needles themselves are marked with the needle size, like 8mm US Size 11. This tells us the size of the needle circumference (around the needle).
You can use a knitting needle gauge to measure the size of your needle, if you're not sure. There are specific gauge rulers for knitters that have holes to fit your needle.
But how do we measure the length of the circular knitting needle cable itself? Circular needles are measured from tip to tip.
This means your needle tips will be included in the measurement, along with the cord length. Together they equal the length of your circular knitting needles.
The length of the needle is included in the overall length of cable.
Types of Circular Knitting Needles
There are two types of circular needles: fixed and interchangeable needles.
Fixed needles have the needles attached securely to the cable. So your needle size and cable length will always remain the same.
For those who prefer to knit a variety of projects an interchangeable set is likely the way to go. Interchangeable needles include a selection of common needle sizes and variety of cord lengths.
In these types of circulars you are able to add and remove the cable to change out what size you need basked on your project.
So if you're knitting a worsted weight hat, then a 5mm needle set attached to a 16″ cable would work well.
And when you're ready to knit that super bulky yarn into a blanket, then you can attach your 40″ cable to your 10mm US Size 15 knitting needles.
Yarn Weight
On your yarn label there is a weight category. These weights are given a number from 0 to 7, with 0 being the thinner yarn and the higher numbers are the bulky yarns that are thicker.
The label also will give a recommended needle size. For the most part, you want your needle size to match your yarn weight.
Your knitting pattern will also give you the needle size that's recommended. You should work a gauge swatch with the recommended yarn weight and needle size from your pattern.
If you're just going to pick up some yarn and needle to practice, then you can use the recommendations on the yarn label.
Beginning Knitters
Choosing the right tools when you're new to a hobby can be overwhelming, and feel expensive.
If you're brand new to knitting, then I recommend bamboo needles, like Clover Takumi. These are quality needles and the wood "grips" the stitches a little more than metal needles.
These also have longer needles so your hands have more to hold on to, which is helpful when you're new.
This is helpful as a beginner because the stitches don't accidentally slip off the needle. After you've been knitting for a little bit then you can try metal needles and enjoy the easy slipping!
Types of Needles
Before investing in a full interchangeable needle set, you may want to try one pair of fixed circulars in a size that you might use regularly.
This can be hard to pinpoint as a new knitter, since you don't know what you might like to knit.
Learning to knit on bulkier yarns like #4 medium worsted weight yarn, #5 chunky yarn, or #6 superbulky yarn can help you see your stitches easier.
Depending on the weight of the yarn you'll be using you might get a 4-6mm needle for #4 yarns, 6-8mm needle for #5 yarns and a 8-10mm needle for #6 yarns.
That's a lot of numbers! Remember to use your yarn label (or pattern), especially when you're first learning.
Length of Circular Knitting Needles
As for the circular needle size, I would recommend going with a longer cable. A 32″ – 40″ long cable can be used for larger projects, plus in future, you can learn the magic loop method with these lengths.
Once you learn magic loop then the long cables can be used for small projects too.
If you get a 16″ fixed needle, then you'll only ever be able to use that for hats (or similar small things). Even knitting flat on a 16″ cable can be challenging because you need enough play in the cord to bring the needle tips together.
And once you've fallen in love with knitting, then you can invest in that beautiful set of circular knitting needles and have all the different sizes you need to knit both smaller projects and larger items!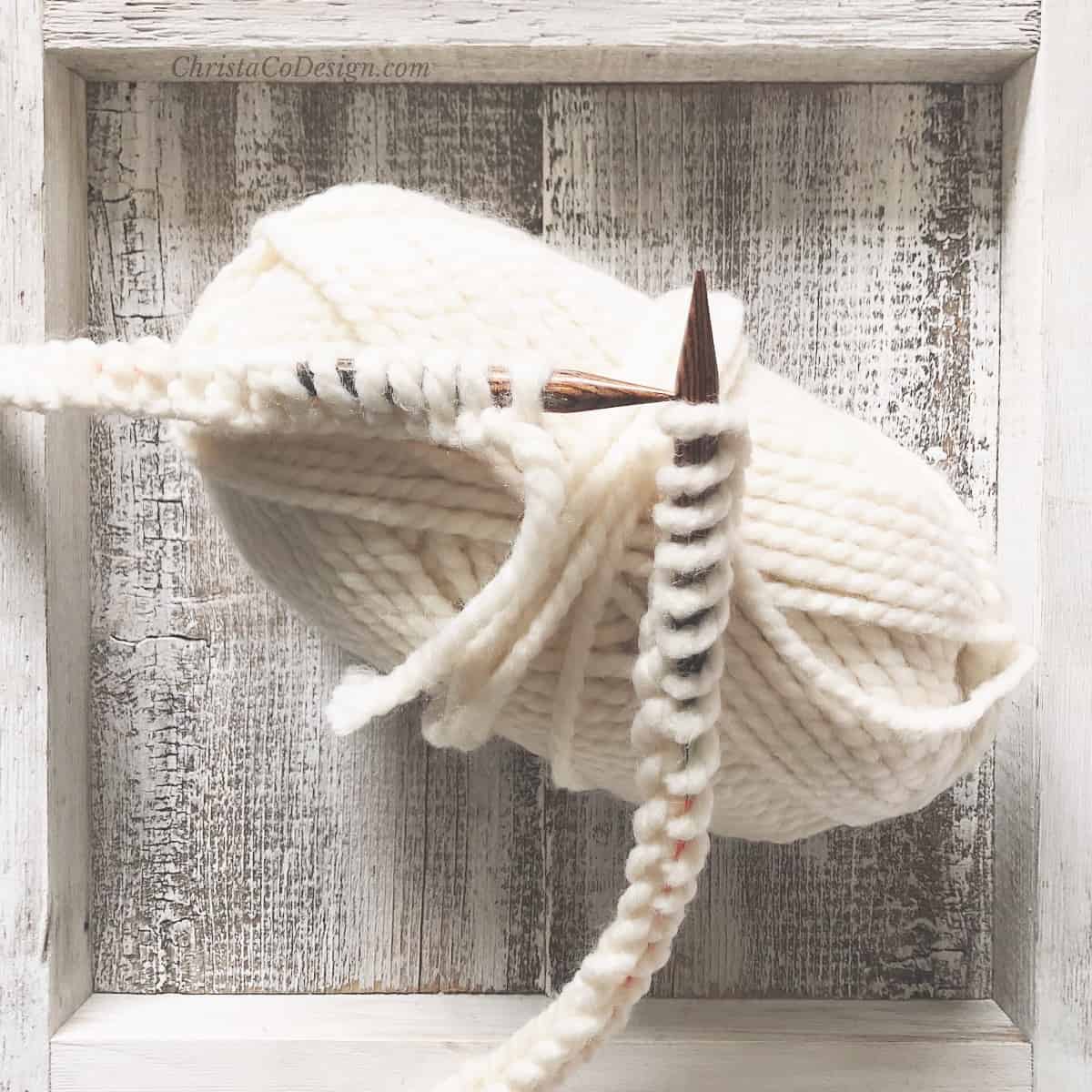 Benefits of Circular Needles
One reason circular knitting needles are great for large projects is that you can let the weight of all that yarn rest on the cable, instead of your wrists.
You can also use circulars for very small pieces knit in the round, like baby hats. Many new knitters are intimidated by double pointed needles (DPNs) and using magic loop technique with circular needles is an alternative.
Having needles with a flexible cord in various lengths allows you to knit all sorts of projects!
So what is your personal preference, do you like straight knitting needles or circulars?