Learn what blo in crochet means (and how to do it)!
What is blo in crochet terms? Blo is a crochet abbreviation for back loop only.
When you crochet if you look at the top of the stitches you will see two strands of yarn that make a sideways v shape. Each strand forms a horizontal bar.
These are called loops. The back loop is the strand of yarn furthest away from you. The one closest is called the front loop.
BLO in Crochet Patterns
When a crochet pattern wants you to only work into the back loop of the stitch, it will be written as blo and then it's usually paired with the specific stitch.
For example, sc blo means to work a single crochet in the back loop only. Typically, a single crochet, or any crochet stitch, is worked under both loops of a stitch.
Blo crochet is worked only under the back loop. And likewise, flo stitches are worked only under the front look.
Why BLO?
Your crochet pattern may choose to a blo, or back loop only stitch pattern for a few reasons.
One common use of the blo stitch is for creating a crochet fabric that is stretchy. When you work into only one loop, it makes a looser, stretchy stitch that's great for crochet hat ribbing and sleeve cuffs on a crochet cardigan.
Tip for crocheting ribbing-when you get to the end of the row, work under both loops so you're edges are better defined.
Other than ribbing, using the back loop or front loop only in your crochet project gives you a different texture than working under both loops.
The Nebbia Scarf and top down sweater pattern are one of my favorite examples of an easy texture that comes from alternating back loop and front loop stitches.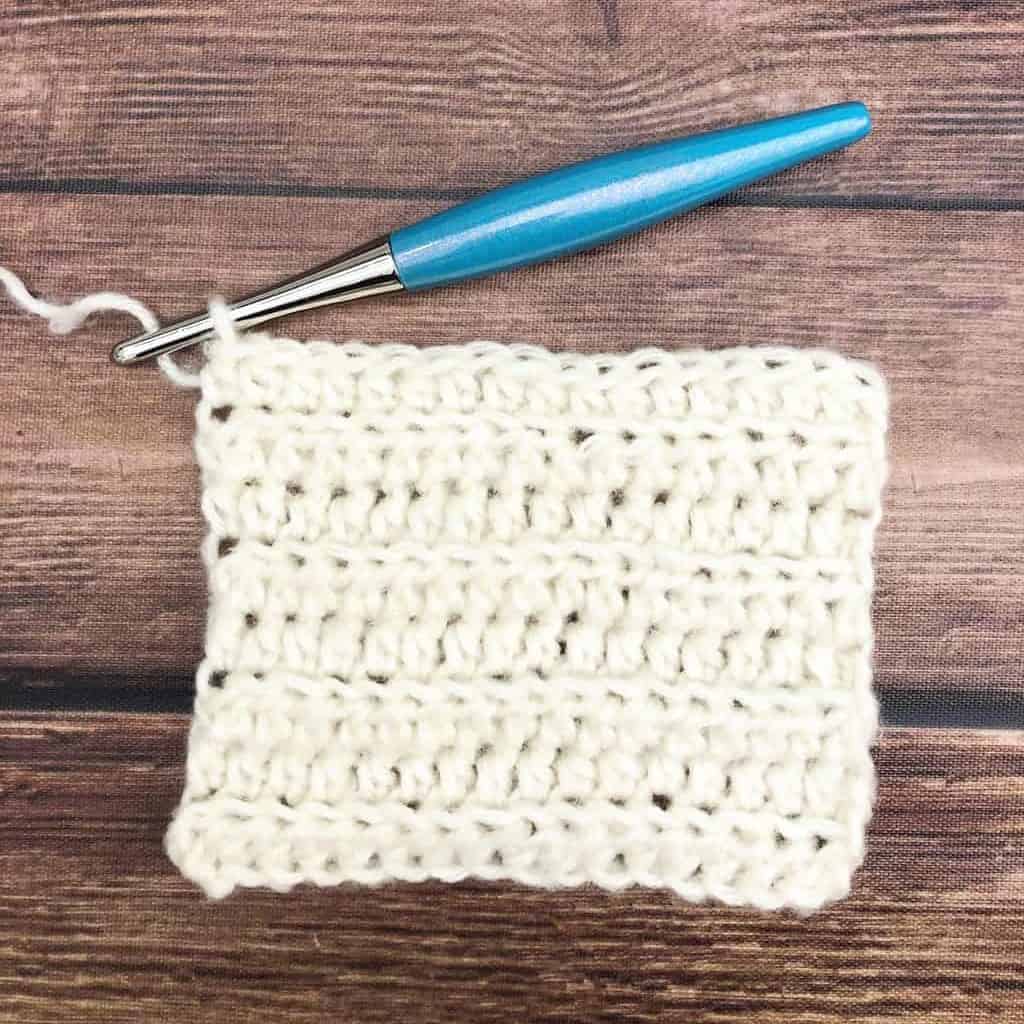 How to Crochet in the BLO
To blo sc begin with a row of single crochet stitches.
Look at the top of each stitch.
Insert your crochet hook in the top of the stitch, and slide it under the back loop only.
Then work your stitch as normal.
You can check out the stitch tutorial for the blo hdc which also includes a video tutorial. There is a step by step picture tutorial of the blo dc stitch here. It doesn't matter if you're working a sc, hdc, or even a treble crochet under the back loop is the same.
Video Tutorial
Watch how to crochet in the blo in this quick video using the single crochet stitch!
Free Crochet Patterns
These free patterns feature back loop crochet! I love taking simple crochet stitches and using easy techniques to create interesting texture, or a different look.
The Two Way Cowl features shell stitches and single crochet with the blo technique that creates a nice line in your crochet work.
The Backcountry Hat and Gloves use a half double crochet in the blo that creates a cozy and warm texture.
When you work a bottom up hat pattern like the Positano, you'll begin with single crochet stitches in the blo to create the ribbing.
If you're interested in furthering your crochet skills and knowledge on stitches, be sure to check out my post on crochet abbreviations.