How to Half Double Crochet in the Back Loop Only
Learn the hdc blo, or back loop only half double crochet stitch. This step by step tutorial will help you identify the back loop and learn how to crochet into it.
When you crochet into the back loop only, abbreviated blo in crochet patterns. You're only inserting your hook under one loop, not both like usual.
The back loop is the one that is farthest from you, when you look at the top of your stitches. You can use this technique on any stitch, like the double or single crochet.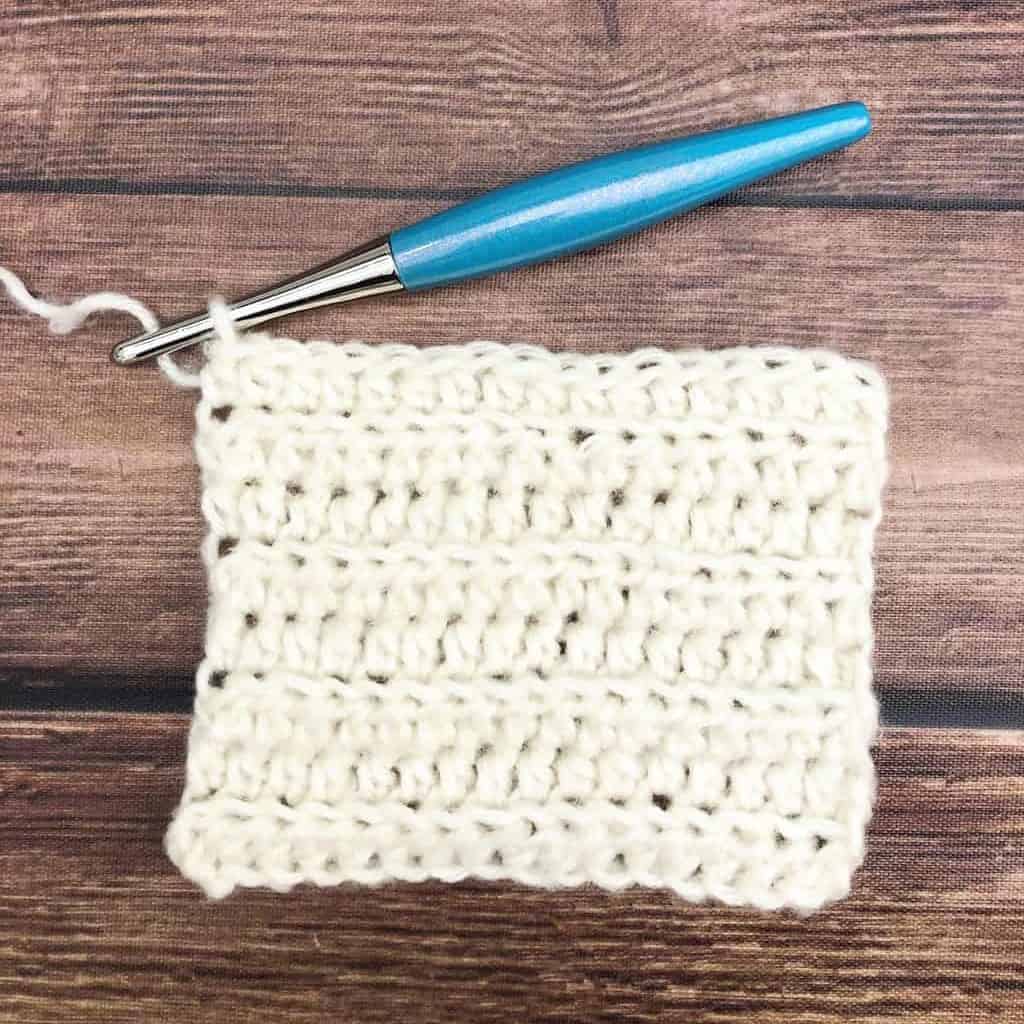 Yarn
Isn't this yarn just gorgeous? I love the brushed look of Red Heart's Dreamy yarn.
The Nebbia Chunky Crochet Sweater looks amazing in this yarn and the back loop double crochet stitch, come to think of it.
I love this combination. There's drape and texture. And it's such a simple technique.
The Dreamy yarn is a #5 bulky weight yarn. It works up so fast and makes a cozy garment.
The generous 466 yd ball means I had quite a bit left over after my Nebbia Sweater was done. So I designed matching scarf.
The Nebbia Chunky Scarf is just so cozy and luscious! You don't even need a full ball to create this gorgeous scarf.
Materials
You"ll need to start with a row of stitches to find the back loop.
How to Get Started
To start a row of half double crochet stitches begin with any number of chains, plus 1.
Hdc in the 2nd chain from hook and in each chain across.
Turn your work at the end of a row.
Ch 1 to start a new row.
Stitches/Abbreviations (US Terms)
ch(s)-chain(s)
Gauge
Your pattern will give you gauge information. For this tutorial swatch my gauge is 12 sts x 9 rows in the pattern.
Half Double Crochet in the Back Loop
Additional Time:
10 minutes
Learn how to crochet in the back loop of the half double crochet stitch.
Materials
any weight yarn, pictured in this tutorial is Red Heart Dreamy in Ivory
Tools
compatible hook with your yarn, pictured in this tutorial is Furls' Odyssey 6.5mm in Turquoise
Instructions
Start with at least one row of regular half double crochet, here is a small swatch of hdc in the blo
When you look at the top your stitches, there are two loops, the back loop is the one farthest from you, marked by the blue stitch marker in this picture.
Now that you can identify the back loop, yarn over and insert your hook in the center of the two loops and go under only the back loop, yo, pull up a loop and then yo and pull through all three loops on your hook.
Recommended Products
As an Amazon Associate and member of other affiliate programs, I earn from qualifying purchases.
Love this cozy crochet hat from Avery Lane Creations! This yarn is just gorgeous.
If you love learning by video tutorial be sure to check out my YouTube Channel!
Subscribe to my youtube channel