How to Knit in a Circle to Join Knitting in the Round
Learn how to join your knitting in the rounds to knit hats. This technique is a simple and easy way to join knitting with cable needles.
To knit beanies or hats we need to join our knitting in the round. This means we'll knit in a circle, and continue working on the same side and in the same direction.
If you have only used regular straight needles to primarily knit flat, then eventually you'll need to learn how to knit in the round. For this tutorial you'll need needles with a flexible cable, called cable needles or circular needles.
The Needles
You can knit in the round with either DPNs (double pointed needles) or with cable needles (knitting needles attached to cables with the needles at either end).
Like most knitting techniques there are different ways to knit in the round. Here I'm going to show you how I join to knit in the round with cable needles.
There are several ways to join knitting in the round on circular (or cable) needles. The technique I show you here is my preferred method for knitting in a circle.
I find this the simplest way, and that's helpful when you're new to knitting and learning all the new techniques!
To knit in the round you'll need at least a 16″ length cable for hats. If you will be decreasing (or knitting a smaller project like a cuff) you'll need to use a long cable (32″+) and magic loop method or DPNs.
For beginning knitters, wooden needles are usually preferable over metal needles. The wood grips the stitches a bit more, which helps you keep them on the needle when you're learning.
Knit Picks has a great tutorial on knitting with various needle types, you check it out here.
Yarn
For this tutorial I'm knitting with Red Heart With Love in the color Cameo. It's such a pretty purply pink.
This is a nice soft #4 medium worsted weight yarn from Red Heart. You can use any yarn for this technique if you're just practicing.
---
Never Miss a Pattern
Be sure to join my newsletter for my weekly emails + access to my Resource Library.
---
Stitches/Abbreviations (US Terms)
CO – Cast On You might like to cast on with a crochet hook or this short tail cast on.
K – knit the garter stitch is easiest beginner stitch!
rep – repeat
rnd – round
st(s) – stitch(es)
Easy Hat Knitting Patterns
If you're a new knitter you might want to try some small projects in the round after you learn how to join and knit in a circle for the first time. These easy hats feature stitch patterns that are simple repeats for beginners!
The Trento Knit Hat Pattern is an easy, worsted weight hat. And for a speedy super bulky knit hat check out the Alba Hat. This chunky hat is a free pattern that's great for beginner knitters!
Do you know how to knit brioche? If it sounds too intimidating, you might check out the Brioche Knitting for Beginners and Beyond book and review. This definitely makes it sound accessible to new knitters!
Pin it
How to Knit in a Circle Video Tutorial
Watch the step by step tutorial video on how to join and knit in a circle on my YouTube here.
Scroll down for the How to Knit in a Circle Tutorial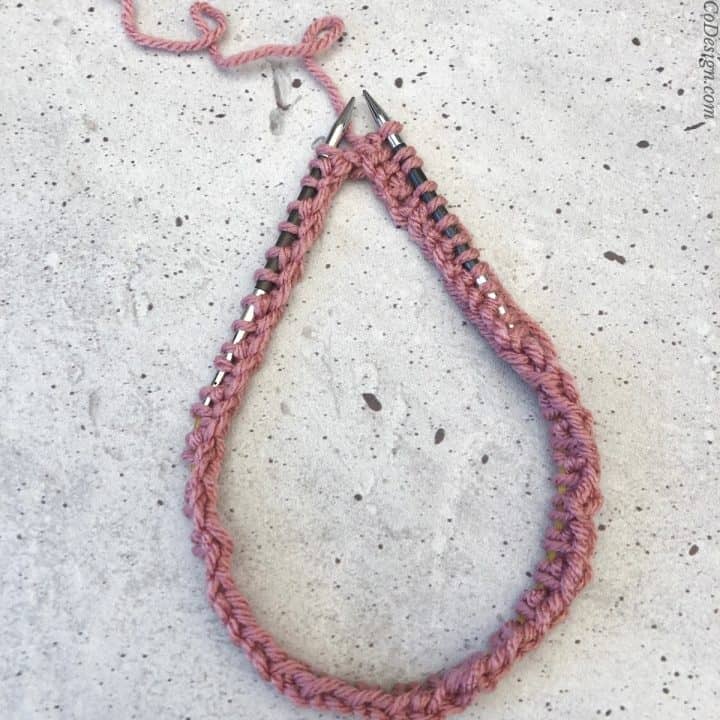 How to Knit in a Circle Beginner Tutorial
Additional Time:
1 minute
Learn how to join to knit in a circle using cable needles with this step by step photo tutorial.
Materials
any weight yarn; I'm using a #4 medium worsted weight yarn
Tools
16" + circular knitting needles in size that matches your yarn; I'm using my 4.5mm needles on 16" cables. 16" is the smallest cable length that you can knit a circle without using the magic loop technique.
Instructions
Cast on the required number of stitches. Again for this method to work you need enough stitches to make it around the length of the cable and needles. If it's too small of a circumference then it will require another method. For this tutorial I cast on a stitch count of 84 for a Teen or Small Adult size hat. Be sure it's not twisted on your needles.
Position your needles so the working yarn (attached to the yarn ball) is coming from the right-hand needle. The yarn tail is on the left.
Bring your needle points together.
Insert the right needle tip into the first stitch on your left-hand needle and knit it. This is the first stitch of the round. When you slide the stitch to the right hand needle it will form a connection between the first and last stitches. You have joined in the round.
Knit the second stitch and continue to knit around.
When you get back to the first stitch you knit, place a stitch marker, or use the yarn tail end to note the first stitch at the beginning of the round.
To knit in the round you'll just keep knitting when you come to that first stitch, and slide the marker from the left needle on to the right needle and knit around and around.
There will be a slight jog from cast on to row 1, but you can easily straighten that out when you weave in your tail. This is a really smooth join to start your knitting pattern.
Recommended Products
As an Amazon Associate and member of other affiliate programs, I earn from qualifying purchases.
If you love learning by video tutorial be sure to check out my YouTube Channel!
Subscribe to my youtube channel