How to Knit Double Seed Stitch With Video Tutorial
The double seed stitch is knit like the standard seed stitch but you make two rows of alternating knit stitches and purl stitches.
This means you're stacking knits and purls for two rows before switching. This simple pattern is a beautiful textured fabric that's reversible.
Textured knitting stitches are my favorite and this is a great pattern. It looks amazing whether you're looking at the right or wrong sides.
In this tutorial I cover how to knit this stitch flat and in the round.
Materials
#6 superbulky yarn in Lion Brand's Wool Ease Thick & Quick* (80% Acrylic; 20% Wool, 87 yd/80m, 5 oz/140 g); color: Oatmeal.
9 mm US Size 13 knitting needles, I use circular needles this is my favorite set of interchangeable needles.*
Yarn needle, scissors, measuring tape
Notes
Stitch pattern requires an even stitch number.
Stitches / Abbreviations
US Terms
co – cast on You can use any cast on method. I have linked the long tail cast on. Here are 4 easy cast ons for beginners to choose from.
bo – bind off
k – knit
p – purl
rep – repeat
st(s) – stitch(es)
Level
Easy
Gauge
4″ / 10 cm x 4″ / 10 cm = 8.5 sts x 14 rows in pattern
MORE
Knitting Stitch Patterns
Fit/Adjustments
To make this pattern wider or narrower cast on any number of stitches. Keep an even number of stitches if you would like to adjust the width.
To change the length, continue to repeat rows until it's to your desired length. Stop after a row 4 repeat.
Patterns Featuring This Stitch
Video Tutorial
You can watch the video on how to make this stitch on my YouTube.
Scroll down for the free pattern!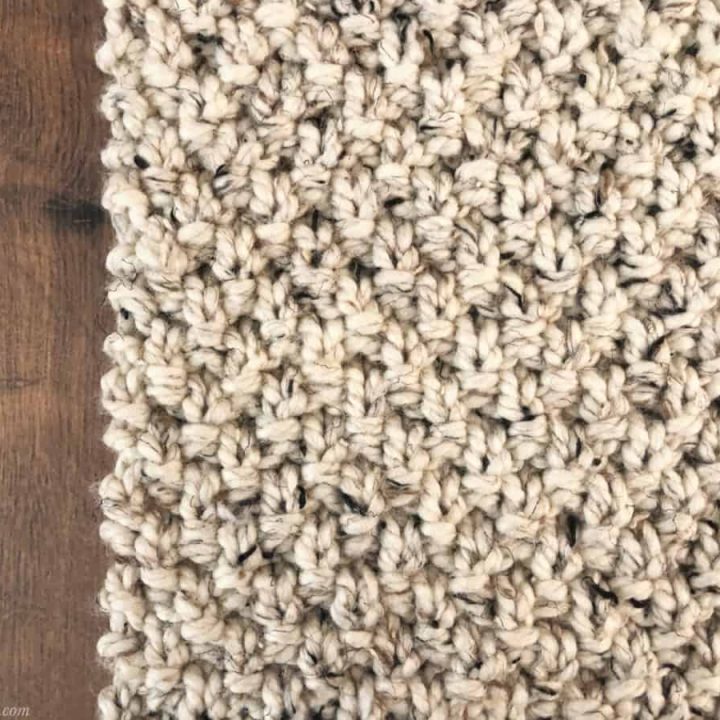 How to Knit Double Seed Stitch
Additional Time:
5 minutes
Learn how to knit this easy textured stitch. Similar to the seed stitch of alternating knits and purls the double seed stitch combines these in two row increments.
Tools
9 mm needles
tapestry needle
scissors
measuring tape
Instructions
CO an even number, here I cast on 18 for an 8" width.

Row 1. *K1, P1 rep from * to the end of the row.
Row 2. Rep Row 1.

Now on the next row we're going to start with the p sts first.
Row 3. *P1, K1 rep from * to the end of row.
Row 4. Rep Row 3.
Continue repeating Row 1 - 4 until you reach your desired length.

BO in pattern: K1, P1, bind off, K1, bind off, P1, bind off, etc.

Cut yarn and weave away ends.

How To Knit Double Seed Stitch in the Round

Cast on an even number and join to work in the round. Here's a tutorial on how to join knitting in the round. I CO 18 here using the magic loop method.

I recommend using a stitch marker to mark the beginning of each round when knitting this stitch in the round.

When you change from Rnd 2 to Rnd 3 you'll have 2 purls together.

When you change from Rnd 4 to Rnd 1 you'll have 2 knits together.

The stitch marker will help alleviate any confusion on your part!

Rnd 1. *K1, P1 rep from * to the end of the rnd. Place SM after last st to mark BOR.

Rnd 2. Rep Rnd 1.

Rnd 3. *P1, K1 rep from * to the end of rnd.

Rnd 4. Rep Rnd 4.

Rep these four rounds for the height of your project.

Bind off. Cut yarn and weave in ends.
Recommended Products
As an Amazon Associate and member of other affiliate programs, I earn from qualifying purchases.
If you love learning by video tutorial be sure to check out my YouTube Channel!
Subscribe to my youtube channel
If you love learning by video tutorial be sure to check out my YouTube Channel!
Subscribe to my youtube channel