How to Knit Double Moss Stitch
The Double Moss Stitch is a favorite textured knit stitch of mine. I also know it as the box stitch. I think it has few other names too. Funny how some stitches do that.
This a great stitch for beginner knitters. It has a simple pattern in a 4 row repeat.
In this tutorial I include the knitting pattern in two different ways. How to knit the double moss stitch flat on straight needles and in the round with circular needles. Either way, it's still an easy and fun stitch pattern to knit.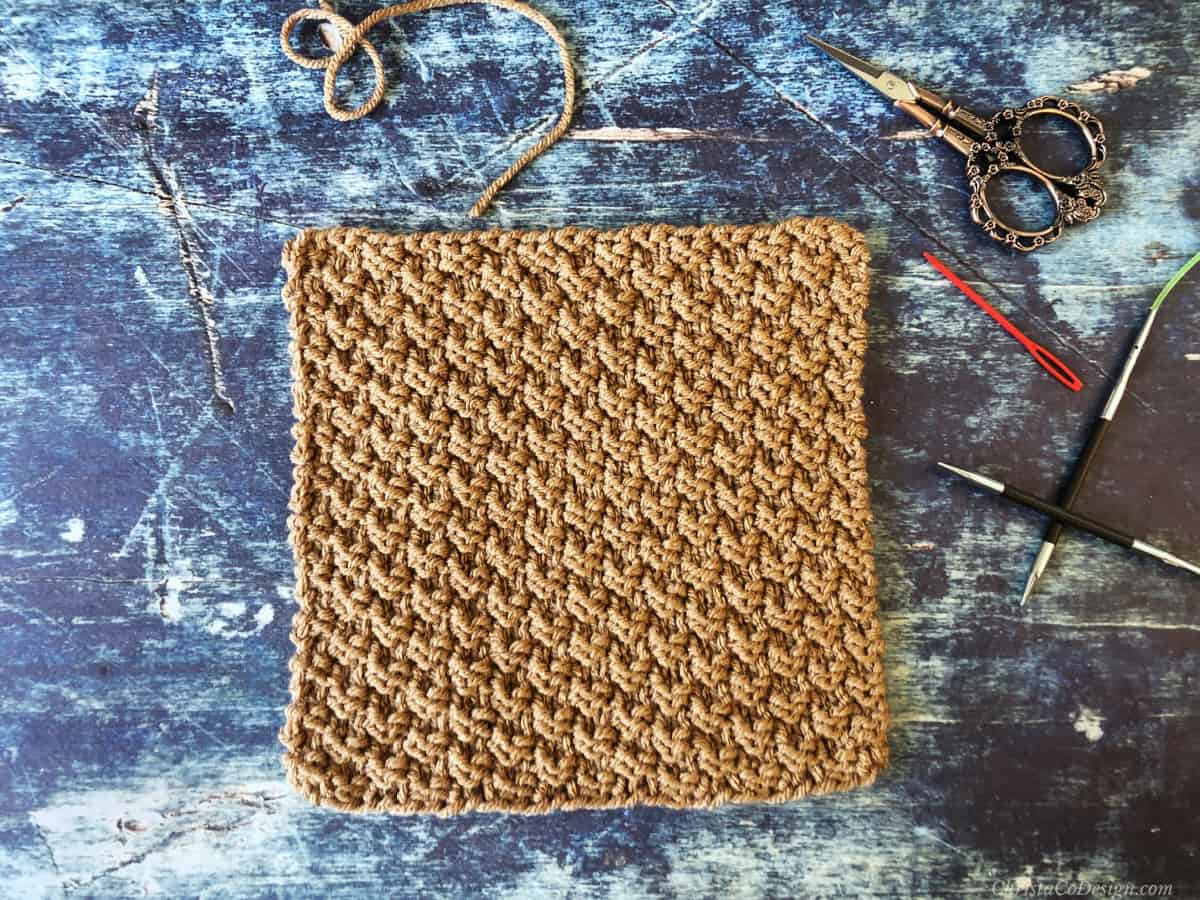 Once you get the stitch repeat down you'll even be able to look at your work and tell where you are. Those are the best if, like me, you get interrupted frequently.
The double moss has the same great texture on the right side as the wrong side of your work. A reversible pattern like this is perfect for scarves, blankets and dishcloths. Those small bumps make excellent scrubbing bits!
Similar Stitch Patterns
There are a few similar knitting stitch patterns and you may wonder if they're the same. Especially when we talk about one stitch having multiple names.
Seed Stitch
The single moss stitch is another name for seed stitch. In the US we use seed stitch while in the UK they use moss stitch.
In seed stitch (or British moss stitch) you K1, P1 to the end of the row and then on the next row P1, K1. You can see a full tutorial for how to knit seed stitch with both an even number of stitches or an odd number of stitches here.
Double Moss Stitch
The double moss stitch (this tutorial) has two rows of K2, P2 and two rows of P2, K2. The rows and stitches are clustered in twos. This causes the little clusters of texture to jump back and forth.
Double Seed Stitch
Double seed stitch is still a K1, P1, but it's two rows of K1, P1 followed by two rows of P1, K1. I'm adding this stitch to the list of tutorials to make!
Stitch Multiple
For the double moss stitch worked flat you need stitch multiple of 4 plus 2.
To work this stitch in the round you need a multiple of 4. I highly recommend using a stitch marker before the first stitch when knitting this one in the round. Since you will end and begin with the same stitch for some rounds you will have 4 of the same stitches in a row.
For instance on round 1 you end with 2 purls and then on round 2 you begin with 2 purls so you'll have 4 purl stitches together. Using the stitch marker helps to signal the new row so you're sure about your stitch placement.
What to Make With Double Moss Stitch
Knit this pattern up in cotton yarn for a dishcloth. Or if you're using another fiber like wool or acrylic then call it a blanket square. You can make several knit blanket squares and then join them up for a little baby blanket.
I have many blanket square knitting patterns here that are easy and work great in #4 medium yarn.
Free Double Moss Stitch Knitting Patterns
The Trento Set features this lovely textured stitch knit in worsted weight yarn. The Trento hat knitting pattern includes sizes toddler through adult.
There's a matching knit scarf pattern that can be skinny enough for one skein, or as wide and long as you like.
The fingerless gloves knitting pattern for this matching set are knit flat and seamed so they're very beginner friendly.
How to Knit Double Moss Stitch
Additional Time:
1 minute
Learn how to knit this easy and textured double moss stitch.
Materials
This stitch looks great in any yarn. I'm using a #4 medium worsted weight yarn for this tutorial.
Tools
Choose the needle size that best works with your yarn. I'm using my US size 7 / 4.5 mm knitting needles.
Instructions
To Knit Double Moss Stitch Pattern Knit Flat
Notes
Pattern requires a stitch multiple of 4 + 2.

You can use any cast on, here are 4 easy beginner cast ons.

Pattern
Cast on any number that is a multiple of 4 plus 2 more. So 22, 26, etc. For my 7" knitted swatch I cast on 28.

CO 28
Row 1. K2, *P2, K2, rep from * to end of row.
Row 2. P2, *K2, P2, rep from * to end of row.
Row 3. P2, *K2, P2, rep from * to end of row.
Row 4. K2, *P2, K2, rep from * to end of row.
Rep Rows 1 - 4 for desired length.
BO.
To Knit Double Moss Pattern In the Round
Notes

Pattern requires a stitch multiple of 4.
Remember to use a stitch marker at the beginning of the round. As you go from round 1 to and round 3 to 4 you'll have 4 of the same stitches together at the end and beginning.

Pattern

Cast any number that is a multiple of 4. So 20, 24, 28, etc. When knitting in the round you'll need enough stitches to get around a 16" cable, or you'll need to use another method like magic loop. For the toddler size Trento hat I cast on 68 so that's what I'll use here.
CO 68
Join to knit in the round.
Rnd 1. *K2, P2 rep from * around.
Rnd 2. *P2, K2 rep from * around.
Rnd 3. *P2, K2 rep from * around.
Rnd 4. *K2, P2 rep from * around.
Rep Rnds 1 - 4 for length of pattern.
BO.
Recommended Products
As an Amazon Associate and member of other affiliate programs, I earn from qualifying purchases.
Video Tutorial
Coming soon! Watch the video tutorial on my YouTube channel.