Learn how to join your knitting in the rounds to knit hats. This technique is a simple and easy way to join knitting with cable needles.
To knit beanies or hats we need to knit in the round. This means we'll knit around and around in a circle.
If you use straight needles to primarily knit flat, then eventually you'll need to learn how to knit in the round.
You can knit in the round with either DPNs (double pointed needles) or with cable needles (knitting needles attached to cables with the needles at either end).
Like most knitting techniques there are various ways to knit in the round. Here I'm going to show you how I join to knit in the round with cable needles.
Pin it
Yarn
For this tutorial I'm knitting with Red Heart With Love in the color Cameo. It's such a pretty purply pink.
This is a nice soft #4 medium worsted weight yarn from Red Heart. You can use any yarn for this technique if you're just practicing.
---
Never Miss a Pattern
Be sure to join my newsletter for my weekly emails + access to my Resource Library.
---
Stitches/Abbreviations (US Terms)
Tutorial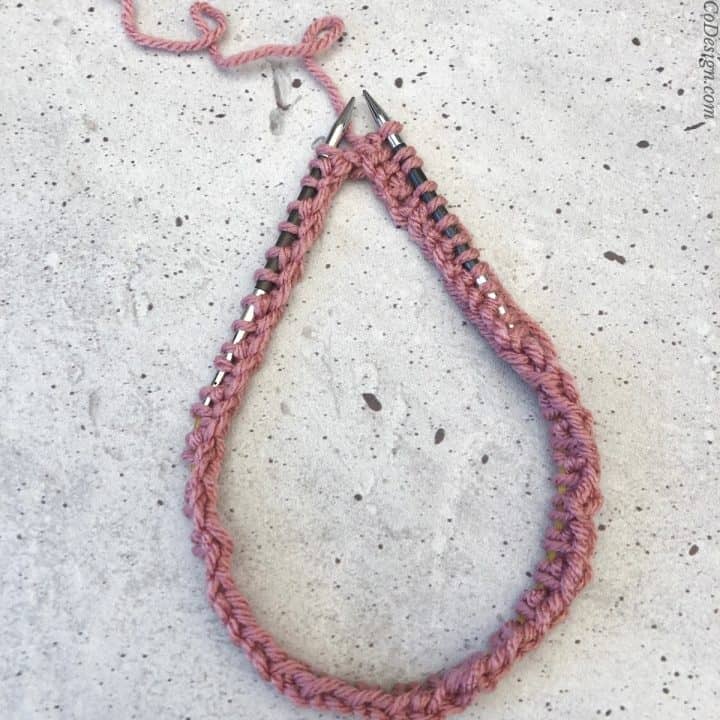 Join Knitting in the Round Cable Needles
Additional Time:
1 minute
Learn how to join to knit in the round using cable needles.
Materials
any weight yarn; I'm using a #4 medium worsted weight yarn
Tools
16" + circular knitting needles in size that matches your yarn; I'm using my 4.5mm needles on 16" cables.
Instructions
Cast on with cable needles. For the Trento Hat, which is knit with this size yarn and needle, I cast on 84 sts for Teen/Sm Adult size. Be sure it's not twisted.
Turn your work so the working yarn (attached to the yarn ball) is coming from the right needle.
Bring needles together.
Knit first stitch on the left needle. When you slide the stitch to the right needle it will form a connection between the first and last stitches. You have joined in the round.
Continue to knit around.
When you get back to the first stitch you knit, place a stitch marker-or use the tail to note your beginning stitch.
To knit in the round you'll just keep knitting when you come to that first stitch, around and around.
There will be a slight jog from cast on to row 1, but you can easily straighten that out when you weave in your tail.
Notes
There are several ways to join knitting in the round on circular (or cable) needles. Personally, I find this the simplest way.
To knit in the round you'll need at least a 16" cable for hats. If you will be decreasing (or knitting something smaller like a cuff) you'll need to use a longer cable (32"+) and magic loop method or DPNs.
Recommended Products
As an Amazon Associate and member of other affiliate programs, I earn from qualifying purchases.
Video Tutorial
Watch the step by step video on YouTube here.
Copyright © 2021 ChristaCoDesign/Crystal Marin. This pattern is for personal use only. Please feel free to sell and/or gift items you personally make from this pattern. You may not distribute this pattern and/or photos in any form, including scanning, emailing, photocopying, or posting photos of this pattern online, or elsewhere. To share please use this link https://christacodesign.com/2021/02/16/how-to-join-knitting-in-the-round/