How Long Does It Take To Knit A Scarf
A scarf can take anywhere from a few hours to several hours to knit. If you are a beginner knitter you may be wondering how long it will take you to knit a scarf.
How long it takes to knit a scarf depends on many different factors. Some of them are: your skill level, the length of the scarf, the width of the scarf, the yarn weight, needle size and complexity of the knitting pattern.
Skill Level
A new knitter will take more time than an experienced knitter. This is normal. And something to look forward to, if you are new you will get faster with practice.
Length And Width
Not all scarves are created equal. A wider scarf will take longer to knit than a narrow one. Likewise, longer scarves take more time to knit, even if it's a simple pattern.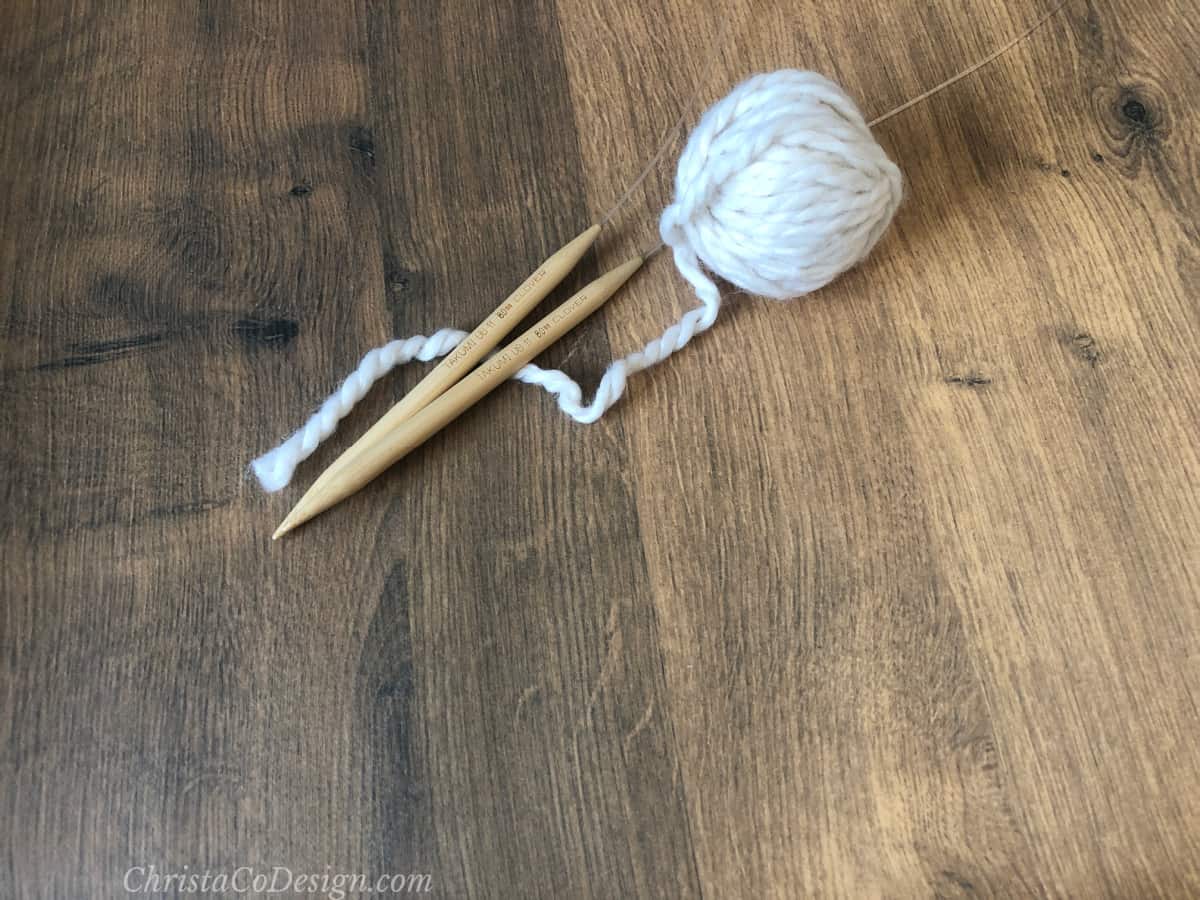 Yarn Weight And Needle Size
The weight of the yarn is the thickness of the yarn strand. Thicker weight yarns are #4 medium worsted weight yarn, #5 bulky weight yarn and #6 super bulky yarn. These yarns will knit up faster than lighter weight yarns.
The thinner the yarn, the lower the yarn weight number. The thinner yarn is #0 lace weight yarn. Then there is #1 fingering weight yarn, #2 sport weight yarn and #3 DK / lightweight yarn. These yarns take more time to knit up.
Needle size is usually matched with your yarn weight. For instance, #4 worsted weight yarn goes well with 4mm – 6mm needle sizes. Your pattern will tell you how much yarn, what weight yarn to use and which knitting needles. Your yarn label includes the recommended needle size too.
Just like yarn weight, when knitting with smaller needles it takes longer to knit. The larger needle sizes will knit "faster" because each stitch is larger uses more yarn. Therefore the number of stitches you need to knit the same 60″ scarf will be far less.
The Type Of Yarn
The type of yarn can also effect your knitting speed. Different yarns are made from different fibers like wool, acrylic, cotton.
Personally I find cotton yarn to slow me down. It tends to "catch" more on the needles which can be hard on my hands.
Very smooth, slippery yarns will glide along the needles more easily.
How Detailed Is Your Knitting Stitch Pattern?
A simple garter stitch scarf is going to be the easiest type of scarf to knit up. It's just a one row repeat of knit stitches on both sides.
It's likely many knitters could knit a simple scarf in chunky yarn in about 1 -2 hours. This type of scarf makes a great first project.
Knitting a stitch pattern with a 4 row repeat will not take as much time as one with an 8 row repeat. It will be easier to remember 1 – 4 row repeats. This means you won't have to stop and check your pattern as often.
How Long Do I Need To Knit A Scarf?
Each scarf knitting pattern will have unique make time. This is based on things like stitch pattern difficulty and the weight of yarn.
It's a good idea to plan a few hours to knit your scarf over about a week.
How Long Does It Take A Beginner To Knit A Scarf?
Since beginner knitters are usually slower knitters it will take longer to knit a scarf. Again, how much longer depends on your yarn weight and pattern difficulty.
What Style Knitter Are You?
Do you knit continental or are you an English knitter? Continental knitting is considered faster since you hold the yarn in your left hand. In English style knitting the yarn is held in the right hand, which means you have to drop the left needle to yarn over.
However these are just general things. Experience knitting will also play a big role. There are also many different ways to knit than these two listed here.
How To Calculate How Long It Will Take To Knit A Scarf
Since every pattern and every knitter are different it's impossible to say how long. However, one way to find out how long it will take you to knit a scarf is to time yourself.
Set a timer for one minute.
Make sure you can count your rows. You can use stitch markers to see where you start if you need to.
Then knit until time is up. Make sure you're do this after casting on, and working the first row or more if you have a pattern repeat, so you are familiar with it.
Count how many rows you knit. Now it's time to do a little math.
If you were able to knit 2 rows in one minute then you can multiple that by the total number of rows you need.
For this example, let's imagine the scarf is 200 rows long. You can knit 2 rows per minute. 200 / 2 = 100 minutes of knitting.
Number of Rows / Number of Rows Knit Per Minute = Number of Minutes Needed
If Your Pattern Says To Knit For X Length
What if you don't have the number of rows you need to knit? Some patterns give the inches to knit for the length of your scarf. In this case, you can use the row gauge information to find out how long it will take you. Learn how to make a gauge swatch here.
For this example 2 rows = 1″ and you need 60″ for your scarf length. 60″ / 2 rows = 30 rows to knit a 60″ long scarf.
Length in Inches to Knit / Number of Rows Per Inch = Number of Rows Needed
Free Knitting Patterns
If you are looking for a new knitting project be sure to check out my beginner friendly knitting patterns. You can find the free patterns here on the blog or purchase the ad free pdf in one of my shops.
This is a small scarf pattern in worsted weight yarn and the simple garter stitch. It's very beginner friendly!
This seed stitch scarf is an easy knitting pattern. This scarf is also knit with #4 medium yarn.
This chunky scarf pattern has pockets!
Pin It
If you love learning by video tutorial be sure to check out my YouTube Channel!
Subscribe to my youtube channel