How to Choose the Best Yarn for Hats
Whether you crochet or knit, choosing the right yarn is as important as choosing the right project. What do you need to know when selecting yarn for crochet hats?
Well when we knit baby hats we want to make the best choice on just the right colors and softness. With the increase in online shopping it can be hard to judge a yarn's softness if you haven't worked with it yet.
No two yarns are equal, but there are things we can look at to make sure you choose the right type of yarn for your project.
Seasons
Seasonality is likely the first consideration. Hats can be worn every season of the year. So knowing your target season is the first step.
Fall / Winter Hats
Fall and winter can be grouped together. The hats we make for these times of year need to be warm as the days grow shorter and colder. You may want to choose a thicker yarn for the winter season.
Warm Hats
When knitting hats for warmth consider using a wool or wool blend yarn. These tend to be the most warm yarns.
There are a variety of animal fibers to choose from that will make a nice warm hat too.
Spring / Summer Hats
Spring and summer hats can be thought of as one group where we need lighter hats. These seasons can also be considered separately.
Spring will have cool mornings and evenings. But we tend to spend more time outdoors. So spring hats may be warm and / or have a brim for sun protection.
Summer hats do not (usually) need to be warm. Most will have a brim to shade your face from the sun. The bucket hat has been all the rage of late!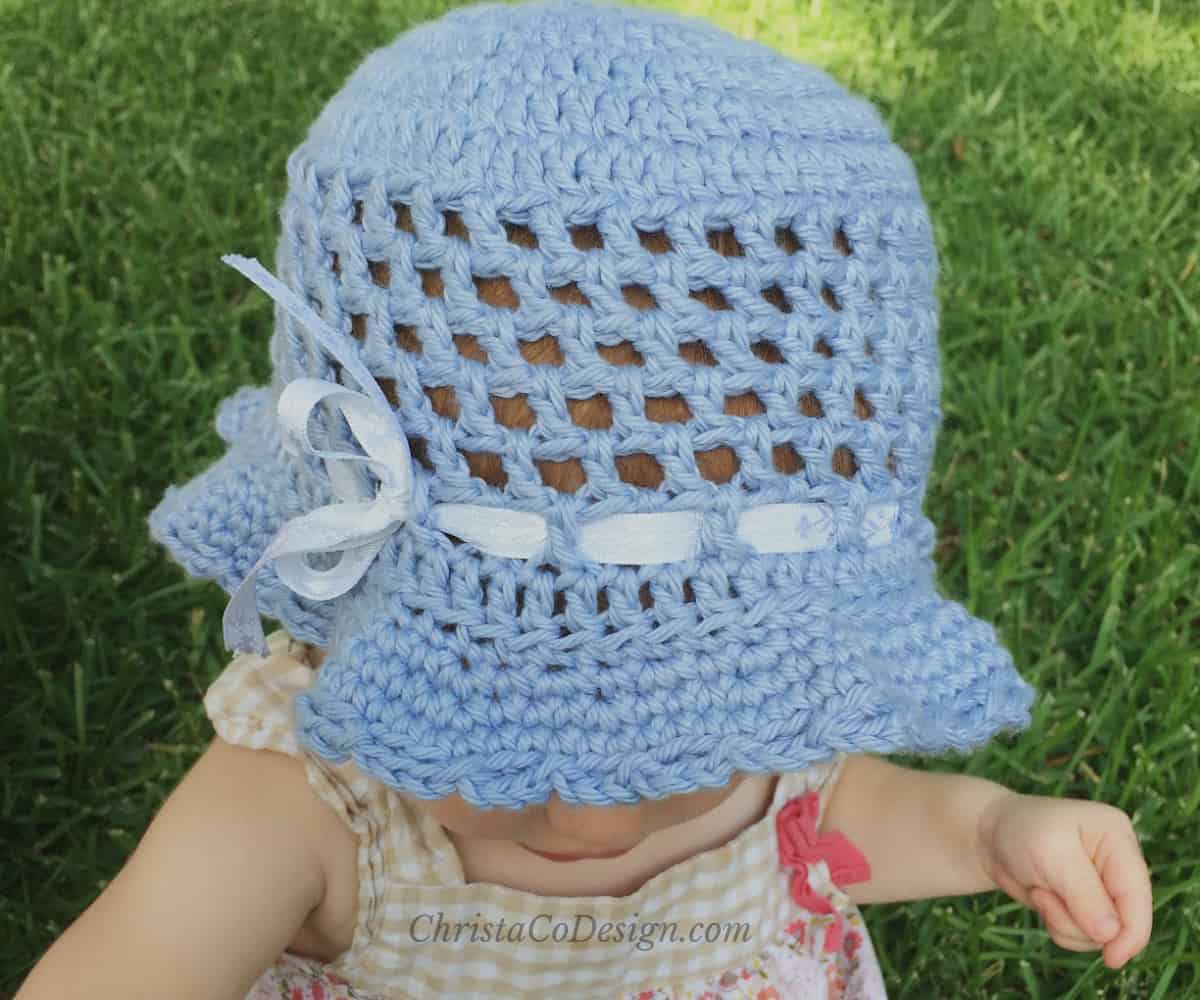 Summer Hats
Cotton is the perfect yarn for summer hats. This natural fiber is breathable which is helpful in the warmer months. Cotton blends that mix other fibers in are also a good choice for knitting hats.
Hat Style
If you are making a hat with a brim it is likely that you want a yarn with a bit more structure. While drapey yarns are going to win at slouchy hats and warm winter beanies.
The stitch pattern will also dictate how much structure your yarn needs. Use your pattern's suggested materials for the best results.
Download the Hat Sizing Chart
Get this handy dandy chart so you can crochet perfectly fitting hats!
Yarn Fibers
Acrylic Fiber
The most affordable yarns are often made with synthetic fibers like acrylic. These yarns come in a variety of different colors.
Many acrylic yarns will be very structured and work well for hats that need shaping. The Curly Elf Christmas hat pattern works great in acrylic for this reason.
And acrylic yarn knits up into a machine washable hat. Acrylic is a great choice for many everyday hats.
If you want a soft acrylic yarn to crochet hats for babies or cancer patients then look for acrylic labeled "premium."
Natural Fibers
Cotton yarn is the most popular choice for summer hats. But it's not the only natural fiber.
Wool yarn is also natural fiber yarn that is warm, but also breathable. Merino wool is a popular choice for fall and winter hats.
Wool blends meld the best of both worlds. These yarns incorporate wool for warmth. Then other fibers, like acrylic to make your knitting projects easy to care for and washable.
Superwash wool is another one that is machine washable and warm. Alpaca yarn is an excellent choice for those who may need a hypoallergenic yarn.
Check the label on your yarn skein for all the fiber information.
Yarn: Lion Brand Hometown USA yarn*
Yarn Weight
Different yarns have different thicknesses. Generally the different yarn weights will require a different size crochet hook. Think the bigger the yarn, the bigger the hook.
The most popular yarn we crochet and knit hats in is #4 medium worsted weight yarn. This medium thickness yarn is widely available in solid colors and variegated varieties. It isn't too bulky or too thin.
But #5 chunky yarn and #6 superbulky yarns are excellent for warm winter hats. While #3 lightweight yarn works well for spring and summer hats.
Yarns I Love and Recommend
Lion Brand makes some great yarns, especially for hats. I love their Heartland yarn. It's worsted weight and it comes in a variety of colors.
I use this yarn in my basic beanie patterns for single crochet, half double crochet and double crochet. These are all free crochet patterns here on my blog.
Free Hat Patterns
Crochet Hats
The Simple Slouchy Beanie makes a great slouchy hat for him and it's a free pattern in all sizes!
The pom pom on this long tail stocking hat makes it so fun for kids.
Knit Hats
The Alba is an easy chunky knit hat pattern.
The Trento knits up in worsted weight for a textured hat.
If you love learning by video tutorial be sure to check out my YouTube Channel!
Subscribe to my youtube channel