Knit Scrubby Pattern in Cotton Yarn for Beginners
Learn to knit a scrubby. This simple square face scrubby knits up easily in cotton yarn. The classic garter stitch creates a lovely texture and works perfect for a first project.
Cotton yarns knit up quick and easy in worsted weight. They're great for face scrubbies, washcloths or dishcloths.
These are so satisfying to make, and you can knit up a bunch for gifts or to donate.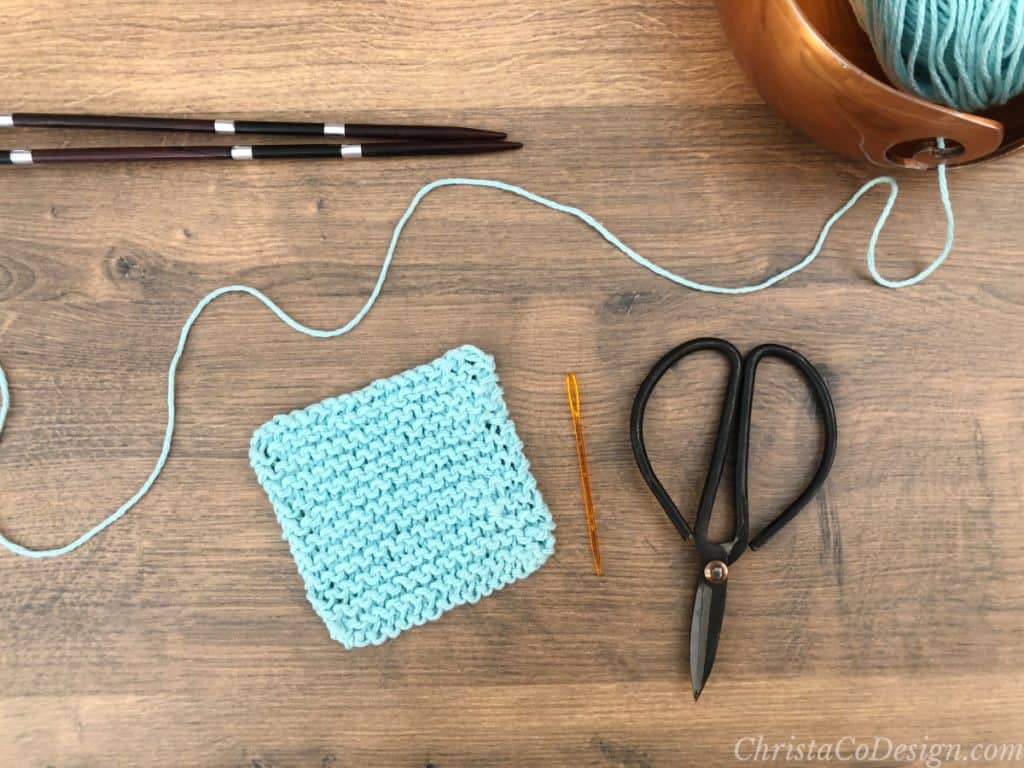 Are knit face scrubbies any good?
One of the benefits to knitting your own face scrubby is they're reusable. Cotton yarn is machine washable, and dryer friendly. Plus your knit face scrubbies will get softer with every washing.
How to use knit face scrubbies?
To use your face scrubby wet it in warm water. Add a small amount of face soap, and gently rub on your face. Rinse your skin and the scrubby with cool water.
When you're finished using washing your face, just wring it out. Then just toss it in the wash. These scrubbies use very little yarn so you can crochet a bunch from one skein or less.
You can also purchase just the Scrubby Wrappers PDF for printing at home. These are so useful for gifting crochet scrubbies.
What kind of yarn do I need for a scrubby?
I would highly recommend 100% cotton yarn for this scrubby pattern. I knit these face scrubbies with yarn I had in my stash. The scrubbies pictured are in Peaches 'n Creme* cotton yarn in the color mint.
Other yarns suitable for face scrubbies would be Red Heart Smoothie Scrubby which I used in my Bria Crochet Washcloth Pattern.
These make great gifts
Knit face scrubbies make an excellent handmade self care gift. Knit a set in a friend or loved one's favorite color. Then match them up with a delicious hand made soap like this Hibiscus Conditioning Bar* from The Real Crafty Mom.
I've created a face scrubby label to wrap around them too. To make these easy to gift, the packaging identifies 1. what they are 2. what they're made with 3. that they're washable. Just print, wrap and eccolá!
The Mura Kitchen Towel knitting pattern is a self hanging towel with an easy to make loop.
---
Never Miss a Pattern
Be sure to join my newsletter for my weekly emails + access to my Resource Library.
---
The Stitch
This classic garter stitch face scrubby pattern is made by knitting both sides. Easy peasy, a fun, fast and satisfying first project.
These are great, relaxing project to work on over the summer months. They use very little yarn too.
Materials
15-20 yds (per scrubby) of #4 medium worsted weight yarn, cotton yarn recommended
5mm US size 8 needles pictured is my Furls Rosewood needles
Yarn needle
Measuring tape
Scissors
*You can really use any size knitting needle that is compatible with the yarn you're using. The size of your scrubby doesn't have to be exact, unless you want it to be.
Level
beginner
Notes
Knit in rows, you will turn at the end of each row.
Stitches/Abbreviations
BO-bind off
CO-Cast On
K-knit
P-purl
rep-repeat
st(s)-stitch(es)
Gauge
4"/10cm x 4"/10cm = 14 sts x 26 rows
Construction
This square scrubby pattern is knit flat in rows.
Fit/Adjustment
To adjust the width of your knit scrubby cast on more or less stitches.
To change the scrubby length, adjust the number of rows.
Pin It
How to Knit a Scrubby Square for Beginners
Knit Scrubby Pattern for Beginners
Additional Time:
1 minute
Learn how to knit a scrubby pattern. Knit a simple square in cotton yarn to use for a face scrubby. Pair it with the printable for a polished gift!
Materials
You will need 15-20 yds (per scrubby) of #4 medium worsted weight yarn, cotton yarn is recommended for knit scrubbies.
Tools
5mm US size 8 needles
scissors
yarn needle
tape measure
Instructions
CO 16, or any number of stiches.
Row 1. K all.
Row 2. K all.
Keep repeating these two rows until your scrubby measures 4"/10cm, or to your desired length.
Once your scrubby is as long as you would like, BO.
Cut the yarn.
Weave in the ends.
Repeat for the number of scrubbies you like to knit. 3-4 face scrubbies make a nice gift.
Notes
Be sure to allow the scrubbies to dry completely between uses.
Recommended Products
As an Amazon Associate and member of other affiliate programs, I earn from qualifying purchases.
If you love learning by video tutorial be sure to check out my YouTube Channel!
Subscribe to my youtube channel