Best Crochet Hooks for Beginners
The best crochet hooks for beginning crocheters are affordable and easy to use. There are more than a few things to consider when choose a crochet hook. Let's dive in to the ins and outs now!
Most new crocheters begin learning how to crochet with #4 medium worsted weight yarn. A 5mm US Size H-8 hook is great to work with this weight yarn.
A set of crochet hooks is what I recommend for beginner crocheters. You will need different sizes for various crochet projects.
Yarn Weight
For each type of yarn you work with you will need a corresponding crochet hook. So it's in your best interest to choose a set with the most commonly used crochet hook sizes.
One way we categorize yarn type is by the thickness. This is called yarn weight.
Your crochet hook will need to match your yarn weight. Yarn weight refers to the thickness of the yarn. You can find these details on the yarn label.
So small crochet hooks pair with thin yarn and larger crochet hooks go with thicker yarn.
Investing a small amount of money in a set of affordable crochet hooks in the most popular sizes, like F-J (3.75mm – 6mm) is a good idea.
This hook set from Mary Maxim* includes both the standard aluminum hooks and the smaller steel hooks.
While getting a set makes sense, you might prefer to try different styles. In that case, just get one type of hook and get a second one in a different style.
You can purchase single aluminum hooks* on Amazon to try the different styles.
Crochet Hook Sizes
Crochet hooks are sized by the circumference of the shaft. This is the metric measurement. They are also assigned a letter and/or number. This is the US Sizing.
A 5mm US Size H-8 is a medium sized hook, which works with medium thickness yarn.
1mm – 4mm size hooks are smaller and pair with thinner yarn. Larger hooks, like 6-10mm sizes, work with thicker yarns. You can read more about crochet hook sizing in this post.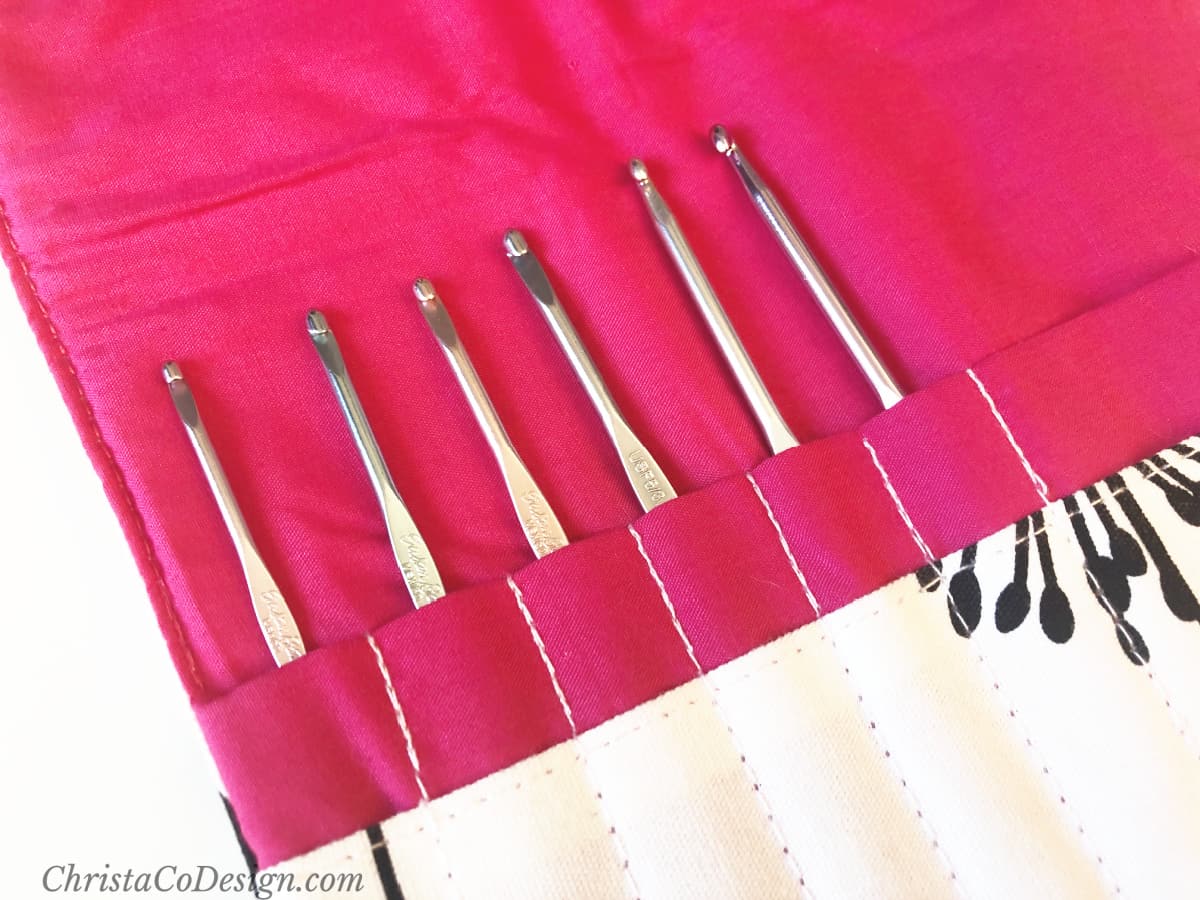 Types of Crochet Hook Tips
Different hooks have different tips. Here are two of the most common crochet hook tips.
Inline hooks keep the hook curved in line with the shaft of the crochet hook. Susan Bates hooks are inline hooks. This Susan Bates inline hook* includes a soft handle too.
Inline is different than a tapered hook like Boye*. These hooks are pointier and have a tapered shape to the hook itself.
You can read all about inline vs tapered crochet hooks in this post.
You can try a single Clover Amour or get a set in 10 sizes*. The Clover Amours have a unique combination tip. These are excellent hooks for crocheting with cotton yarn and other natural fibers.
Types of Crochet Hook Material
In addition to the design of the crochet hook tip there are the different materials to consider. Crochet hooks are made in a variety of different substances like wood and metal.
Aluminum hooks are very common. The metal of these hooks is lightweight and smooth. Metal hooks glide through the yarn more smoothly.
Plastic hooks are another common material. These are also lightweight and smooth gliding.
The smaller hooks used for crochet thread are sometimes made with steel. Since the shaft is so small, a stronger metal is helpful for these steel hooks.
It's important to try the different types of crochet hook tips so you can find your personal preference. It may even depend on which yarn you're working with!
Crochet Hook Handles
Thumb Rest
Many crochet hooks come with an added handle. Some of these hooks offer a thumb rest molded into the soft rubber.
A thumb rest is a flatted part of the crochet hook shaft. This is generally where your thumb will rest when you grip the hook.
Handle to Grip
Bamboo hooks have a handle made from bamboo wood around a metal crochet hook. This handle makes it more comfortable in your palm.
Another material added to crochet hook handles is polymer clay. These add a comfortable grip, but can be heavier.
Ergonomic Handles
I highly recommend crochet hooks with ergonomic handles for comfort. However, if you're just starting to learn then a basic set is the best starting point.
When you fall in love, you will want to crochet for many hours. This is the time to invest in a set of ergonomic hooks. Clover Amours* and Furls* have some of the best hooks in my opinion.
Try Different Styles
My advice is to try different crochet hooks. Test the different styles to find the perfect hook for you!
Different types of hooks may have a more or less comfortable grip for you. How you hold the crochet hook may effect what you like too. Pencil grip and knife grip are the two most common crochet hook holds.
How Do I Know What Crochet Hook to Use?
All the details will come from your crochet patterns. The pattern will have a Supplies or Materials section. Here it lists the hook size and yarn weight recommended.
So be sure to read through your pattern to make sure you have the right hook and yarn. Using the right size is important.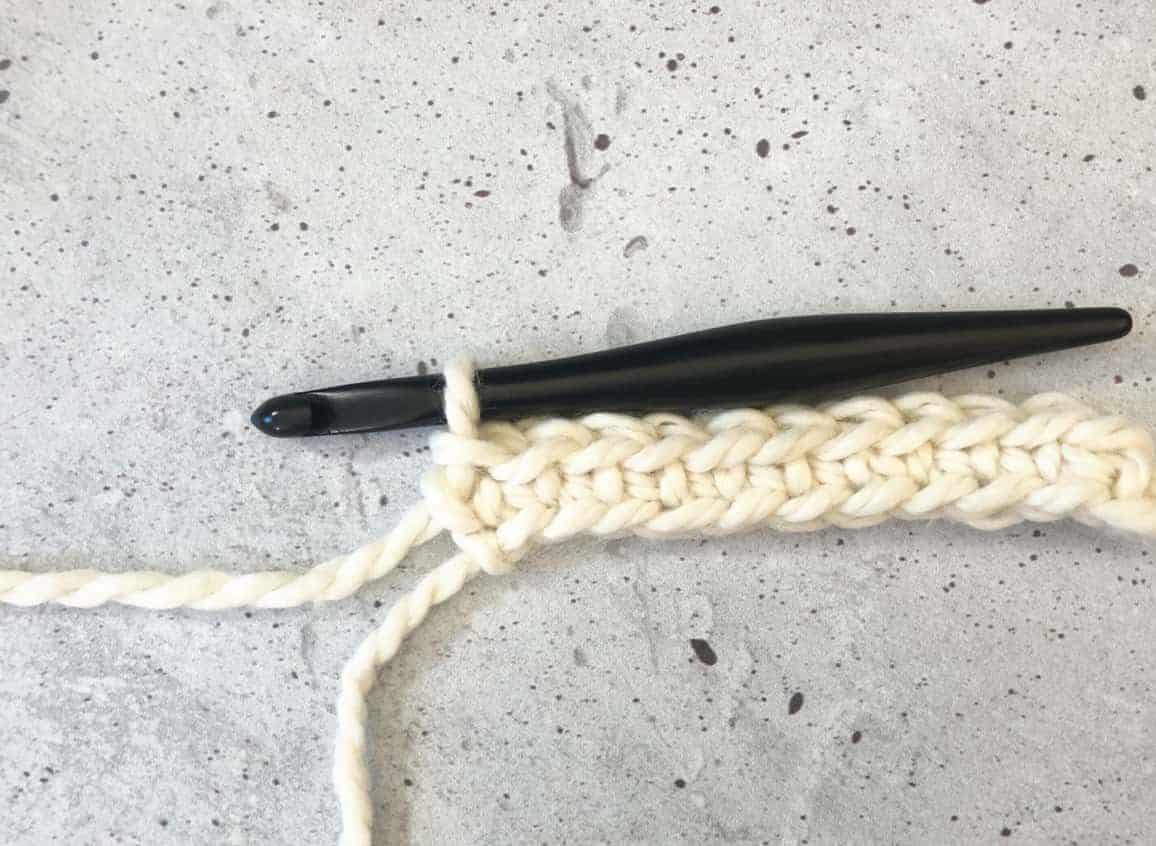 What Yarn Goes With What Hook?
Your crochet pattern will tell you what yarn and hook to use. However, there are some common combinations I list here.
#4 medium worsted weight yarn – 4mm – 6mm crochet hooks.
#5 bulky yarn – 6mm – 8mm crochet hooks.
#6 superbulky yarn – 8mm – 10mm crochet hooks.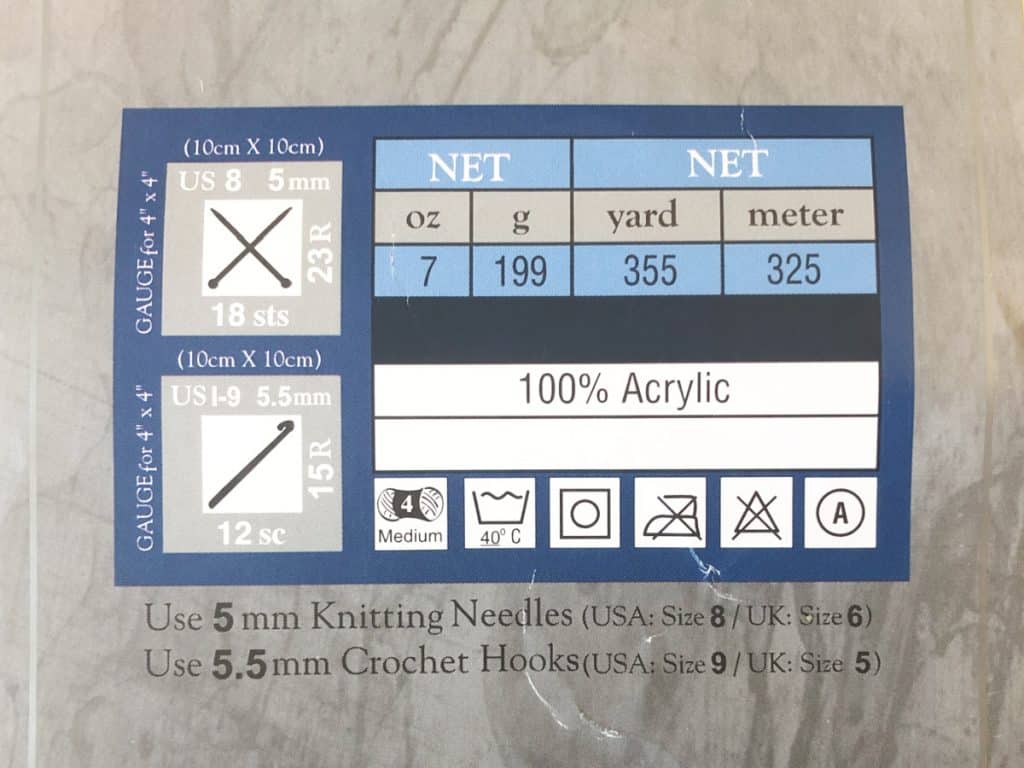 Your yarn label is an essential piece of information. You should always save them for the duration of your project.
Whether you are keeping the finished piece or gifting it, you will want to know how to care for it. The yarn label includes the care instructions too.
Specific Types of Crochet Hooks
Tunisian Crochet Hooks are longer than standard hooks. These hooks are designed for Tunisian crochet patterns.
Wooden Hooks can be hand carved for the entire length of the crochet hook, or as an added handle for ergonomics.
A Bamboo Crochet Hook is a popular choice due to the lightweight nature of this sustainable wood. You can read a review of seven bamboo hooks here.
Size Matters
If you're wondering if the size of the crochet hook you use matters. It does.
Like I stated above, usually the large crochet hooks pair with thicker yarns. And the same applies to thinner yarns with smaller crochet hooks.
There are some exceptions though. When you want a truly loose or open stitch pattern you may use a larger hook than typical for that yarn weight. This scenario is generally for designers though.
Using your yarn label and /or crochet pattern are the best places to help you match your hook and yarn.
What Should I Buy to Start Crocheting?
A crochet hook and yarn to match it. #4 medium worsted weight yarn like Red Heart's Super Saver is an affordable medium weight yarn.
Grab a medium size hook to match it, like a 5mm (H) crochet hook and you're all set.
Here are some beginner friendly crochet patterns to get you started!
A basic Crochet Beanie Pattern is an essential for all crocheters!
This Beginner Crochet Scarf uses #5 bulky weight yarn, but you could use medium yarn with it and have a slightly smaller scarf.
Use this Double Crochet Tutorial and you can crochet a scarf, or any rectangle!
Small projects like these face scrubbies are perfect for beginners.
If you love learning by video tutorial be sure to check out my YouTube Channel!
Subscribe to my youtube channel