51 Free Crochet Basket Patterns
These beautiful crochet baskets are a great way to add some storage to your living room and bathrooms. Creating baskets in different colors and different sizes is fun way to customize your home decor.
From tiny and cute to large baskets that use a big hook size and bulky weight yarn there are so many crochet basket patterns to choose!
If you find you have a lot of scrap yarn to deal with then crocheting your own basket is perfect. Stripes make a beautiful basket, as you can see in many of these patterns.
You Can Purchase My Ad-Free PDF Patterns Here:
Skill Level
These free crochet basket pattern can be made by any skill level crocheter. So you are sure to find something you will love to make. There are plenty of simple, beginner friendly basket patterns on this list. And for those who like special stitches there are some of those too!
What Yarn to Use for Crochet Baskets?
These patterns include a variety of yarn weights and fibers. The ideal choice for your basket will depend on its function.
For home decor baskets that will get a lot of use like for toy storage, use t-shirt yarn.
For baskets in the bathroom, kitchen or dining room, cotton yarn is a great choice for its absorbency.
For all purpose baskets you can use acrylic yarn. Aim for anti-pilling yarn for best results.
There are baskets for medium weight yarn through super bulky weight yarn on this list. Holding two strands of yarn together is a great way to "create" a bulkier yarn and use up more of your stash.
I made a couple baskets with Bernat Home Maker Dec yarn years ago and they have held up so well.
01
Get our free printable
With 25 of our best handmade gift tags
This ebook includes our top 25 reader favorite gift tags and labels that you are sure to enjoy as well! Enter your email below to download our beautiful handmade tags!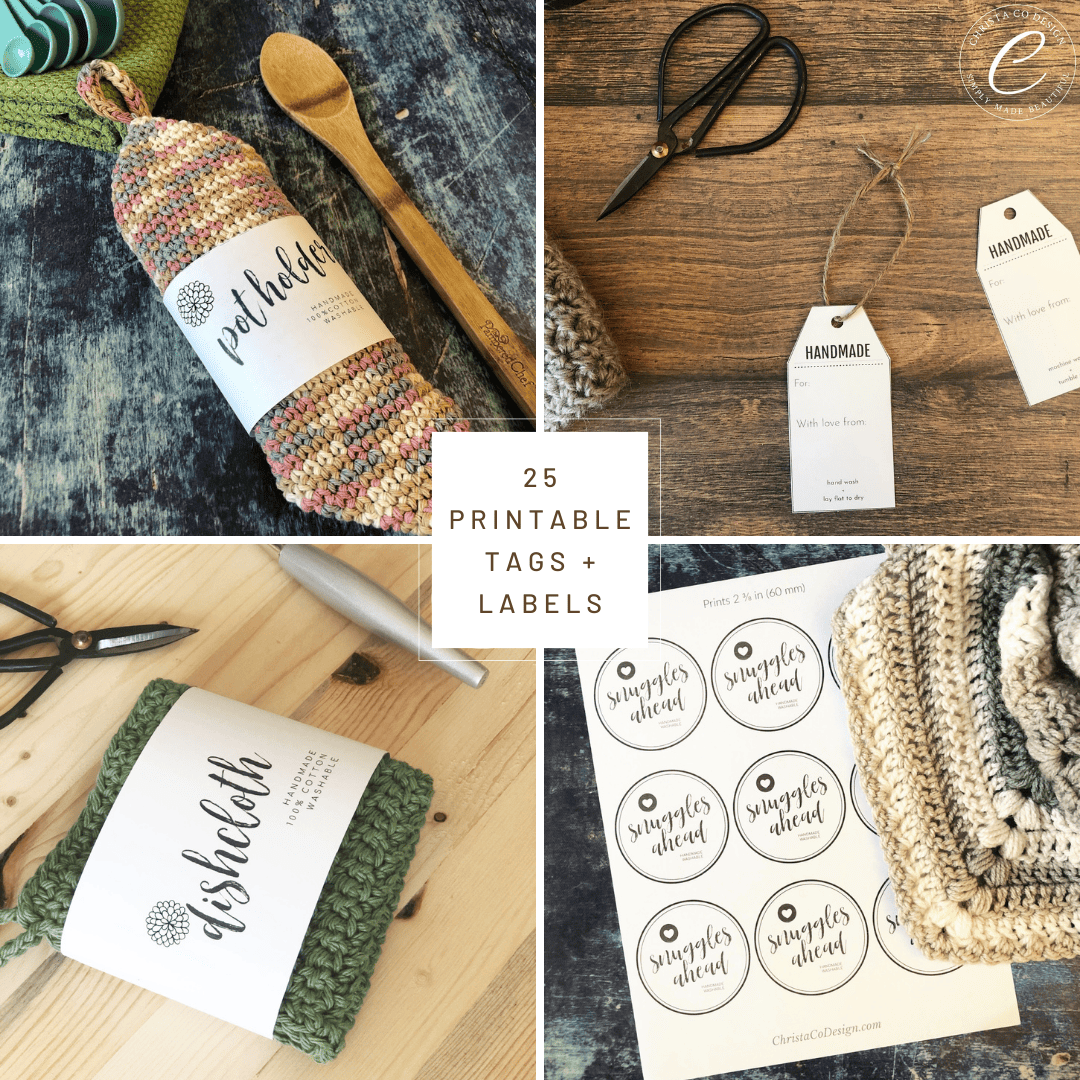 How Do You Crochet a Basket?
Most crochet basket patterns are worked in the round. You start with the base with a magic ring and increase it to size.
Each pattern will vary here based on what size basket you're making. The bottom of the pattern is where you will also set the shape of your basket.
There are many round crochet baskets, oval baskets, square baskets and rectangle baskets. These shapes can be made by strategically placing your increases.
Once the bottom of your basket is ready, you'll start crocheting the sides. Here a basket pattern is similar to a hat.
When you stop increasing and only crochet around the sides take shape. It's the sides of the basket where pattern designers add texture, stripes or go for the flat uniform look of the waistcoat stitch.
What Do You Store in Crochet Baskets?
The two large baskets I made we for soft toys, plushies and stuffed animals. With four kids, they are both brimming. And that does not include all the ones on their beds!
Stuffing the large baskets helps them keep their shape. Smaller baskets can hold their shape all on their own.
Small crochet baskets are great for storing different things like barrettes, stitch markers, small toys. The small sizes also make great display baskets.
You can decorate around the house with these for little candies and trinkets. If you have lots of kid's art supplies crochet baskets are a win for sure.
Scroll down to browse all these beautiful basket patterns!
Free Crochet Basket Patterns
These crocheted baskets are free patterns in a variety of styles and yarns! Browse through to find inspiration and your next home decor crochet pattern.
If you love learning by video tutorial be sure to check out my YouTube Channel!
Subscribe to my youtube channel