How to Decrease C2C Crochet Tutorial
Learn how to decrease your corner to corner crochet, C2C for short. Corner to corner is a crochet method that uses squares of stitches to increase to width. Once your crochet project is as wide as needed, then you decrease in the C2C crochet technique.
A C2C crochet pattern is worked in diagonal rows. This method is an easy way to crochet graphghans made from little squares. These are afghans that you can crochet from a C2C graph, or color chart that depicts a picture.
You can also crochet beautiful projects that are a solid color or stripes. If you're new to corner to corner crochet, be sure to start with something simply with only one or two color changes.
In this post you'll learn
How to decrease in C2C crochet.
How to do color changes on a decrease row.
I include the written instructions, and a full step by step tutorial with pictures for the c2c decrease below.
01
Get our free printable
With 25 of our best handmade gift tags
This ebook includes our top 25 reader favorite gift tags and labels that you are sure to enjoy as well! Enter your email below to download our beautiful handmade tags!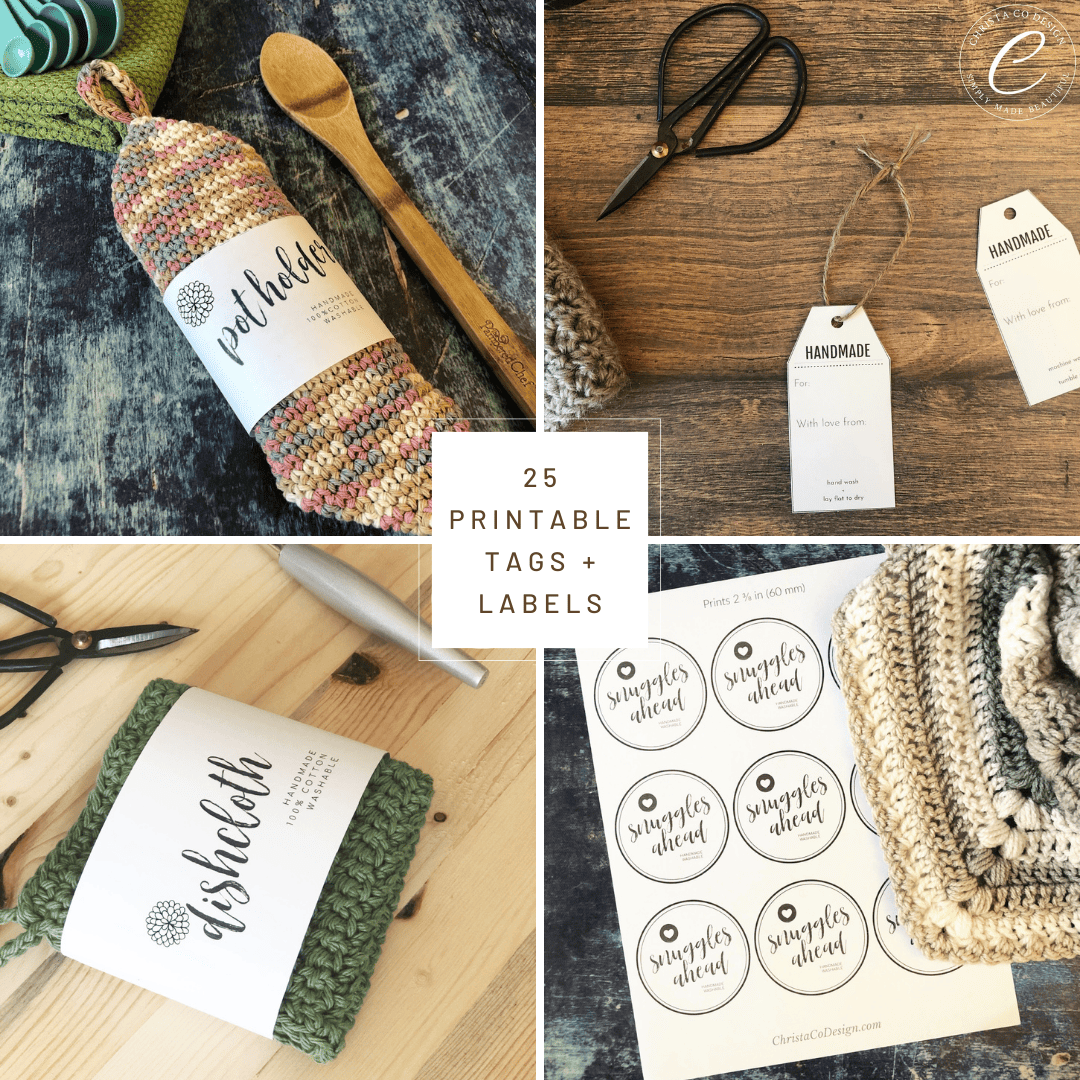 Learn How to Crochet C2C
The C2C stitch is usually double crochets, but half double crochet works too. Be sure to check your pattern details, as your stitch will effect sizing.
I have a full tutorial on how to C2C crochet here. This tutorial includes how to start C2C, how to increase, how to decrease in C2C and how to change colors.
Each Corner to Corner Block Includes:
Chain, find my beginner's tutorial here if you need it.
Double Crochet Stitches get the tutorial here.
To join blocks and decrease in corner to corner, we'll use slip stitches – check out the tutorial here.
How to Decrease in Corner to Corner Crochet?
C2C starts with one block and you work toward the opposite corner. Each diagonal row increases by one block at the beginning of each row.
Once your C2C project to the widest point then you are ready to decrease your C2C crochet. The decreases will happen at the same rate. The number of blocks will decrease by one for every row.
To decrease, you will not start a new block on the next row, but slip stitch over instead. I detail how to do this in the tutorial below.
You will continue decreasing back down to a one block corner, and finish off!
Free Crochet Patterns for C2C Crochet
The Snowflake Blanket is an easy C2C blanket pattern with only two colors.
The Gingham Pillow crochet pattern creates a checked fabric in corner to corner and includes a C2C chart.
A cute pumpkin square is also a great beginner project in C2C method.
DoraDoes has a great tutorial on how to crochet a C2C rectangle.
Color Changing Tips for C2C
Be sure to check out my post that includes tips for keep your colors organized!
Stitches / Abbreviations (US Terms)
ch(s)-chain(s)
dc – double crochet
rep-repeat
sl st-slip stitch
st(s)-stitch(es)
Pin It
Corner to Corner Crochet Video Tutorial
You can also watch the video on my YouTube Channel.
Scroll down for the tutorial on how to decrease C2C crochet with step by step photos!
How to Decrease C2C Crochet Photo Tutorial
Additional Time:
2 minutes
Learn how to decrease in C2C crochet method. This corner to corner crochet technique makes creating graphghans easy!
Materials
Any yarn will work for corner to corner crochet. For this tutorial I'm using Premier Everyday Yarn Anti-Pilling, a #4 medium worsted weight yarn.
Tools
A crochet hook to match your chose yarn. Here I use a 5mm US Size H-8 crochet hook, my white Furls Odyssey.
Instructions
Once you have crocheted your last increase row it's time to decrease. Start here to learn C2C crochet.
Do not start the first block with a chain 6, like you do to increase.
Start every decrease row by slip stitching over to the turning chain, which is the ch 3 sp.
Then work a regular block: Ch 3, work 3 dc in ch 3 sp, sl st to next block. Repeat regular blocks to end of the row.
Once you are at the end, sl st to last block to join. Do not work into this last ch 3 sp, turn.
Slip stitch over 3, work a block and continue across.
Keep repeating Steps 3 - 5 for every decrease row.
To change colors at the beginning of a decrease row, sl st over to the ch 3 sp. Cut yarn of first color and join new yarn in new color with a sl st to ch 3 sp.
Ch 3 and work 3 dc in the turning chain.
Continue working in decrease pattern until you are down to the last one block row.
Sl st last block to ch 3 sp.
Cut yarn and weave in ends.
Recommended Products
As an Amazon Associate and member of other affiliate programs, I earn from qualifying purchases.
If you love learning by video tutorial be sure to check out my YouTube Channel!
Subscribe to my youtube channel