I've compiled 20 One Skein Crochet Patterns here in one place. I'm sure we all have one skein of yarn, or maybe two that we picked up with no particular project in mind. I do, for certain.
Have you asked yourself, what can I make with just one skein of yarn? I have, so I made a list. Take a look for inspiration and check your yarn stash to see what you can crochet.
Most of these one skein patterns are beginner friendly. I aim to write crochet patterns for beginners. So often, I will include photo and/or video in the pattern to help support you.
How They're Organized
First, all the one skein crochet patterns are divided by yarn weight. Then, they're grouped within the section. And then finally they're alphabetized. There are lots of one skein hats, scarves and cowls!
Included is a little picture and description of each crochet pattern. I also include the specific yarn I used for the sample pattern. Each one links to the pattern post so you can check yarn yardage and get all the details.
I've included clickable links below to make navigating to each section easier. If you know you have a single skein of worsted weight yarn, you can click "One Skein Worsted Weight Yarn Patterns" and jump directly to those crochet patterns.
I hope you can find a new project to work on with the yarn you have on hand!
This post contains affiliate links which means I receive a small fee if you click through and make a purchase (at no additional cost to you).
Crochet Patterns by Yarn Weight
One Skein DK/Lightweight Yarn Patterns (#3)
One Skein Worsted Weight Yarn Patterns (#4)
One Skein Bulky/Chunky Yarn Patterns (#5)
One Skein Superbulky Yarn Patterns (#6)
For even more one skein crochet projects, I've added a new page so I can easily update future one skein & less patterns. You can check it out here:
On the One Skein Crochet Patterns page you can find all of them (even more than the 20 shared here)! Or if you'd like to work on something than uses even less yarn, scroll down for Scrap Yarn Crochet Patterns.
Bonus Pattern
My newest pattern, the Trina Cowl uses #3 lightweight yarn. It's lightweight and lacy. Crochet this little cowl in your favorite colors to add a splash of color to your outfit.
The Trina Cowl is the perfect warm weather accessory with its open stitch work pattern. This one ball crochet project features Bamboo Pop yarn. I used less than one ball of this gorgeous yarn.
Medium Worsted Weight Yarn #4
Cowls
The Archwork Cowl is a simply beautiful single skein crochet pattern. The name was an easy one. The combination of arch mesh and 24/7 cotton yarn is just gorgeous.
This Colorblock Cowl is the perfect summer stash buster. Only small amounts of yarn are needed of each color and when combined, they create a colorblock cowl customized just for you.
The Fiore Cowl is a one skein cowl. Blue is my favorite and I love the combination of the forked cluster stitch and this yarn. Lion Brand 24/7 cotton has such a beautiful sheen.
If you've never heard of the forked cluster stitch, don't fret! I've explained it under stitches, plus I made a video to help you too. It's basically a cluster stitch that's worked over 3 stitches. I just thought it was too pretty. And once it's worked up in the round it resembled a flower or "fiore" in Italian.
I love a crochet project that you can whip up quickly and bonus-this only takes one ball of yarn! I've included a detailed photo tutorial for the Incrocio Cowl, plus a video tutorial for the iris stitch used in the design. Lion Brand's 24/7 cotton is one of my absolute favorite yarns.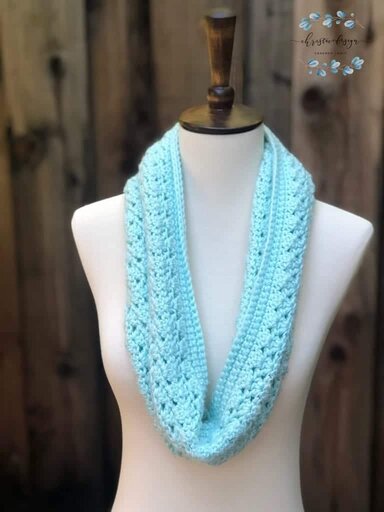 This Two Way Cowl will take you right into Spring as well. Caron Simply Soft is a bit lighter yarn for a worsted weight. I just love the sheen and shine and their color selection is amazing.
Scarves
The Ambra Triangle Scarf is lovely and light. The perfect compliment to your fall favorites and cozy weather wardrobe. This easy, beginner friendly scarf pattern includes an easy repeat should you wish to create a larger, triangle shawl version of the Ambra. I used Online: Trend Collection Linie 401 Trigato which was a generous sized ball.
The Skinny Summer Scarf is lightweight and lacy and just perfect for anytime of year. Crocheted simply, with double crochets and uses just one skein of Lion Brand's 24/7 cotton yarn, it will be your new favorite piece.
This crochet Boho Bag is so fun and versatile to work up. I picked up this skein of Bernat Pop! in scarlet sizzle with no real plans, just cause it was pretty, I'm sure you can relate! I decided to create a bag using only this one skein.
Hats
The Autumn Crunch Hat made with the Rust color from Vanna's Choice yarn. I used Vanna's Choice yarn, a #4 med weight yarn for the hat pictured. I used less than one ball for the small adult/tween size. This gorgeous fall color is Rust and it is just spot on!
The Crochet Toddler Sun Hat uses Hobby Lobby's I Love This Cotton in Periwinkle and works up easily for the cutest little sun hat and not much yarn.
The Football Hat is available in newborn baby to adult sizes. If you're familiar with crochet beanies, this is just a basic hdc hat. I added one little technique to the white stripes which really makes them stand out! I've detailed how to do it in the notes and pattern below, in case it's a new technique for you. Red Heart with Love
I love how the Textured Slouchy Hat worked up. Lion Brand's Heartland in Joshua Tree compliments the front post double crochet stitches perfectly.
If you like this pattern, be sure to join my newsletter, you'll love my weekly emails & gain access to my PDF Resource Library.
Bulky/Chunky Yarn Patterns (#5)
The crochet Alza Scarf is squishy, warm and gorgeous. Create scarves with stunning pops of colors to layer over your neutrals or keep it simple with a solid. The Alza Scarf can be crocheted with just 1 ball of Scarfie yarn, creating the perfect length crochet scarf.
The Nebbia Scarf is the softest and coziest! Simple stitches paired with Red Heart's Dreamy yarn create this lovely draping scarf. Long enough to double wrap it or style as a cowl.
Super Bulky Yarn #6
These crochet patterns need only one skein of #6 superbulky yarn to complete. These free crochet patterns work up quickly in just one skein of superbulky yarn.
Superbulky Cowl Patterns
The Arcone Cowl is a tall order of coziness. Created to keep both your neck and face warm, this cowl covers your ears and nose when extended. Squish it down for extra snuggly neck or add buttons for a folded option. One ball of Wool Ease Thick & Quick.
The Charisma Cowl is the type of crochet project I could make all day, every day. Quick and easy with pretty stitches that work well in a chunky yarn, what's not to love? I used Wool Ease Thick & Quick in the color Fisherman.
The Sheila Cowl uses just one ball of Lion Brand's Wool Ease Thick and Quick. I love working with thick, squishy yarn when the weather is cold. I might have sweaters and jackets galore, but my neck can always use a cozy cowl. And these are just so satisfying to work up-fast and chunky in my hands.
Superbulky Hat Patterns
The Backcountry Beanie is also in all sizes and uses Premier Serenity Chunky. I love a quick simple pattern is for all those random skeins of yarn I buy. With no particular pattern in mind, just liked the color/texture/cost. Can you relate? I bet you can. Having some one skein wonders can help you destash the random yarn for sure!
The Flurry Pop Beanie is a one ball wonder using only one skein of Lion Brand's Hometown USA superbulky yarn for the Teen/Adult size beanie, and even less for all the littles. I love the option of adding those puff stitches as color pops too. This beanie works up fast and looks amazing topped with your favorite pom!
The Chunky Bear Beanies use one ball of Lion Brand's Hometown USA. This cutie bear pattern is in sizes NB-Adult. Is there anything cuter than a little baby in a bear hat? These Chunky Bear Beanies work up fast in Lion Brand's Hometown USA yarn, almost as fast as those babies grow! ? Chunky yarn and chubby cheeks, ?‍♀️ yes please!
I hope you have enjoyed perusing these free one skein crochet patterns I put together. It's always fun to find a one skein crochet project you can pair with the yarn you already have in your stash. and enjoy some crochet time.