13 Crochet Blanket Patterns That Are Easy To Crochet!
Here are 13 Easy Crochet Blanket Patterns that are perfect for beginners. These blanket patterns can be crocheted for anyone on your list.
Crochet blankets make great gifts. Whether that's a gift for Christmas, birthday, baby shower, or even house warming- blankets are for everyone.
I love how easy blankets are to customize too. Creating stripes to match colors in a baby's room or to match home decor are usually simple ways to crochet the perfect gift.
The blanket patterns in this list use a variety of crochet stitches that many of you already know. They also include crochet tutorials for most of the techniques. So even if some of the stitches are new, you can easily learn them.
What kinds of crochet blankets are in this list?
There are crochet patterns for throw blankets, baby girl blankets, baby boy blankets, gender neutral blankets, striped blankets, bordered blankets. Many of the patterns can be made into the size you need.
You'll find ideas for crochet blankets for babies, including baby boys. I have three of those so I know searching for boy friendly, or gender neutral baby blankets can sometimes feel tricky.
While a lot of the time crocheting blankets for boys is really just color choices. I often found that the stitches used, or the borders added were too girly for my tastes. Many of my blanket patterns include simple borders or no border at all.
Some of my favorite home decor throw blankets are included in this list. I love the fall colors of the chevron crochet blanket patterns.
The Christmas Lights Blanket pattern includes the blanket and the crochet lights are appliquéd on. So even if you're not looking for holiday blanket, you can crochet this beautifully textured blanket for any season.
What kind of yarn makes a good crochet blanket?
The short answer is it depends. Who the blanket is for and where it will be used are the two most important factors for determining which yarn to use.
I crocheted the Raccoon Blanket included in this list almost 4 years ago and it has held up amazingly well. My now 6 year old still has it in on his bed, and the floor, and drags it all over the house. And it looks fantastic.
The yarn I used is Hobby Lobby's I Love This Yarn. It's 100% acrylic. So it's machine washable and doesn't pill. This is a great combination for a kid's blanket.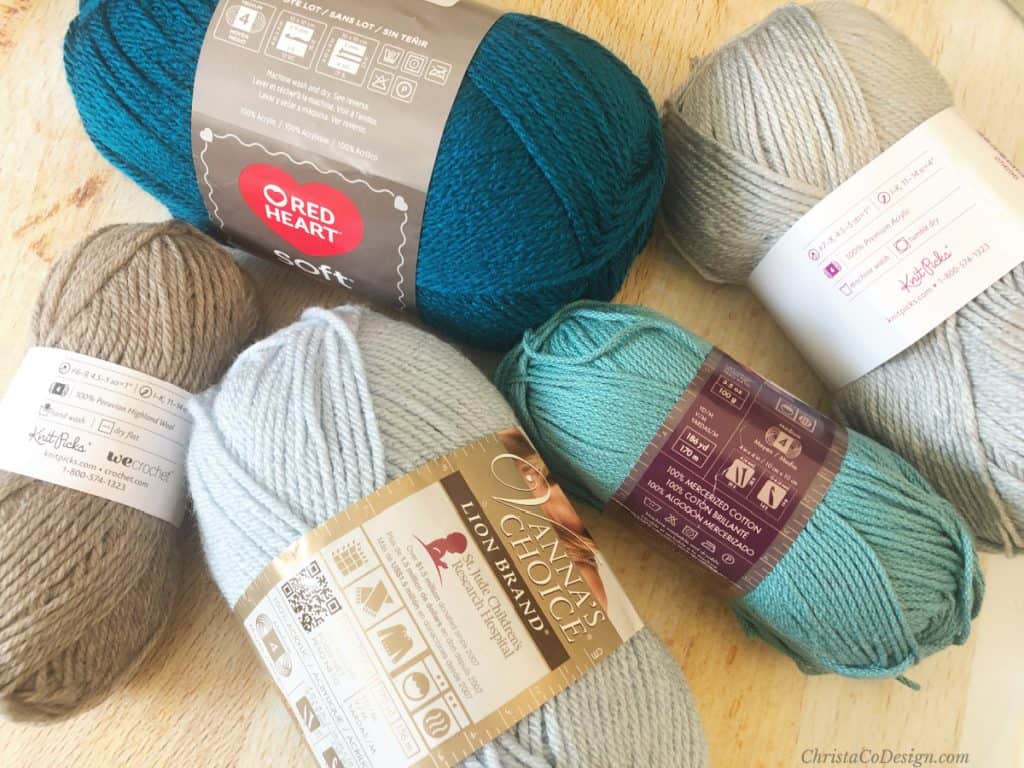 Some questions to ask before purchasing yarn for blankets:
Will the blanket need frequent washing?
Will a child or pet use the blanket? Will the yarn be durable?
Is it a display/decorative blanket for an adult?
Does the person you're gifting the blanket to have any fiber allergies (i.e. wool, or other animal fibers) or do you?
If crocheting a blanket for babies, do you want a pattern with a more solid stitch pattern to eliminate holes for little toes and fingers to catch in?
Can you purchase enough of the yarn to ensure it's all the same dye lot?
Is your yarn choice going to be easy to crochet with for hours? If it's constantly snagging, splitting or generally hard on the hands it may not be a good choice for a large project.
After you've been crocheting a while, or even made several projects with a few different yarns you quickly realize not all yarns are equal. But every yarn does have it's uses!
Another thing to think about when choosing a blanket pattern to crochet is if it will hold your interest. You'll likely be spending hours, over days and weeks to crochet a large project like a blanket.
If you know that you're the kind of crocheter that needs a lot of variety in your work then keep that in mind. Or maybe, you know that you don't want keep counting stitches or rows and you just want something simple.
It's also a good idea to have smaller, fast crochet projects working at the same time. Sometimes we need a break from the repetiveness of crocheting a blanket. Plus we gain that instant gratification (I use that term loosely here) of completing a small crochet piece in the meantime.
Downloadable Blanket Sizes Chart
Take care of you and take breaks
It's so important to take care of your hands. When you're crocheting constantly, or working on a big project it can really take a toll on your hand health.
Be sure to take breaks every 15-30 minutes, depending on your needs. Even if you don't feel tired or have pain, it's better to take a minute and stretch anyway.
Or even better, get up for a few minutes. Take a bathroom break, get some water, walk a few steps. Do a few stretches and get back to it.
Watch your posture. It helps to have the TV on, so you have a reason to look up from your work. Or sit across from another person, so you can look up at them.
Good lighting, and glasses can help battle eye strain. It might sound like a lot to consider, but you want to enjoy crocheting for many years, so take care!
Invest in the right tools
Having high quality tools to do the job always helps. Crocheting with ergonomic hooks, that fit nicely into your hand can help relieve hand strain.
I highly recommend the Furls Ergonomic Hooks. They make a variety of styles so you can choose what's right for your needs. I use the Streamlines, Odyssey, Streamline Swirls and Alpha Series.
I love them all for various reasons. But regardless of which style, they all have ergonomic handles.
Lighting is another important thing to consider. Our home is older and isn't wired with ceiling lights. I've had to invest in lighting a lot.
Ott Lights are great for task lighting. I have this one with the bendable neck and multiple light level settings.
For general room lighting, I really like the Brighttech Floor Lamps. I've added multiple lamps since all the rooms lack overhead lighting. I like how you can adjust the top to bounce the light around the room.
Looking for more round ups of crochet patterns? Check out this one of Scarf Patterns from love.life.yarn.
13 Easy Crochet Blanket Patterns To Make If You Are A Beginner
If you love learning by video tutorial be sure to check out my YouTube Channel!
Subscribe to my youtube channel