How Much Yarn Do You Need to Crochet a Blanket (+ Sizes)
Crochet blankets use up a lot of yarn. It can be hard to estimate exactly how much yarn you need to crochet a blanket. It's a common question of crocheters!
There's nothing worse than over estimating how much yarn you will use. Well maybe, underestimating the amount of yarn for a blanket is worse. No one likes to play yarn chicken with that beautiful baby blanket!
While there is no precise answer, in this post we will explore all the factors to consider when deciding how much yarn you need to crochet a blanket.
You Can Purchase My Ad-Free PDF Patterns Here:
If you're using a crochet pattern how much yarn you need will be under a section titled Materials or Supplies.
Sometimes the amount of yarn is only given in skeins or balls. If this is the case, (and if you can't use the same yarn) you'll need to know how to calculate how much yarn that is in yards so you can be sure to buy enough yarn. See the example under "Ball / Skein Length" below.
01
Get our free printable
With 25 of our best handmade gift tags
This ebook includes our top 25 reader favorite gift tags and labels that you are sure to enjoy as well! Enter your email below to download our beautiful handmade tags!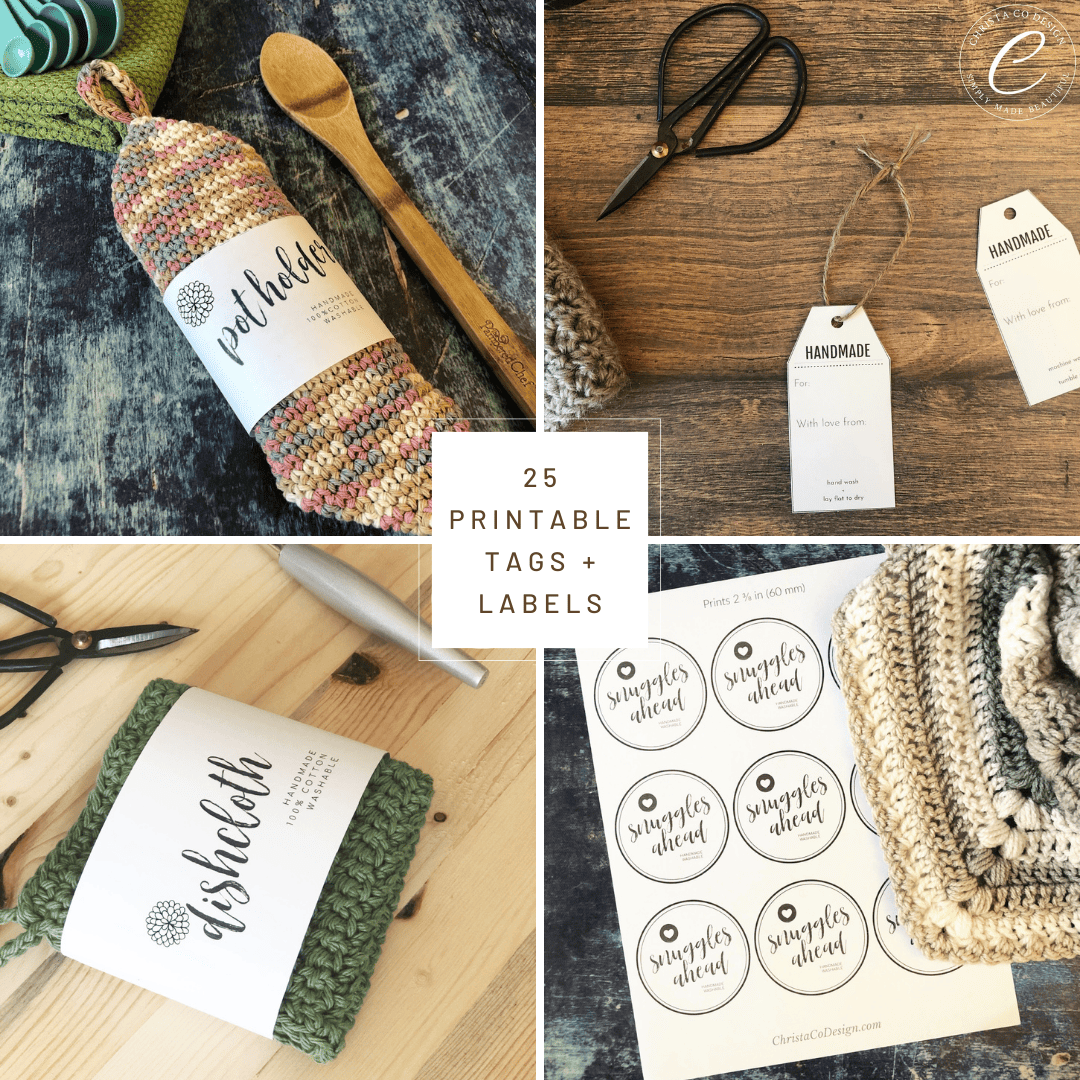 Size
One of the first things to consider is size. The size of the blanket you want to make, the size of the hook you use, the size of the yarn ball matters! So many things to consider.
Blanket Size
The primary consideration is blanket size. Obviously, you'll use up more yarn crocheting a king size blanket than a baby blanket. Different sizes of blankets will use different amounts of yarn.
Hook Size
When we crochet with a small hook size our stitches are smaller which means we use less yarn per stitch. However, if you're making a large project like a blanket that actually means you'll use more yarn than if you crocheted with a large hook (with the same yarn weight).
Common Blanket Sizes
| | | | | |
| --- | --- | --- | --- | --- |
| Size | Width in Inches | Length in Inches | Width in CM | Length in CM |
| Lovey | 12 | 12 | 30.5 | 30.5 |
| Baby | 32 | 34 | 81.5 | 86.5 |
| Receiving | 36 | 36 | 91.5 | 91.5 |
| Toddler | 40 | 52 | 101.5 | 132 |
| Sm Throw | 45 | 60 | 114.5 | 152.5 |
| Lg Throw | 54 | 60 | 137 | 152.5 |
| Twin | 66 | 90 | 167.5 | 228.5 |
| Full | 80 | 108 | 203 | 274.5 |
| Queen | 90 | 108 | 228.5 | 274.5 |
| King | 108 | 108 | 274.5 | 274.5 |
Downloadable Blanket Size Chart
Yarn
Yarn Weight
Yarn weight is the yarn thickness of the yarn strands (not the weight of the ball). #4 medium worsted weight yarn is the most common yarn weight.
The thicker yarn weights, #4 – #7 (medium, bulky, super bulky and jumbo) will crochet up to blanket size faster, than the thinner yarn weights, #0 – #3 (lace, fingering, sport, baby, dk, lightweight).
A #5 bulky yarn will make bigger stitches and bigger stitches create a blanket faster than a blanket with lighter weight yarn, like a #3 DK yarn. This means you'll use less yards of yarn when crocheting with the thicker yarns than the thinner yarns.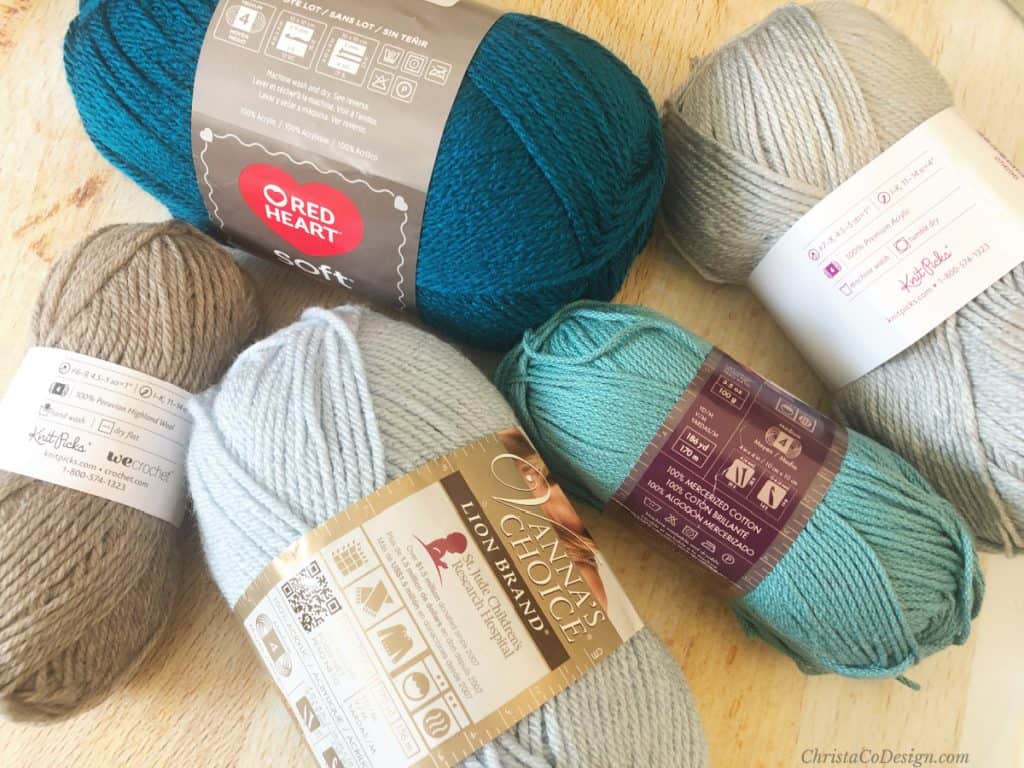 Ball / Skein Length
Not all balls or skeins of yarn are equal. They come in a variety of lengths. Some yarn balls have as little as 50 yards of yarn in them, and others over 800 yards!
Unfortunately for those of us who don't love doing the math, it is required in these cases.
An Example
If your pattern suggests using 6 balls of a yarn that comes in 100 yard balls, but you are planning to use a yarn that comes in 80 yard balls you will need more than the 6 balls.
First calculate how many yards of yarn in those 6 balls.
6 balls of yarn x 100 yd per ball = 600 yd total needed for your pattern
Now you need to know how may 80 yd balls to make up that 600 yd of yarn.
600 yd needed / 80 yd per ball = 7.5 balls to get 600 yd of yarn, so you round up to 8 balls.
Gauge
Ah, gauge. An essential in crochet, but sometime scary when you're just learning.
Gauge is simply the number of stitches per inch and the number of rows per inch. Usually measured in a 4″ / 10 cm square. You can read more details all about gauge and how to check it in my blog post here.
Most often we use gauge to match a pattern so that our hats and garments come out the same size and fit.
Checking your gauge is the best way to ensure you get the right amount of yarn for your blanket size.
How to Use Gauge to Calculate How Much Yarn You Need for a Blanket
But gauge can also be used to determine how much yarn you will use for a project. For this method you will need a kitchen scale, your yarn label with the yards / ounces of yarn on it.
First work up a small swatch in your stitch pattern. Measure your gauge swatch.
4″ x 4″ = 16 sq in
Then weigh the swatch on your kitchen scale.
0.4 oz / 11 g
Check your yarn label. Total ball yardage = 265 yards / 242 meters. Total ball weight = 150 grams / 5.29 ounces.
Calculate how many yards per ounce.
Total Ball: 5.29 oz / 265 yd = .019996 yards per ounce of yarn
Now we can use this to calculate how many yards you used in your swatch.
0.4 oz (swatch) / .01996 yd per oz = 20 yd used in the 4″ x 4″ square (16 sq in).
Calculate how many yd per sq in of crochet fabric.
16 sq in / 20 yd = 0.8 yd yarn per sq in of fabric
Then calculate your blanket size in square inches (length x width = sq in). The most common blanket size is baby blankets, so we'll use one that is 36″ x 36″.
36″ x 36″ = 1296 sq in.
Now calculate the yarn you will use for the size of your blanket.
1296 sq in * 0.8 yd = 1036.8 yd of yarn
Now you know for this specific stitch pattern, yarn and hook about how much yarn you will need to make a baby blanket size.
Blanket Borders
Other things to keep in mind are if you are going to add a crochet border. These are generally added afterwards and likely were not calculated in the swatch.
Blanket borders can use up a large amount of yarn, so plan accordingly. You can calculate it the same way using the length around your blanket size and the width of the border for your dimensions.
So for our baby blanket size 36″ square the border length would be a calculation of perimeter:
36″ + 36″ + 36″ + 36″ = 144″
Let's say that the border we want to add is 2″ tall. Then our equation is:
144″ x 2″ = 288 sq in.
Now use the yarn per sq in of fabric to calculate:
288 sq in x 0.8 yd = 230.4 yd of yarn for the border
You can also use this method to calculate how much yarn you have left (and therefore if you have enough).
Calculate how much yarn you used in your swatch.
5.29 oz (total ball) – 0.4 oz (from your swatch) = 5.25 oz left in the ball
Pattern
Your pattern is also an important factor. It will determine how much yarn you need as well. Different patterns will use a wide difference in yarn yardage.
Some stitches are what we call "yarn eaters." These are usually post stitches used in textured fabrics and cables. Different stitches will use varying amounts of yarn.
Taller stitches, like double crochet stitches, use more yarn than shorter ones like the single crochet stitch. Puff stitches, bobbles and any stitch that uses lots of yarn overs will use up more yardage.
Lion Brand has a great resource that gives estimates on yarn yardage by project and yarn weight.
Blanket Patterns
The Christmas Lights Blanket is a festive and fun throw blanket that's a free pattern here on my blog.
This classic chevron pattern makes a great lap blanket or baby blanket.
Check out the Piemonte center out crochet baby blanket pattern.
The Friendship Blanket is a combination of granny squares in a variety of crochet stitches from many different designers.