Single crochet two together is a common crochet technique that is used to decrease the number of stitches. It is commonly abbreviated as sc2tog in written crochet patterns. Single crochet decrease is also another wording I've seen for this stitch. For this quick photo tutorial I've used a length of chain, but you can single crochet any two stitches together with this way.




Materials:
yarn
crochet hook





I've updated this post with a video. If you love learning to crochet from videos be sure to sign up for my channel so I can keep creating them!
Check out the video tutorial below:
Photo Tutorial:
Single crochet together (sc2tog) the first two chains.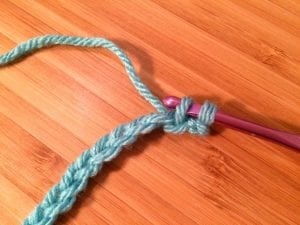 And there you have formed one sc2tog and therefore have one less stitch.




I hope this little tutorial was helpful. Please ask if you have any questions!
Pin it for later: