Learn how to crochet a chain for beginners. The first step in learning how to crochet any pattern. This crochet chain tutorial will have you crocheting your first project in no time!
Chain stitch is a crochet basic that is the foundation to most written patterns. It's the first step in creating many crochet projects and an essential to learn. If you're new to crochet then you've come to the right place.
In this post I'll show you how to crochet a chain stitch, which will get you that much closer to beginning your own crochet project. I've included a photo tutorial and a short video below for how to start crocheting with the chain stitch.
How Will A Crochet Pattern Tell You to Chain?
Many crochet patterns will read something like this:
Chain 33.
Turn your work and sc into the second chain from your hook.
Often the word chain is abbreviated to 'ch.' There are many abbreviations in crochet. I hope to cover many of them and the essential stitches in my Crochet Basics series.
Abbreviated to:
Ch 33
The crochet chain is what you need to get started crocheting stitches and ultimately maker your first project.
This post contains affiliate links which means I receive a small fee if you click through and make a purchase (at no additional cost to you).
What Do You Need to Crochet a Chain?
You can use any weight yarn and compatible crochet hook to learn how to crochet. In the still photos I'm using a #4 medium worsted weight cotton yarn and 3.75mm (F) crochet hook.
In the video clips, I'm using a #6 superbulky yarn and 10mm crochet hook. Your crochet pattern will tell you what weight yarn to use and crochet hook. If you're just practicing, use what you have on hand.
I learned to crochet on #4 medium worsted weight yarn and a 5mm crochet hook. So if you need to know where to start those are both really common yarn and hook sizes and pairings.
However, I find the #6 superbulky yarn very easy to see the stitches and loops and exactly what's going on. So I've started using this yarn for tutorials when I can. It's a bit more expensive.
I learned to knit with #6 superbulky yarn and I definitely recommend learning knitting on heavier weight yarn. I love a chunky knit still.
For cotton yarn substitution I'd recommend

Lion Brand's 24/7 cotton

, it's shiny, strong and has a variety of colors.
You can also use acrylic yarn for this pattern,

Red Heart Super Saver

is readily available and comes in all the colors.
More Beginner Crochet Tutorials
Hold to hold your yarn for crocheting. This can feel awkward when you're just starting out. Keep practicing. There are also alternate ways to hold yarn (& your hook) if it still feels odd after a while.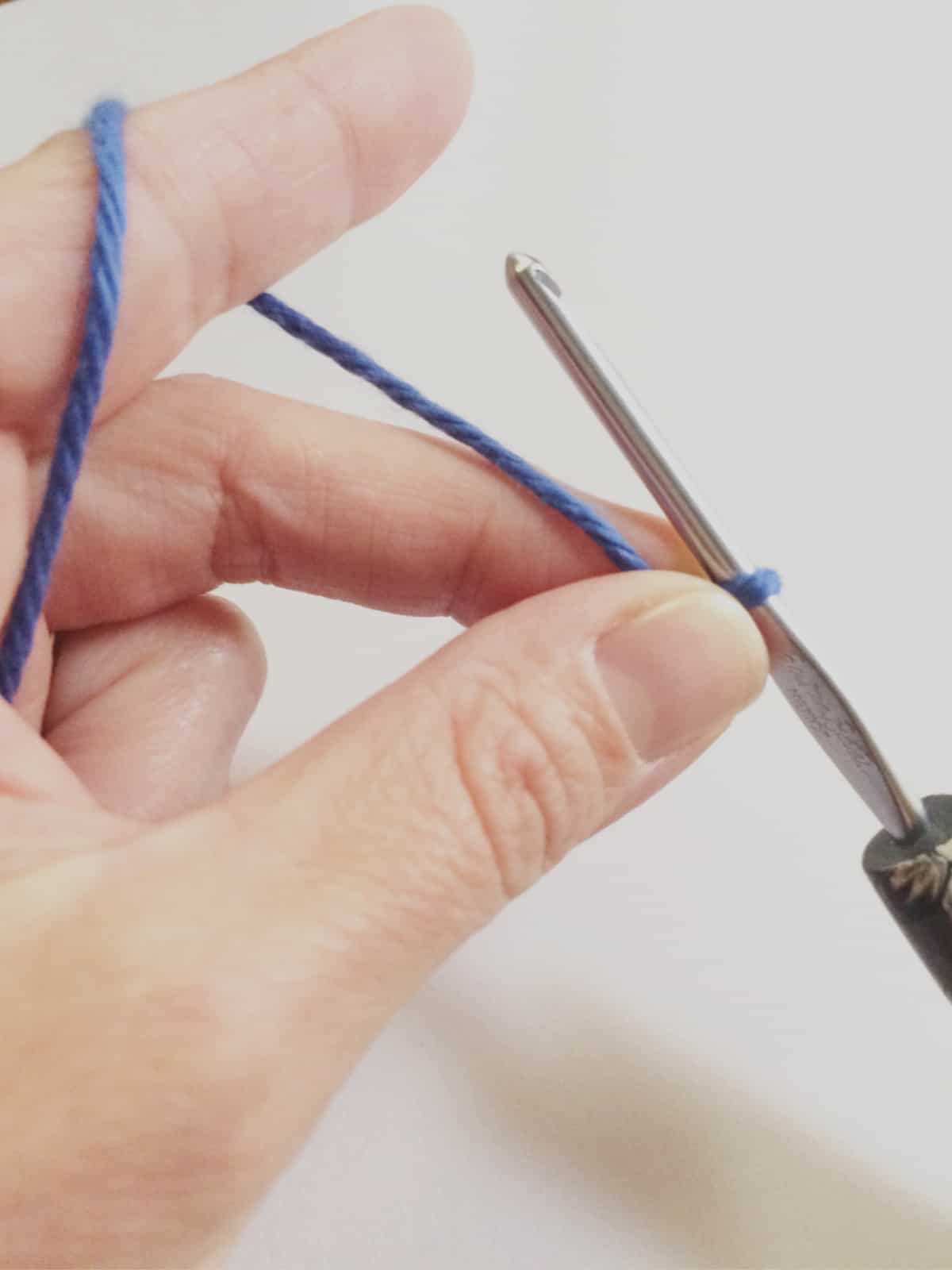 How to Hold the Yarn + Hook Video
To begin your chain, start with a slip knot. If you need to know about slip knots, start here.
If you like this pattern, be sure to join my newsletter, you'll love my weekly emails & gain access to my Resource Library.
No spam, unsubscribe at any time.
Beginner Crochet Patterns To Try
Browse these Small Crochet Patterns that use leftover yarn.
How to Chain Photo Tutorial
In order to begin chaining, yarn over (wrap the yarn around the hook).
Now that you've yarned over, pull the yarn through the slip knot. This forms your first chain.
Now you continue to yarn over and pull through the loop on your hook until you have formed number of desired chains. 10 chains should suffice for a first try.
Keep repeating; yarn over and pull through until your chain is as long as you need.
While chaining is easy, I find crocheting stitches into the chains the most difficult part of starting a project. Once that first row is complete though, the second row is definitely easier!
I wish I'd taken a picture of my very first chain ever. It was probably a hot mess. Or maybe it's a good thing that there isn't any photographic evidence. Practice, practice.
Next up Crochet Basics: Single Crochet. This is the stitch that will allow you to create actual projects!
How to Chain Crochet Tutorial
Additional Time:
5 minutes
Learn how to crochet the chain, the building block of learning to crochet.
Materials
Any weight yarn, I'm using a #4 medium worsted weight for this tutorial.
Tools
Crochet hook that's compatible with your yarn, I'm using a 3.75mm/F crochet hook.
Instructions
Start with a slip knot.
Yarn over (wrap the yarn around the hook).
Next, pull the yarn through the slip knot on your hook.
Now yarn over again and pull through the loop on your hook.
Keep repeating step 4 until you have formed number of desired chains.
Notes
Learn how to crochet into the back bump of your chain. This is the easiest method, in my opinion.
Recommended Products
As an Amazon Associate and member of other affiliate programs, I earn from qualifying purchases.
How to Crochet a Chain Video