Learn how to crochet the sc3tog or single crochet three together. This stitch decreases three single crochets into one stitch. It's worked in the same way the sc2tog, single crochet two together is crocheted.
I use the the sc3tog often. Sometimes it decreases three stitches into one. It makes an eye catching cluster stitch too.
I use the Single Crochet Cluster in this Winter Pom Hat and I just love the texture it lends to the fabric. Check out the photo tutorial for the Single Crochet Cluster Stitch it's a beautiful textured stitch .
I think most of the time, we use the sc2tog when decreasing, but sometimes we do need to the sc3tog for decreases. However, it seems to be more often used in those cluster stitches. I've linked up a couple of tutorials for the stitches I've used which includes the sc3tog below.
Most recently I use the sc3tog in my Sunset Sweater pattern. The trinity stitch I use in the sweater is based on the sc3tog technique. So I decided to add a tutorial for it.
I just love how textured and truly simple this Trinity Stitch is when you work it up, especially in the lighter colored yarn. Get the Sunset Sweater Pattern here.
Materials
This stitch is appropriate with any weight yarn and compatible hook. For this tutorial I am using Lion Brand 24/7 cotton yarn, which is a #4 med worsted weight yarn, and my 5mm Furls streamline hook.
Stitches/Abbreviations
sc-single crochet
sc3tog-single crochet three togetherf
st(s)-stitch(es)
yo-yarn over
Other Stitches Using Sc3tog
2. Single Crochet Cluster Stitch
Here's a look at a finished sc3tog, or single crochet three together stitch.
Video Tutorial
You can watch the short Single Crochet 3 Together Video on my YouTube Channel. Be sure to subscribe if you find crochet videos helpful.
Photo Tutorial
I've started the row here with a ch 1 and sc into the same st. To begin the sc3tog, insert your hook into the next st, yo and pull up a loop (2 loops on your hook).
Next, insert your hook into the next st, yo and pull up a loop (3 loops on your hook).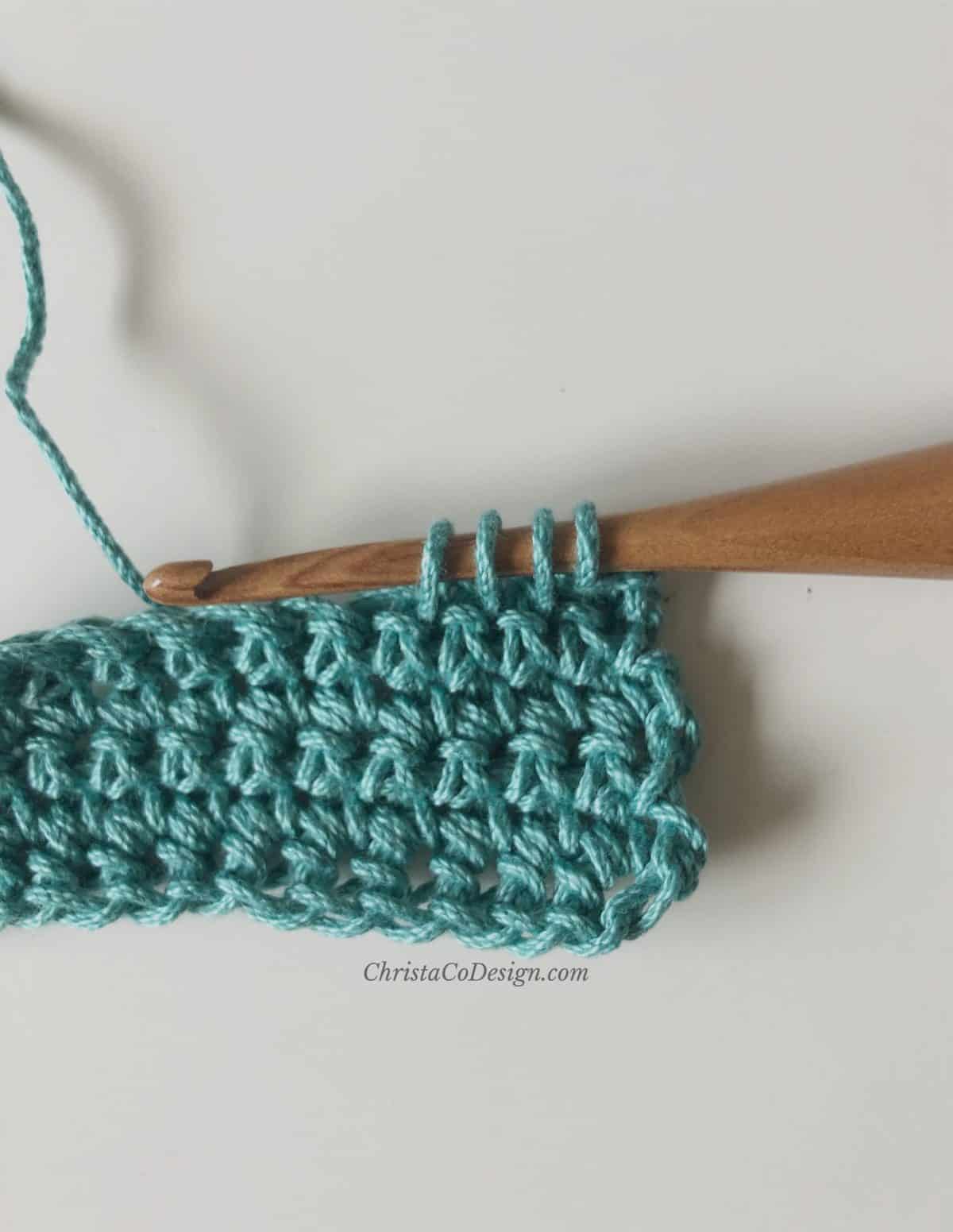 Now insert your hook into the next st, yo and pull up a loop (4 loops on your hook). Here you can see we've picked up 3 sts.
Finally, yo and pull through all 4 loops on your hook. Now you made a sc3tog, which decreases the stitch count by 2 sts here (3 sts became 1 st).
I hope this tutorial was helpful for you. Do you prefer photo tutorial or the video version?
Related