Polar Bear Birthday Party
We celebrated my son's 6th birthday with his chosen theme, "a polar bear birthday party." He loves polar bears, and one stuffed polar bear in particular. Thankfully (and a little sadly) polar bear was replaced this week as grandma gifted him just the right one (we've tried to find a suitable replacement but to no avail). We're sad to see "nasty" polar bear go, but so glad he did this step on his own and is overjoyed with his new polar bear.
This kid loves to give his mama a good challenge when it comes to party themes. A polar bear birthday party was not unexpected; last year he requested a "mountain party." So I came up with a few polar bear themed decorations, games and food and there you have it, a polar bear birthday party.
Here I've shared some of the DIY parts of creating this polar bear birthday party. Many of these techniques can be used for any theme, with a little modification.
This post contains affiliate links.
Coffee Filter Snowflakes:
These coffee filter snowflakes were a fast and easy way to decorate for our polar theme.
Just fold the filter in half, then fold in half again and then fold in half 1-2 more times. Cut small or large shapes on all, or some sides; use a hole punch. No pattern needed, it will emerge when you unfold. If your kids are old enough and dexterous with scissors they can help too. We had the little ones stick some on the front door to welcome guests.
I love making special, one of a kind party hats for my kids. With this theme I combined it with the polar bear ear headbands that I made for all the kids. This is such a quick and easy project to DIY for a custom party favor. And it supports a unique theme when you're not throwing a party out of a box.
Polar bear ear headbands:
Materials:
White Felt
Hot Glue Gun, scissors, washable marker
Steps:
Print out the template on cardstock and cut out the polar bear ear template (save the rest to make favor bags below).
Trace it on to white felt with a disappearing ink marker, or a washable marker.
Make two ears per headband. While you cut out your ears heat up your glue gun.
Lay out your felt ear and put hot glue on half.
Place the headband on the middle of the ear (not in the glue).
Fold the ear over, gluing it to itself.
Repeat for the other ear. They're easy to slide into position. Add some glue to the edges if needed.
Repeat for all your party guests!
Party Hat:
Materials:
Cardstock
Fabric
Felt
Hot Glue Gun, scissors (paper & fabric-never use fabric scissors for paper. It dulls them so fast!)
Steps:
Print out the hat template on cardstock (or trace on a manila folder or cereal box) & cut it out.
Heat up your hot glue gun.
Lay out your main fabric and place the hat template on it.
Cut around the template, giving yourself at least 1″ extra all the way around the fabric-this will be for gluing it on.
Hot glue the fabric to the card stock. Work in small sections, pinching it along the curve.
Curve the hat into a coneshape, with the edges overlapping. Hot glue one edge over the other.
I added a number 6 for my 6 year old. I opened a Word Doc, typed '6' and sized it up, print and cut it out.
Then I traced it (backwards) on my felt.
Cut it out and glue it right side up onto my hat.
I glued a couple of ribbons in the top hole.
Then I glued it on the headband. It held up much better than I expected!
Polar Bear Favor Bags:
Materials:
Print the PolarBearFavorBagTemplate on cardstock.
Black marker
Make more copies of the template, if needed.
Cut out the polar bear ears and noses.
Fold over tops of bags.
Glue ears to sides of bags.
Glue nose to the front middle.
Draw two round eyes with black marker.
Fill with favors and voila!
Games:
Last year my then 5 year old was adamant about having specific "party games." So this year I knew we needed party games with a polar twist.
Fish Toss: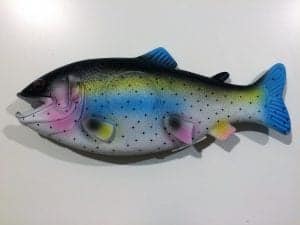 Materials:
laundry baskets
We just set up three laundry baskets, one after another, each one a little further away for the kids to toss the fish into. They got three tries to get it into each one of the baskets. It was very popular and they kept coming back to try again!
Ice Float Hopscotch:
My gifted husband drew up these chalk "ice floats" for the kids to hop along on. A fun game that didn't need much parent guidance and they could come back to it over and over!
Pin the Paw on the Polar Bear:
Again my gifted husband sketched out this polar bear on butcher paper and made one paw per kid.
They wore a blind fold and attempted to stick the paw on his arm. I think this was our closest paw!
Our last game was more of an experiment.
Polar Paw Experiment:
Materials:
Crisco
Ziplock baggies
spatula
bowl or large bin
ice
water
Prep:
Fill one ziploc bag about 3/4 full of Crisco. You can see I used about 3/4 of the small can of Crisco. *This was not messy, using the spatula worked well.
Turn a new ziploc bag inside out. Put it inside the bag filled with Crisco.
Once the new ziplock is in, line up the zippers and seal the bags together.
This keeps the Crisco in between two layers of plastic baggies.
Now you insert your hand like a glove.
Now make a "glove" that is just two ziploc baggies sealed together with no Crisco.
Since our kids were pretty young we just did a simple experiment. They put the plain baggies only glove on one hand and the Crisco blubber glove on the other. Then they submerged both hands in the ice water. Be sure not to put them so far in that they fill with the ice water.
The kids were able to quickly and easily see how the Crisco acted like blubber. The Crisco protects your hand from the cold a lot longer. We talked a little of how this helps the polar bear. It would be neat to do a more extensive experiment when they're older.
I also put out a sensory bin of "snow," just cotton balls and some snowflakes, clear and silver buttons.
Food:
Polar Bear Cupcakes were so easy, cute and delicious!
I just used vanilla frosting, then an upside down Hershey's kiss for the nose. The eyes are mini chocolate chips, again upside down. And tiny marshmallows for the ears.
My rules for themed food is that making it has to be relatively easy and that it tastes yummy! The kids loved all the extra treats on top.
Here a few pics of other themed foods.
To make the Food Labels I used clip art in a word doc and a cute font. Print, cut & fold.
This was a fun party to plan! My bullet journal was a perfect place to keep all my party planning notes and lists in one place.
The kids had a blast at this Polar Bear Birthday Party and that's top of my list for importance in party planning! The weather cooperated and we were able to have the games outdoors. I hope you found some inspiration for your own polar party!
Happy planning!
If you love learning by video tutorial be sure to check out my YouTube Channel!
Subscribe to my youtube channel