Furls Crochet Hooks Review
If you are a crocheter you may have heard about Furls Crochet Hooks. These hooks are ergonomic and beautiful. But when you see the price point it might make you stop short.
When you can purchase an entire set of aluminum or plastic hooks for less than the price of one Furls Hook it makes you wonder, are they really worth it?
The short answer is it depends. If you have carpal tunnel, arthritis, or, like me, you suffer from both then yes having an ergonomic tool to crochet is important for your hand health. In this blog post I'll cover each of the ergonomic hooks I use!
The Ergonomics
Any ways that we can widen the grip on our hooks can help relieve stress on our hands. And that's exactly how these hooks work. They have a large handle that fits nicely into the palm of your hand.
With the thicker handle you don't have keep your hand pinched closed as tightly. This relieves pressure on that carpal tunnel. And having a looser grip allows the arthritic joints less strain too.
No, ergonomic crochet hooks don't eliminate pain from these conditions. But they can reduce the stress we place on our hands making it more comfortable for us to do what we love. Even using a thicker pen when you write is recommended.
As a disclaimer I am an affiliate of Furls Fiberarts products because I use them and love them. This is not a sponsored post. I just know many crocheters wonder about the cost and advantages of these hooks. So I'm sharing my experience with you here!
Furls Ergonomic Crochet Hooks
Furls makes 4 main types of crochet hooks: the Streamline Hooks, the Candy Shop Hooks, the Odyssey Hooks, and the Alpha Series Hooks. The only ones I haven't personally tried (yet!) are the Candy Shop Hooks.
No matter which Furls hook design you choose, they all fit into your hand for an ergonomic hold that's comfortable. They also work for any crochet style whether you crochet with the knife grip or pencil grip.
Below I go into details about the 4 different Furls styles I use.
Wood Streamlines
These are hands down my favorite. I highly recommend starting with a wood Streamline 5 mm hook size (US Size H-8). The wooden hooks are a great choice for your first foray into Furls hooks.
What I love about them is the feel of the warm wood in my fingers. It's a lightweight hook too. So if you're used to crocheting with a standard aluminum hook this .5 oz hook will be an easy transition.
It's also the most affordable hook. This is important. No one wants to spend a ton of money on something they haven't used before. If you like a wood streamline then chances are you'll like the other styles too.
The wood hooks have a medium glide, meaning they aren't as super smooth as a metal hook. However, Furls has designed the wood Streamlines to have a pointier tip so they penetrate your stitches more easily.
All Furls hooks are inline hooks. The head of the hook is combination of Bates and Boye styles.
These hooks are also the longest, which again allows you to loosen up your hand and keep a more ergonomic position. This can take some getting used to for those of us who like to "choke up" on our crochet hooks.
If you're looking to try a new hook check out the Streamline ergonomic wooden* crochet hook it's my best recommendation!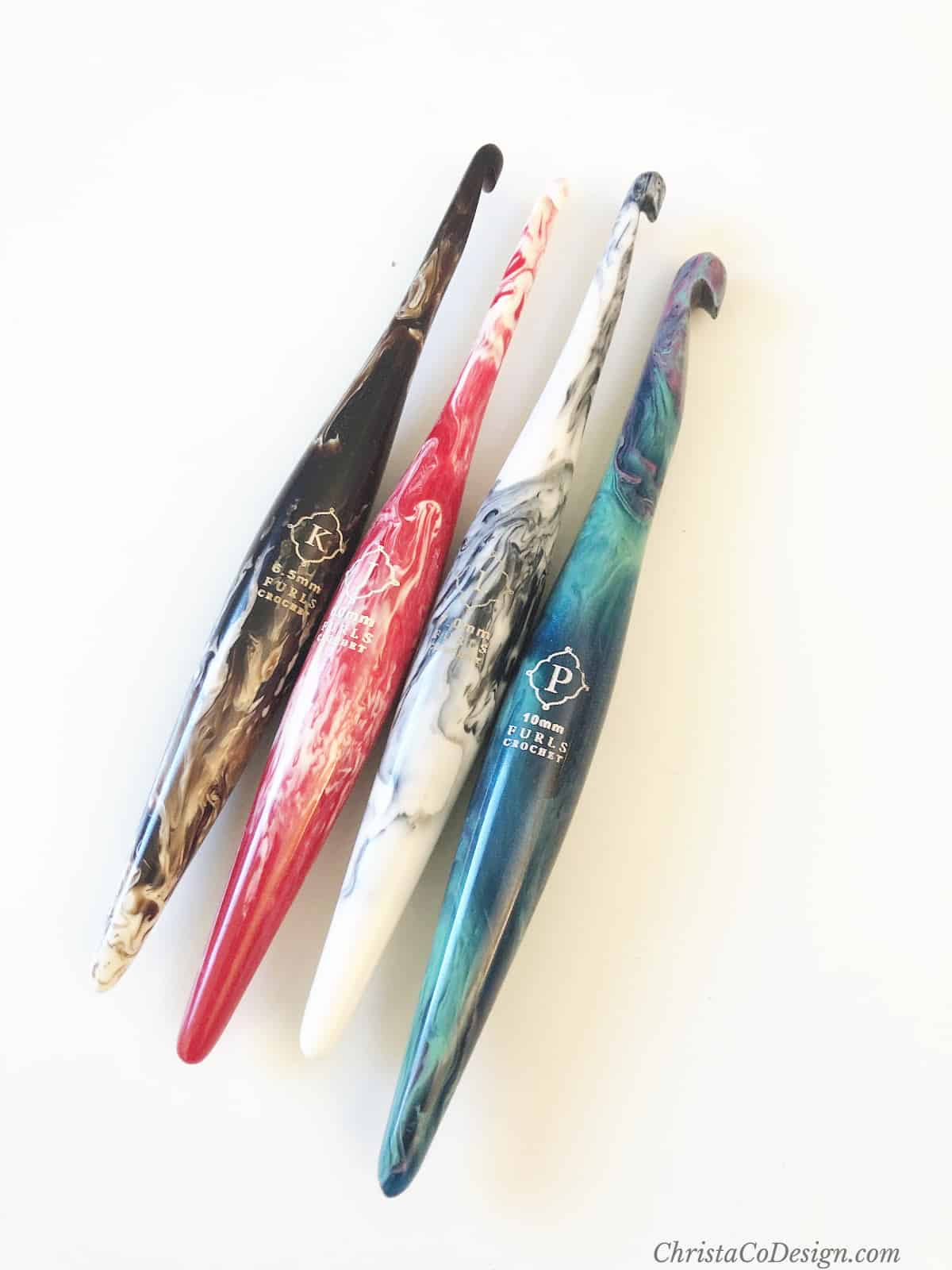 Streamline Swirls
The Streamline Swirl* is a resin hook made in the same fashion as the wooden Streamlines. Since these hooks are made with resin, the glide is slightly smoother than the wood hooks.
These are my go to hook for yarn that might split or catch.
The Swirls are still lightweight at .75 oz. These are hooks that are easy to adapt to from standard plastic or metal hooks.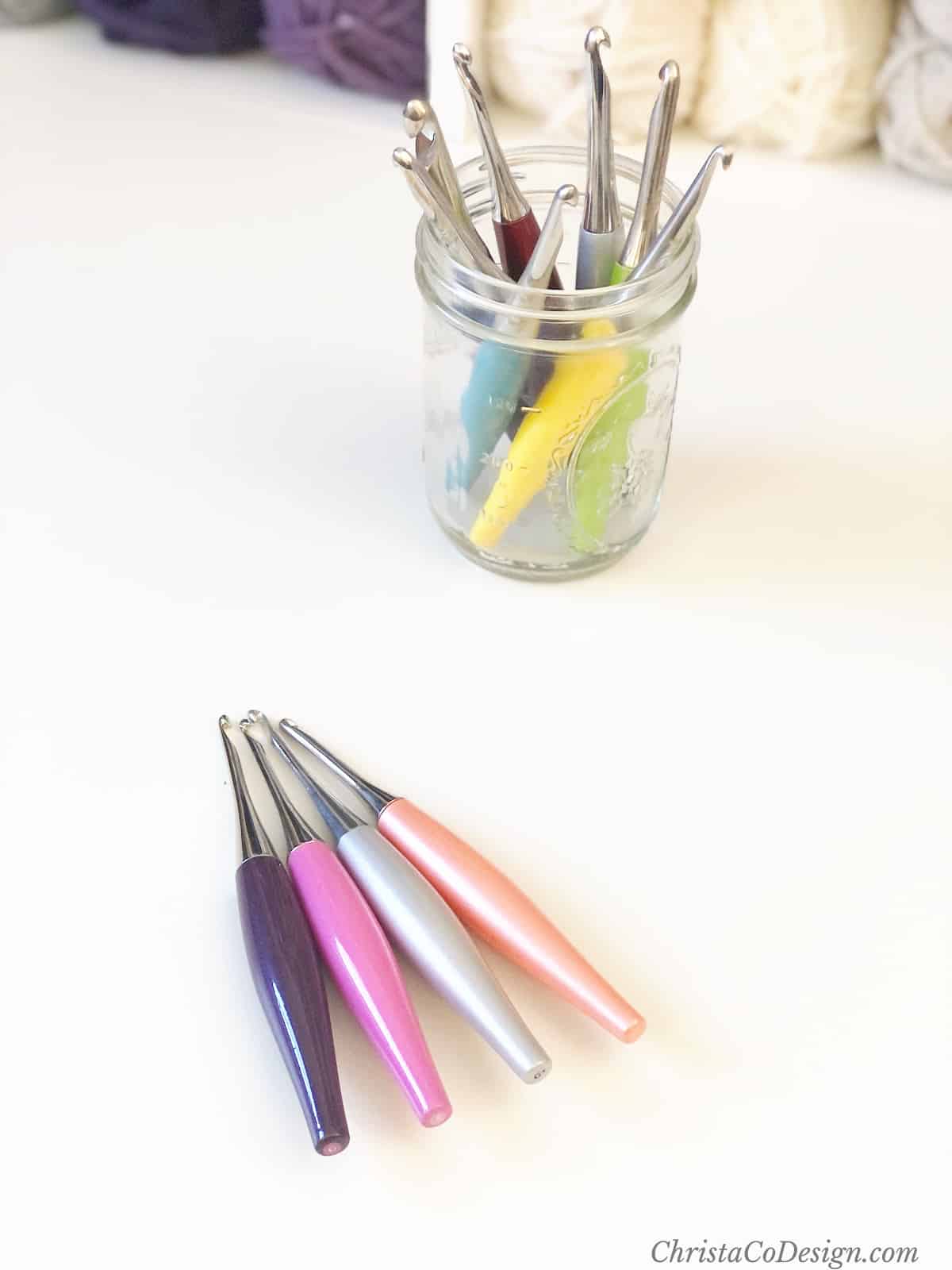 Odyssey Hooks
The third type of Furls hooks I use are the Furls Odyssey Hooks*. These metals hooks let the yarn glide smoothly.
These are my go to hooks for amigurumi and cotton yarns. The nickel tip gives these hooks the smoothest glide of all Furls. I like that these are a little shorter than the Streamlines.
The only con is the weight of the hook. At 1.3 – 1.8 oz they are the heaviest. This may not be the best option if a heavy hook will bother you.
At first the heavier weight does take some getting used to, but I love using my Odyssey hooks now.
One thing I've learned about ergonomics is that our bodies like it when we change things up! So using different hooks is good for us.
Alpha Series
The last Furls hook I use is an Alpha Series* ergonomic crochet hook. This wood hook is hand carved. These gorgeous hooks are made with sustainable woods (so are the wooden Streamlines).
I have an olivewood Alpha that I love. It's my most beautiful hook. The Alphas are one of a kind hook.
Alphas are the most expensive, but also some of the most popular. According to Furls, the Tulipwood or Cocobolo Alphas in Size 5mm are their best sellers.
Candy Shop Hooks
I'll give some details on these hooks here and plan to update when I'm able to try it first hand!
These are pretty, of course, all Furls hooks are, but they're also ergonomic, shorter at 5.75″ in length and only weigh .2 oz. That's the lightest hook. I definitely want to try one of these.
The Cons
There are so many good things to say so I want to sum up the cons.
They are pricey.
These handmade hooks can break. If they roll off the table and hit the floor wrong, the tip can break off. This is more likely in the woods and resins.
I use the leather hook holders to keep my hook safe in my #wip bag. The leather clutch is great for keeping a whole set of hooks.
Using the right tools for healthy hands is important. But so is taking breaks, keeping good posture, stretching and massaging your hands and arms.
My Recommendations
The best ergonomic crochet hooks I use are my Furls. The ergonomic handle allows me to have a comfortable grip and crochet for longer periods of time.
I twirl my crochet hook through my fingers and hand as I work. For this reason the smooth hooks with the ergonomic handle work well for me.
Some crocheters keep their thumb on the thumb rest and there's more wrist motion as you work. If this sounds like you then you may prefer the Clover Amour Hooks, or similar type.
If you're still on the fence you can pop over to Furls website and read all the positive reviews about their beautiful crochet hooks!
What different brands do you use and love?
If you love learning by video tutorial be sure to check out my YouTube Channel!
Subscribe to my youtube channel