If you've been following my posts recently, you know this is the third wood ring teether I've created. This project is just so simple and fast, I had to share. I hope you can crochet one up for the little teether in your life!
This post may contain some affiliate links, check the Disclosure page to learn more.
I love my wood yarn bowl!
Materials:
Cotton yarn, I just used a tiny bit from this ball of  Bernat Maker Home Dec Yarnin Fiesta Varigate.
Size K crochet hook http://amzn.to/2mQ0sRZ
2″ wood ring http://amzn.to/2mPBBhd
Yarn needle and scissors
Click here to purchase ad-free pdf of this pattern in my Etsy shop!
Stitches used:
slip knot-make a loop with your finger, insert your hook (& remover your finger), yarn over and pull through the loop, securing yarn to your hook
slip stitch-yarn over, pull up a loop and pull it through the loop on your hook
single crochet-insert hook, yarn over & pull up a loop, yarn over and pull yarn through the two loops on your hook.
Steps to create your wood ring teether:
Slip knot on your hook and insert it into the wood ring.
Slip stitch onto the wood ring, chain 1.
Single crochet around most of the ring. Be sure to work over your tail.
Continue to single crochet, as many as you like.
I worked 16 single crochets, which covered my tail and about 2/3 of the wood ring.
Weave in your tail.
Be sure to weave it in one direction and then the other to prevent it coming loose.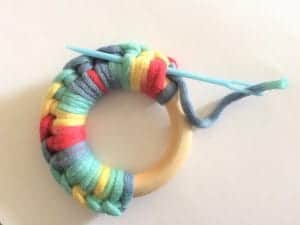 I crossed the stitches to the other side to weave it back towards the end.
Trim the excess and you're done!
You crocheted your own wood ring teether!
These are just the perfect size for little hands to hold.
Let your little teether chomp on it!
Some links provided may be affiliate links; for more information on affiliate links check my disclosure page.