The Friendship Blanket Crochet Along is here! It's time to gather up your yarn scraps from your stash and crochet a beautiful blanket.
Or maybe you'd rather plan out your crochet squares with a particular color theme. That's up to you!
I've teamed up with Helen from Sunflower Cottage Crochet and 26 other crochet designers for this Crochet Along.
What is the Friendship CAL~Crochet Along?
This CAL is a blanket square event. 28 crochet designers will contribute unique and new crochet square patterns.
Each crochet square is a free pattern for you to create your own blanket. Each square is 9″ x 9."
There are 40 individual crochet square patterns coming weekly. To crochet this blanket you'll need to make at least 35 squares for about a 45″ x 60″ blanket.
Having those 5 extra squares allows you for some wiggle room. You can pick and choose your favorites and arrange them to your liking.
When does the Friendship Crochet Along begin?
The CAL starts on January 15th. It runs through mid April.
A new crochet square design will publish each Friday, Sunday and Wednesday. That's 3 squares each week until April!
This gives you a couple of days in between to crochet up the most recent square. Or, when you're able to make time.
PIN IT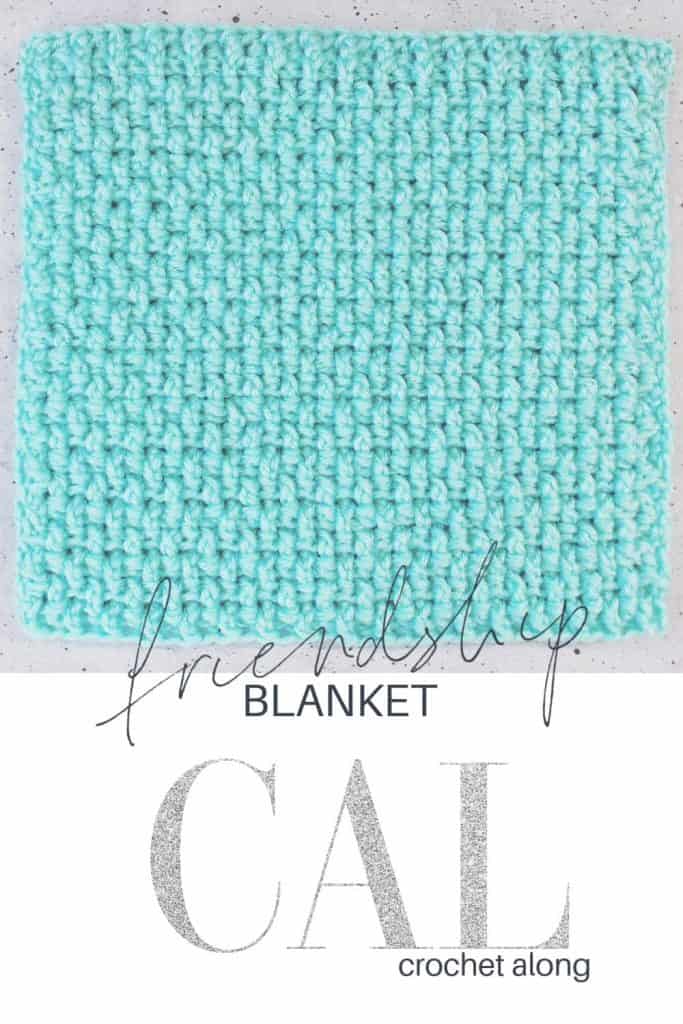 How Can I Join?
Head over to my Facebook group to join in the fun. Here you can post your progress pictures, ask questions and build those crochet friendships!
If you're not already subscribed to my Newsletter, now's a great time! I'll send out updates about the CAL with my regular weekly emails.
Or you can also bookmark this post and come back to check out the new square patterns. I'll update it with the newest crochet squares pattern as they release.
To save this post to your favorites, click on the little blue heart at the bottom, right corner of your screen. Or use your browser's bookmark/favorite tab.
Can I get all the CAL square patterns now?
Yes! Well, as soon as the pattern bundle goes live. If you would rather not wait for the squares to release each week, you can purchase them.
All 40 square patterns in one bundle for $10. That's .25 cents per square!
What Will I Need To Crochet This Blanket?
Remember you can use what you like as far as colors, stash yarn etc. But this list will help you get an idea of what you might need.
For the Friendship Blanket Pictured:
Paintbox Simply Aran* in the following colour ways and amounts (note each skein is 201 yards so I used 3015 approximately before joining):

Paper White – Colour 200 – 4 skeins
Raspberry Pink – Colour 243 – 4 skeins
Tea Rose – Colour 242 – 4 skeins
Candy Floss Pink – Colour 249 – 4 skeins
Peach Orange – Colour 254 – 3 skeins (by the skin of my teeth and for the border)

Hooks – from 4mm to 6mm
Stitch Markers – guaranteed you will need at least 4 of these (regardless of skill level)!
scissors
tapestry needle
Friendship Crochet Along Blanket Square Patterns
Here are the crochet square patterns in the Friendship Blanket Crochet Along. The most recent square is first on the list below.